7 Back-To-School Backpack Safety Tips For Your Child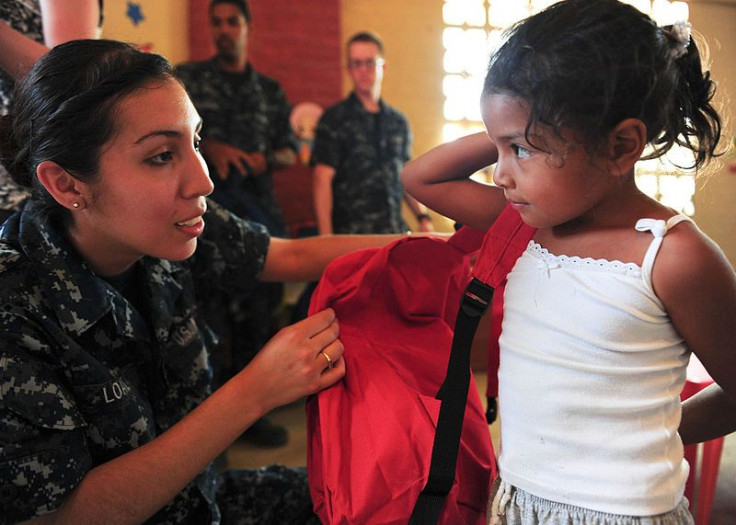 The arrival of Labor Day marks the unofficial end of summer, as many kids have already gone back to school or are preparing their return to the classroom. At the top of the long list of back-to-school supplies is one essential item that will carry all of the supplies — the backpack. According to the American Occupational Therapy Association, more than 79 million students in the United States carry school backpacks on a daily basis. As children begin to enter middle school and high school, they will more likely be exposed to more books to carry home, leading to a heavier load. More than 55 percent of school children carry backpacks that are more than their body weight (children should carry no more than 15 to 20 percent of their body weight), leaving them susceptible to developing chronic back pain later in life. Last year, U.S. hospitals and doctors treated more than 24,000 people for backpack-related injuries in 2012, with more than 9,500 of those patients between the ages of five and 18, reports the U.S. Consumer Product Safety Commission.
"Backpacks are designed to distribute the weight of load among some of the body's strongest muscles," said orthopedic surgeon Dr. Michael Wade Shrader in an American Academy of Orthopedic Surgeons (AAOS) news release. "But when worn incorrectly, injuries such as strains, sprains and posture problems can occur," he said. These injuries can have a lasting effect on kids during childhood and continue well into adulthood, if proper precaution is not taken when it comes to backpack safety. Fortunately, back pain resulting from carrying heavy loads of books is 100 percent preventable.
A joint study by University of California, Riverside (UCR) researchers and the Empire Spine Center found that a significant number of local seventh and eighth graders suffer from lasting pain that is related to the heavy books they carry on their backs. Researchers focused on 3,498 middle school students from Riverside and San Bernardino counties in California. The team of researchers weighed the students and their backpacks; they also asked the students how often they used their book bags and how much pain they had, if any. The study showed that the main way to predict back pain in a student is to see how much a backpack weighs in comparison to the student's weight.
Sixty-four percent of the students who were surveyed reported pain, more than 41 percent said they felt pain while carrying their backpacks, and 21 percent reported pain that lasted for more than six months, according to the UCR researchers. The researchers found reports of increased pain as the weight of backpacks increased in comparison to the weight of the child. "This is truly alarming," said Dr. David Siambanes, a physician at the Inland Empire Spine Center. "Research has shown that adults with severe back problems often had pain as kids. You can suffer all your life from this kind of injury."
Backpack Safety Tips For Your Child
To prevent backpack pain in your child, the AAOS and Pediatric Orthopedic Society of North America (POSNA) suggest that parents follow these back-to-school backpack safety tips:
Parents should buy a backpack that's an appropriate size for the child. They should encourage their child to alert them about numbness or tingling in the arms or legs, which may indicate that a backpack fits poorly or that a child is carrying too much weight.
Watch your child put on or take off a backpack to see if he has difficulty. If a backpack appears too heavy, have the child remove some of the books and carry them in his arms to ease the load on his back.
Children should carry no more than 15 to 20 percent of their body weight. They should use both shoulder straps on backpacks and adjust the straps to keep the load close to the back.
When lifting backpacks, bend at the knees.
Remove or reorganize items if a backpack is too heavy.
When packing, place heavier items low and toward the center. Carry only items that are required for the school day or for homework.
Children should be encouraged to stop at their locker (if applicable) throughout the day to drop off heavier books.
Published by Medicaldaily.com