7 Best SPF Foundations For Flawless Sun Protection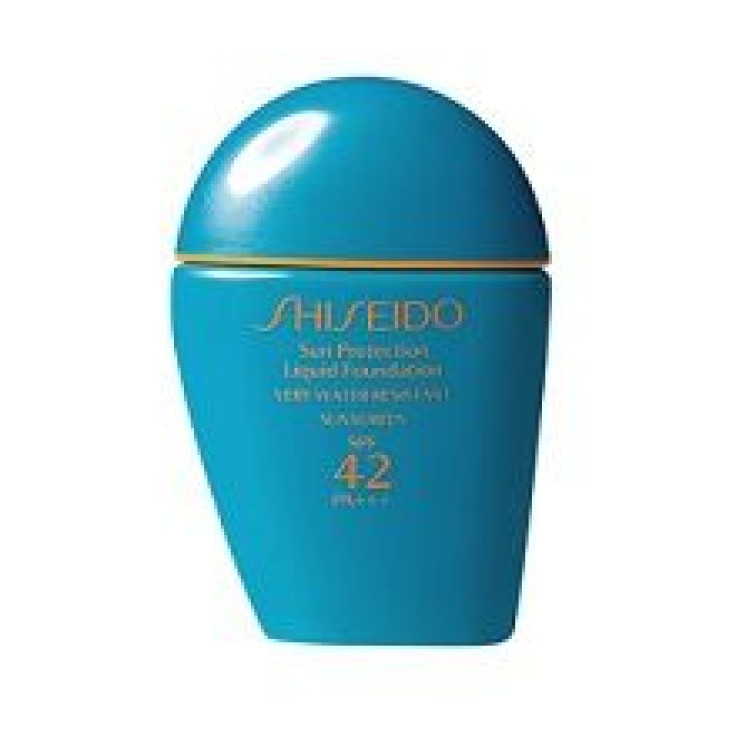 Hey ladies! Summer is almost here, which means that you and your skin are going to be seeing plenty of sun. Slapping on greasy sun screen might be the last thing you want for your summer look. But luckily, there's an easy way to stay looking beautiful but also safe: SPF foundation.
If your skin is not protected from the sun, you may be damaging your skin's melanin. Melanin is the skin-darkening pigment found on the first layer of your skin. As this gets exposed to sun, it becomes darker, thus causing those glowing tans. However, frequent exposure to the sun causes melanin to lose its elasticity and the skin to age prematurely. The skin-damaging effects of UV rays are also often time irreversible, leaving leathery skin, sun spots, and wrinkles behind.
To your rescue are some of our favorite foundations that will have both your imperfections and sun safety covered.
1. Shiseido - Sun Protection Liquid Foundation SPF 42 ($35)

The matte-finish and complete coverage make this number one on our list. Perfect for the summer, Shiseido's foundation doesn't feel or look heavy on the face, and also boasts liquid-resistance, meaning that sweat, water, and face oils won't leaving your face a runny mess. The flip top-open is also easy and convenient for quick touch-ups.
2. Bare Minerals - SPF 30 Natural Sunscreen ($20)
Known for its original powder foundations, Bare Minerals has come a long way since its start on QVC in the early 2000s. Now its SPF foundation powder stick is another skin-friendly makeup product on its list. The natural sunscreen is perfect to put in your clutch or purse when you're on the run. Coming in two colors, medium and dark, the foundation is great because it doesn't leave your face feeling greasy — perfect for those with oily skin.
3. Clinique- Even Better Makeup SPF 15 ($27)
With 30 different shades, Clinique's Even Better Makeup is bound to please. It not only protects the skin, but also contains a built-in dark spot corrector, which helps to clear hyperpigmentation and even out skin tone. It's liquid form is great for people with dry skin and combination skin.
4. L'Oreal - Infallible Advanced Never Fail Makeup ($14)

Infallible is right. Despite it's less-than-$20 price tag, this L'Oreal product works as well as those upscale department store gems. The formula is made with SPF 20 and works for all skin types. Lasting almost all the day, the matte formula is perfect for those summer days with high humidity. It comes in a great pump bottle, with only two pumps needed for a medium coverage finish. You can apply it with your fingertips, or with a makeup brush for a more airbrushed look. It comes in 14 different shades and, because it's inexpensive, you can mix and match two shades to find your perfect foundation color.
5. Laura Mercier - Tinted Moisturizer SPF 20 ($43)
Perfect for the girl on the go. While it's not a full-coverage foundation, it does double as a tinted moisturizer and sun protectant. It's very sheer and works on all skin types. It also gives the skin a natural-looking finish and a dewy glow that is perfect for summer.
6. MAC Cosmetics - MatchMaster SPF 15 Foundation ($33)
This foundation might be a little too heavy for everyday use, but if you have a special event that requires you to be in the sun all day, then you might want to consider this product. The coverage is matte, so it's perfect for oily, normal, and combination skin. People with dry skin should probably use a moisturizer and a primer before using this foundation.
7. Neutrogena - Healthy Skin Liquid Makeup Broad Spectrum SPF 20 ($12)
Neutrogena's SPF 20 foundation is great for those with acne-prone skin. It doesn't feel heavy and is light enough to let your skin breathe, while providing enough coverage to cover any and all imperfections. The bottle isn't ideal for touchups, but Neutrogena also offers a number of to-go foundation sticks and powders that you can combine with the foundation.
Source: Sun's Effect on Skin - Anatomy Video: MedlinePlus Medical Encyclopedia. U.S National Library of Medicine. 2013.
Published by Medicaldaily.com