7 Eco-Friendly Christmas Gift Wrapping Paper On Amazon
Christmas may be the best time of the year, but it is also one of the most wasteful, with an additional five million tons of waste generated during the holidays in America alone; four million tons of this include wrapping paper, some of which contain non-recyclable materials such as glitter and metallic paint.
Thankfully, there are eco-friendly gift wrappers which will both bring joy this holiday season and also give people the opportunity to help heal the planet. Some are made of environment-friendly materials. Others are either recyclable, biodegradable, or both.
Compiled here are some of the best eco-friendly gift wrappers that are sure to bring character to gifts while saving the environment. These range from recyclable gift wraps to even those made from bush cuttings. With all else said, here are 7 of the best eco-friendly Christmas gift-wrapping papers now on Amazon:
1. Eco Kraft Wrapping Paper Roll by Paper Farm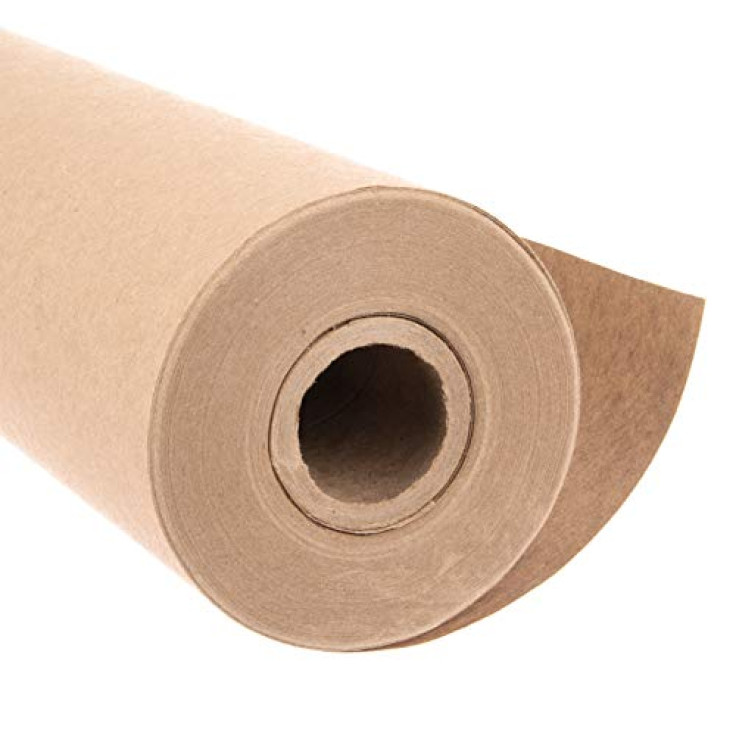 (photo from amazon.com)
Measuring 30 inches wide and 1200 inches (100 feet) long, Paper Farm's Eco-Friendly Kraft Paper Roll is ideal for giving Christmas gifts a simpler, more natural and trendy feel. It is crafted from recyclable materials and is also biodegradable for an environment-friendly holiday season.
2. Hallmark Christmas Wrapping Paper Bundle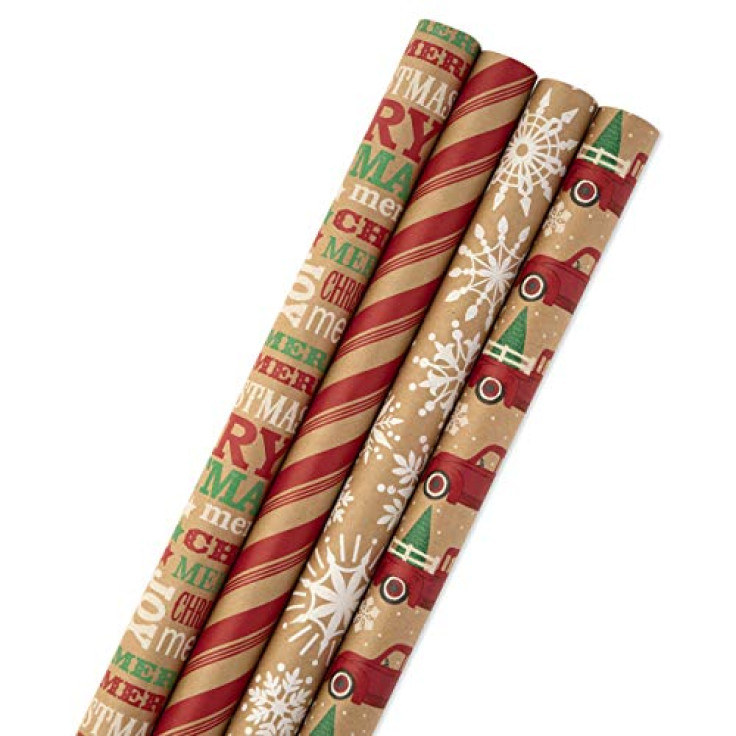 (photo from amazon.com)
Measuring 30 inches by 8.8 feet, Hallmark's Christmas Wrapping Paper Bundle comes in four kraft wrapper rolls with grid lines on the reverse side for straight cutting and perfectly wrapped presents. Each gift wrap has a different holiday-themed design: vintage red trucks, red diagonal stripes, white snowflakes, and "Merry Christmas" in red and green.
3. Wrappily Christmas Gift Wrap Set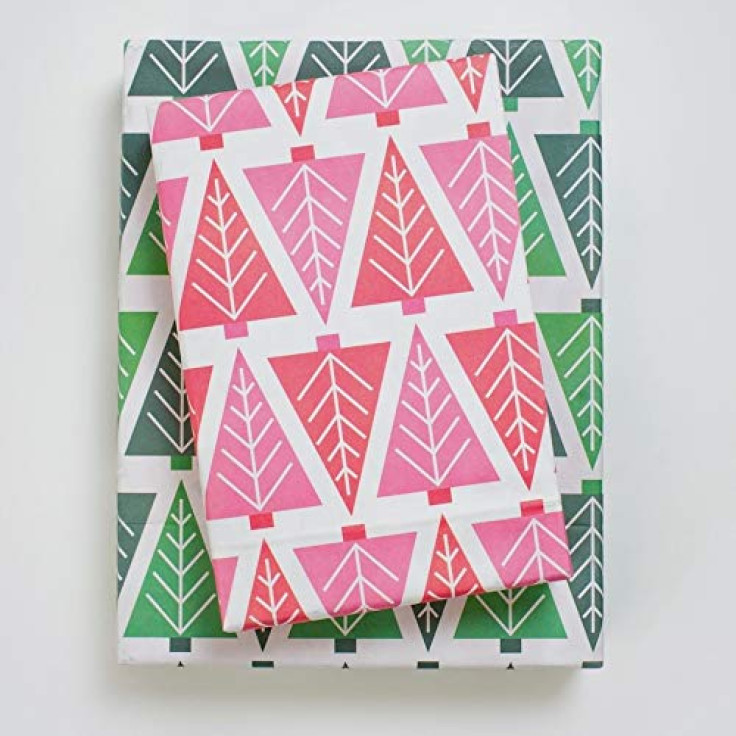 (photo from amazon.com)
With six holiday-themed designs to choose from, Wrappily's Christmas-themed Reversible Gift Wraps Set comes in a set of three identical wrapping sheets -- all made of recyclable and compostable newsprint with soy-based inks -- along with three adhesive gift tags.
4. Wrappily Eco-Friendly Reversible Wrapping Paper (Christmas Reindeer)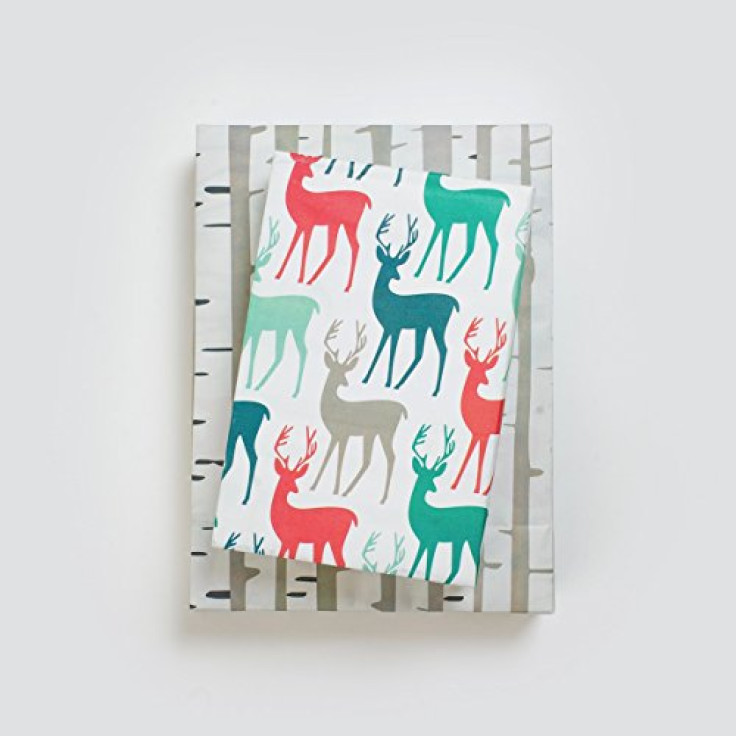 (photo from amazon.com)
This Christmas-themed variant of Wrappily's Eco-Friendly Reversible Wrapping Paper features prints of multicolored reindeer silhouettes on one side and birch tree trunks on the reverse. It is made of recycled and recyclable newsprint utilizing less toxic soy-based inks, and comes in six 21-by-34-inch sheets, all flat and folded with complementary gift tag stickers.
5. Kathmandu Valley Co. Gift Wrap Paper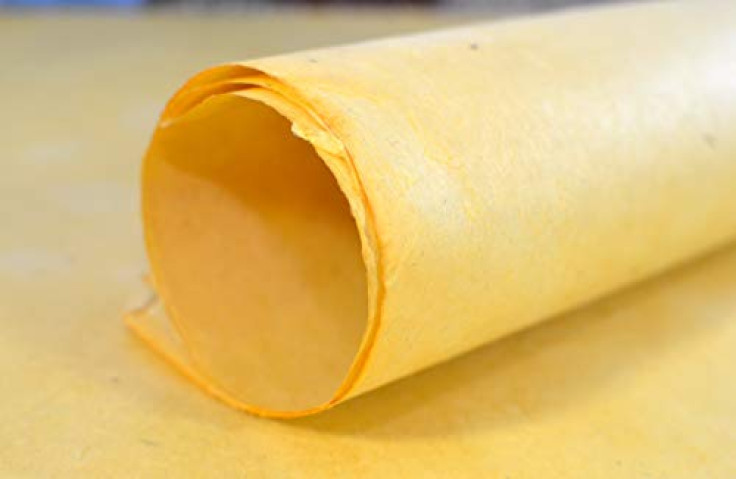 (photo from amazon.com)
When wrapped over gifts, the Kathmandu Valley Co. Gift Wrap Paper is just as precious as the contents inside! Made of handmade and tree-free mashed Nepalese Lokta bush cuttings, it comes in 10 matching 20-by-30-inch wrapping sheets, and is available in 16 colors and designs – including a vegetable-dyed saffron-color set.
6. Wrappily x Allport Editions Gift Wrap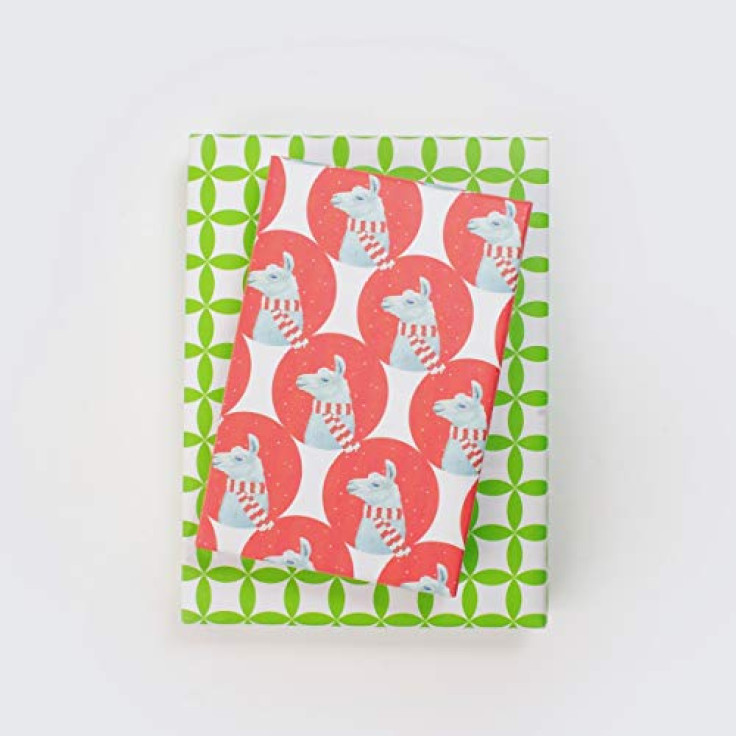 (photo from amazon.com)
Made in collaboration with the Oregon-based greeting card publisher Allport Editions, these reversible eco-friendly wrapping papers from Wrappily are available in seven Christmas-themed animal patterned designs, all with a coordinating textile pattern on the back, and come flat and folded with complimentary gift tag stickers.
7. Note Card Cafe Kraft Wrapping Paper Set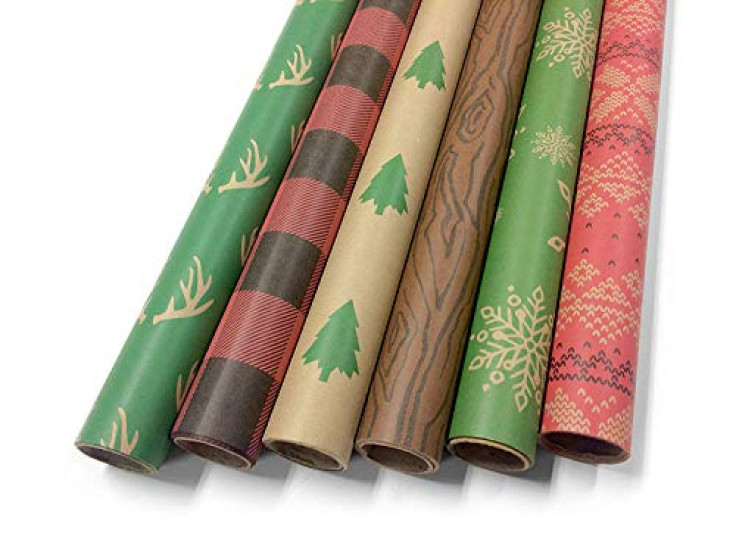 (photo from amazon.com)
Featuring various holiday-themed printed patterns for each wrapper, each gift wrap roll in the Note Card Cafe Kraft Wrapping Paper Set is made of humidity-resistant Kraft stock, with the set itself currently available in packs of six and 18 with up to four themes to choose from.