7UP Sued Over Antioxidant Claims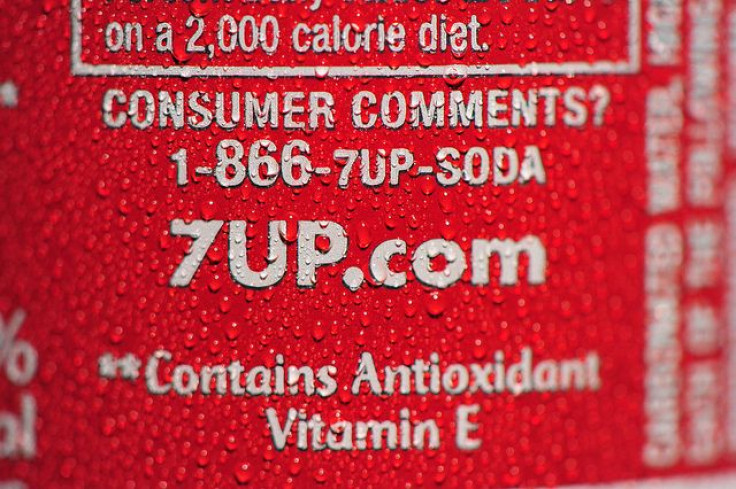 A man from California has filed a lawsuit against Dr Pepper Snapple Group, manufacturer of 7UP over misleading advertising.
Center for Science in the Public Interest (CSPI) is acting as co-counsel in the lawsuit in federal court in California.
"Non-diet varieties of 7UP, like other sugary drinks, promote obesity, diabetes, tooth decay, and other serious health problems, and no amount of antioxidants could begin to reduce those risks. Adding an antioxidant to a soda is like adding menthol to a cigarette-neither does anything to make an unhealthy product healthy," said Michael F. Jacobson, executive director of CSPI in a statement.
7UP claims it contains fruits like cherries, blackberries or cranberries but it contains water, high-fructose corn syrup, citric acid, potassium benzoate, and the controversial dye Red 40, says CSPI. Just a 12-oz serving has 38 grams of sugar (9 teaspoons) and about 140 calories.
CPSI said that all the products contain a small amount of vitamin E. But, studies have shown consuming fruits and vegetables that have antioxidants are a better than consuming fortified foods.
"Every can or bottle of 7UP consumed brings one closer to obesity, diabetes, heart disease, and other serious health problems. So I look forward to having 7UP go under oath and testify before a judge or a jury that this disease-promoting sugar water is actually a source of healthy antioxidants," said Steve Gardner, litigation director, CSPI.
7UP's claim on antioxidants in the products violates many California laws, says the lawsuit, including its Consumers Legal Remedies Act, the Sherman Food, Drug, and Cosmetics Law, and several provisions of its Business and Professions Code related to fraudulent business practices and misleading advertising, according to a statement by CSPI.
The U.S. Food and Drug Administration had recently sent a warning letter to The Hershey's Company over misleading claims on its products.
Dr Pepper Snapple Group in its defense said that its 7UP Cherry is a cherry flavored soda and doesn't contain any fruit and that it has put this clearly on the label.
"When CSPI first contacted us in June, we told them that in 2011 we decided to re-label and reformulate 7UP Cherry. The new 7UP Cherry will not contain antioxidants to be consistent with the formulation and appearance of other 7UP products. We also told CSPI that the new 7UP Cherry will be on store shelves in February 2013. However, they refused to hear the truth and instead ran to the overburdened courthouses with their latest publicity-seeking lawsuit," a statement from Dr Pepper Snapple Group said.
Published by Medicaldaily.com