8 Pool Party Finger Food Recipes Under 100 Calories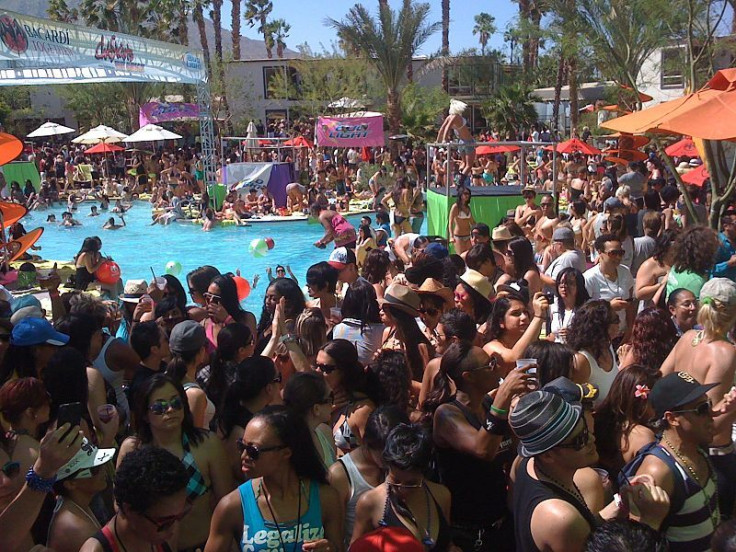 Now that you have that trim bikini body to show off this summer, it can be frustrating to stay fit with invitations to barbeques, birthday parties, and pool parties. Grill classics like steak and burgers are a major food staple at most outdoor events and can pack on the pounds you worked so hard to shed. According to an annual poll conducted by Kelton Research for the American Meat Institute (AMI), Americans will consume an estimated seven billion hot dogs between Memorial Day and Labor Day, including 150 million on the Fourth of July. Consuming these summer favorites can be hard to resist — until now.
At a pool party, it is essential to keep the food light, as you and your guests will most likely be swimming; salads, fruits, veggies and dip, and finger food recipes are among the popular items at these events. Since the party is outdoors, choose food that will not spoil under hot, sweltering temperatures or have an ice box container or cooler handy. Pool parties are meant to be sociable, so opt for healthy snacks that are easy to consume while conversing. Discovery Fit & Health says simple carbohydrates like those in a bag of potato chips are broken down more quickly than the fat and protein in burgers.
If you feel sluggish after consuming a heavy meal, a short break before swimming is recommended by Mayo Clinic. However, the myth of waiting 30 minutes after you eat and before you swim has been debunked by exercise physiologist and director of the Duke Diet & Fitness Center, Gerald Endress. He believes the body does supply extra blood to help in digestion but the amount of blood supplied is not sufficient to impair your arm and leg muscles from functioning properly. A minor cramp is the most that can result from eating and swimming immediately after. Children who want to take quick dip after a snack or a light meal can do so safely, says Mayo Clinic.
Skip the traditional pool party food and opt for healthier, mouthwatering alternatives options just under 100 calories without sacrificing your bikini bod.
1. Apricot-Ricotta Stuffed Celery Recipe 12 Calories
Ingredients:
3 dried apricots
1/2 cup part-skim ricotta cheese
2 teaspoons brown sugar
1/4 teaspoon grated orange peel
1/8 teaspoon salt
5 celery ribs, cut into 1-1/2 inch pieces
Preparation:
Place apricots in a food processor. Cover and process until finely chopped. Add the ricotta cheese, brown sugar, orange peel and salt; cover and process until blended. Stuff or pipe into celery. Chill until serving.
Recipe courtesy of Taste of Home.
2. Scallop & Shrimp Dumplings 42 Calories
Ingredients:
8 ounces scallops, minced
4 ounces raw shrimp, peeled, deveined and minced
1/2 cup minced scallions
1 tablespoon minced fresh ginger
3 cloves garlic, minced
2 tablespoons reduced-sodium soy sauce
2 teaspoons toasted sesame oil
1/4 teaspoon freshly ground pepper
36 round (gyoza) dumpling wrappers, (see Kitchen Tip)
2 tablespoons canola oil, divided
3/4 cup water, divided
Ginger-Garlic Dipping Sauce, (recipe follows), optional
Preparation:
Combine scallops, shrimp, scallions, ginger, garlic, soy sauce, sesame oil and pepper in a large bowl. Organize your work area with a bowl of cold water, your stack of dumpling wrappers and a floured baking sheet to hold filled dumplings. Working with one dumpling wrapper at a time, dip your finger into the water and moisten the edges of the circle. Spoon about 1 1/2 teaspoons of filling into the center. Fold the wrapper over to form a half circle. Pinch the edges together to seal. Repeat with remaining wrappers and filling. Cover the wrappers and finished dumplings with moist paper towels to prevent drying. Preheat oven to 200°F. Mix 1 tablespoon canola oil with 1/4 cup water in a large nonstick skillet and place over medium heat; bring to a simmer. Carefully arrange one-third of the dumplings in the skillet so they are not touching; cover and cook until the dumplings puff up and are light brown on the bottom, 4 to 5 minutes. Carefully flip the dumplings with tongs and cook for 1 minute more. Transfer the dumplings to a baking sheet and keep warm in the oven. Repeat the procedure with another 1/4 cup water, the remaining 1 tablespoon canola oil and half the remaining dumplings. Cook the final batch of dumplings in the remaining 1/4 cup water, adjusting the heat as necessary to prevent scorching. (There will be enough oil left in the pan for the final batch.) Serve hot with Ginger-Garlic Dipping Sauce, if desired.
Recipe courtesy of Eating Well.
3. Pimiento-Studded Deviled Eggs 45 Calories
Ingredients:
12 large eggs, hard-cooked and shelled
1/4 cup(s) sliced pimientos, chopped
1/4 cup(s) low-fat mayonnaise dressing
1 tablespoon(s) Dijon mustard
1 teaspoon(s) Dijon mustard
1/2 teaspoon(s) ground red pepper (cayenne)
1/4 teaspoon(s) salt
Fresh herb sprigs for garnish
Preparation:
Slice each egg lengthwise in half. Gently remove yolks and place in small bowl; with fork, finely mash yolks. Stir in pimientos, mayonnaise dressing, mustard, ground red pepper, and salt until well mixed. Place egg-white halves in 15 1/2-inch by 10 1/2-inch jelly-roll pan lined with paper towels (to prevent eggs from rolling). Spoon yolk mixture into egg-white halves. Cover and refrigerate until ready to serve.
Recipe courtesy of Good Housekeeping.
3. 2 Teriyaki Shrimp Skewers 46 Calories
Ingredients:
4 shrimp
6 pineapple chunks
1/8 teaspoon chives
1 teaspoon teriyaki sauce
Preparation:
Grill and place on 2 skewers with the chives and teriyaki sauce.
Recipe courtesy of Health.com.
5. Spinach and Artichoke Cups 69 Calories
Ingredients:
10 wonton wrappers
1/2 to taste cooking spray
1 (5 7/8 ounce) can artichoke hearts, drained, finely chopped
1/2 cup shredded mozzarella cheese
1 (4 1/4 ounce) package frozen chopped spinach, thawed and squeezed dry
1/4 cup mayonnaise
1/4 cup grated parmesan cheese
1/8 cup finely chopped red pepper
7/8 minced garlic cloves
Preparation:
Preheat oven to 350 degrees. Spray a mini muffin pan with cooking spray or lightly grease. Put each won ton wrapper in a muffin cup with the edges of the wrapper extending over the top of the cup. Bake for 5 minutes at 350 degrees. In the meantime, combine remaining ingredients. Spoon it into the won ton cups. Bake 12-14 minutes or until filling is warmed throughout and cup edges are golden brown.
Recipe courtesy of Food.com.
6. Crustless Blue Cheese and Pancetta Mini Quiches 86 Calories
Ingredients:
100g blue cheese
4 slices pancetta
1 red onion
4 eggs
1 tbsp half fat creme fraiche
Salt and black pepper to season
Olive oil (about 1 tsp to grease tins)
Cake cases
Preparation:
Pre heat your oven to 190 degrees.
Use the olive oil to grease a non stick bun tray. If you are lucky to have a newish non stick bun tray with good non stick you might get away with skipping this bit. I'm hoping my new silicone tins will mean I can next time. Without the olive oil the calorie count is only 83 per quiche. Crumble the blue cheese. Divide the onion between the tins. Crumble the blue cheese into the tins. Try to make this as even as you can so everyone gets a nice cheesy quiche. Finely chop the red onion And divide this between the cases. Again try to get this as even as you can.
Lay the pancetta on top. Cut the pancetta into thick strips, mine were about 1 1/2 cm across. I use kitchen scissors as I find this quicker and easier. Beat together the eggs and the half fat creme fraiche then season with a little salt and black pepper. Pour the egg mix into each tin as evenly as you can. Try not to get too much over the sides. This mixture should just about fill each of the twelve tins to the brim so when you take it all to the oven take care not to spill it. Lay the strips of pancetta over the top, again dividing it evenly across all twelve tins. Pop into the oven for 15 minutes until the quiches are browned and the pancetta starts to go crispy. Leave to cool before removing from the bun tins and transfer to little cake cases. You don't have to do this but I thought it looked really pretty and Christmassy.These are also great for your lunch box with a little tub of salad. If you don't have decent bun tins, you can always cook the whole thing in one quiche dish (you will have to grease this with the oil) and slice it into thin wedges when it's cold.
Recipe courtesy of Fat Girls Kitchen.
7. Balsamic-Honey Chicken Kabobs 89.9 Calories
Ingredients:
Summer Squash, 1 large
Zucchini, 1 large
Peppers, 2 large
Red Onion, 1 large
Chicken Breast, no skin, 1 lb
Preparation:
Chop everything into big chunks. Mix together honey balsamic vingear and water (heating it up in the microwave helps melt the honey). Put chicken and veggies in separate ziploc baggies and pour .25 of marinade in with chicken and the rest (.75 cup) in with the veggies. Let marinade for AT LEAST 30 minutes. Put on the grill to cook. You can use some of the marinade from the veggies to baste the kabobs while cooking for more balsamic-honey flavor (but more calories!).
Recipe courtesy of Spark People.
8. Endive Stuffed with Goat Cheese and Walnuts 92 Calories
Ingredients:
1/3 cup coarsely chopped walnuts
2 tablespoons honey, divided
Cooking spray
1/4 cup balsamic vinegar
3 tablespoons orange juice
16 Belgian endive leaves (about 2 heads)
1/3 cup (1 1/2 ounces) crumbled goat cheese or blue cheese
16 small orange sections (about 2 navel oranges)
1 tablespoon minced fresh chives
1/4 teaspoon cracked black pepper
Preparation:
Preheat oven to 350°. Combine walnuts and 1 tablespoon honey; spread on a baking sheet coated with cooking spray. Bake at 350° for 10 minutes, stirring after 5 minutes. Combine 1 tablespoon honey, vinegar, and orange juice in a small saucepan. Bring mixture to a boil over high heat, and cook until reduced to 3 tablespoons (about 5 minutes). Fill each endive leaf with 1 orange section. Top each section with 1 teaspoon cheese and 1 teaspoon walnuts; arrange on a plate. Drizzle the vinegar mixture evenly over leaves, and sprinkle evenly with chives and pepper.
Recipe courtesy of My Recipes.
Published by Medicaldaily.com