8-Year-Old With Rare Genetic Disorder Rushes For 40 Yard Touchdown Against ECU Defense [VIDEO]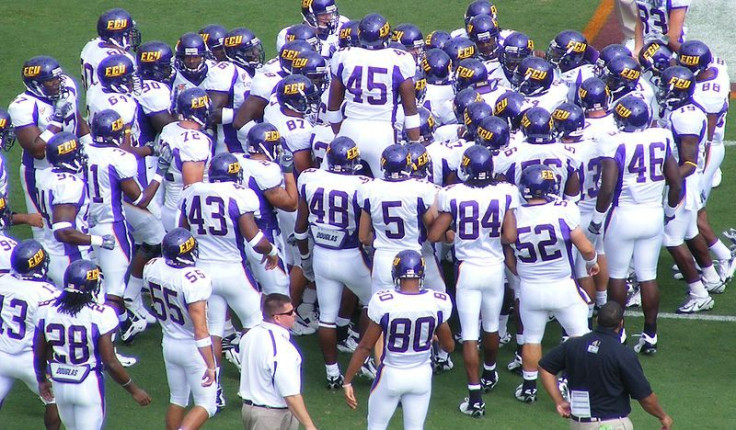 Nothing could have matched the joy Noah Roberts felt when his family told him he would get to attend the East Carolina University spring football game — except maybe for when he got to run the game's final play.
Back in 2010, Noah's life was turned on its head when he and his family found out he had developed neurofibromatosis type 2 (NF2). This rare genetic disorder inhibits cell growth in the nervous system causing multiple tumors to develop along the brain, spinal cord, and nerves.
Compared to NF1, NF2 comes with an increased chance of developing cataracts and tumors on the inner ear which can affect balance. After physicians discovered Noah's fourth tumor two months ago the eight-year-old was understandably despondent.
His family knew there was only one way to put a smile on his face.
After Noah's sister, Whitney, started attending ECU he became a big fan of the college's athletics, especially their football team. In the two years his sisters has been attending ECU, Noah has been a fixture of the Pirate's bench, sideline, and locker room.
After a week of treatment and testing in Washington D.C., Noah's family told him they were going to drive out to ECU for the annual spring football game. What they didn't tell him was that he would rush for the Pirate's final touchdown of the game.
While wearing No. 32 in purple and yellow, Noah broke an electrifying 40 yard touchdown run that didn't leave one seat in Dowdy Ficklen Stadium occupied. Upon reaching the end zone the entire ECU football team hoisted Noah on their shoulders while chanting his name, "Noah! Noah! Noah!"
"You kinda get chills in moments like that," Junior Quarterback Shane Carden told WCTI12.
"It's just it's really nice to just be able to be a part of that be a part of that with Noah and be able to do that for him with the whole team around him. It was a special moment."
Published by Medicaldaily.com