9-Year-Old Robert 'Boo' Maddox Spends 500 Days In Hospital For Swine Flu, Receives Kidney Transplant From Mother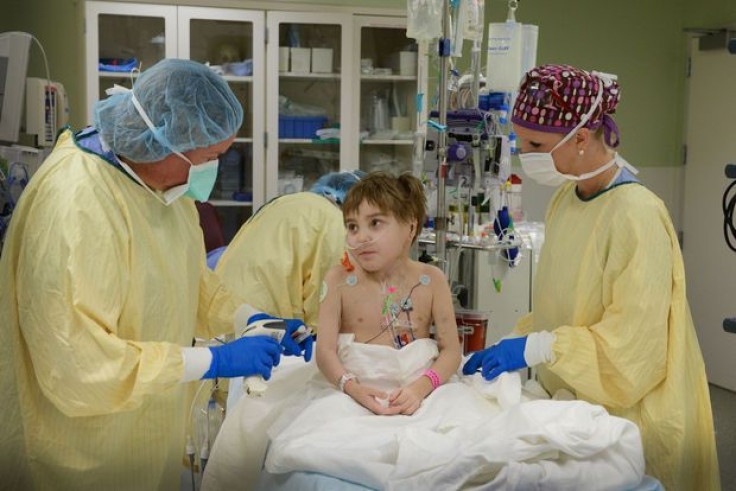 Spending two birthdays in the hospital is never any fun, but if it means being able to celebrate dozens more, chances are it's worth it. For nine-year-old Robert 'Boo' Maddox V, who spent nearly 500 days in the hospital following a case of swine flu and recently received a working kidney from his mother, that future is as bright as ever.
Boo was first admitted to Children's Hospital in New Orleans after contracting a strain of the H1N1 flu virus. After years of treatment that continuously put him in and out of the hospital — 480 days in total — Boo's doctor delivered the news that promised to save the boy's life. His mother was a match.
"Let's get this done," Boo said the morning of July 29 as nurses prepped him for a procedure that doctors told him for years he couldn't have.
Read more: Polish Man, Grzegorz, Goes Home After Country's First Face Transplant; 'World's Fastest Time Frame For Such An Operation,' Doctors Say
The surgery took place at Mayo Clinic in Rochester, Minn., at 8:30 a.m. It lasted seven hours, and when Boo rolled out, he had a new kidney from his mother Renee Maddox.
According to Boo's father, Robert Maddox IV, Renee's decision to give Boo one of her kidneys was one that she made immediately. Both parents qualified as matches, but given Robert's history with kidney stones, the couple elected to use Renee's.
"She never had fear," Robert said Monday of his wife of 25 years.
Strong in their faith, the family joined Boo in his third floor hospital room and Renee in her sixth floor room to pray before the surgery. A Catholic priest anointed Boo with holy oil and delivered the sacrament of the anointing of the sick. Boo's four sisters, ages five, 11, 20, and 22, surrounded him to take pictures together.
Days 1 - 480
Boo arrived at Children's Hospital in New Orleans November 11, 2009 via helicopter. He was five years old at the time and over 200 miles away from his hometown of Alexandria, La. He spent more than 50 days on life support during his stint at the hospital, battling debilitating infections and nearly dying, NOLA reports. He wasn't discharged until after his seventh birthday.
"We didn't think he would survive this," said Dr. Costa Dimitriades, director of the hospital's pediatric intensive care unit. "It's a testament to a family and a hospital not giving up."
Read more: Cassidy Hooper, Teen Born Without Nose Or Eyes, Gets Nose Through Surgery; Rib And Skin From Forehead Used In Construction
But following his release, Boo's health fell back into decline. He suffered infections. His organs failed. His kidneys quit. After relocating to the Mayo Clinic, he began to believe his time on Earth was up.
"Dad," he said, "I think I'm ready to go to heaven."
Robert Maddox IV was unsurprised to hear Boo express such thoughts.
"After three and a half years of going through so many trials," he said, "we've finally come to the understanding that all of our ultimate healing is in heaven."
A medical breakthrough soon dispelled that assumption, when transplant surgeon and Mayo's surgical director of kidney transplantation, Dr. Mikel Prieto, announced the good news.
"I know what's wrong with your boy," Maddox remembers Prieto saying, "and I'm going to fix him."
The problem lay in a fistula that past doctors had constructed in Boo's body — an artificial connection between an artery and vein in the boy's arm to facilitate blood flow during dialysis treatments. That fistula — which, at its most basic, is an abnormal connection between organs and vessels — had increased pressure in Boo's lungs, resulting in high pulmonary hypertension.
Once the Mayo staff removed the fistula, and an additional blockage in his vena cava, suddenly Boo was a candidate for kidney transplant.
Read more: Japanese Palm Surgeries Look To Change Fate By Adding Lines To The Hand: Can 10 Minutes With An Electric Scalpel Alter Your Destiny?
Moments After Surgery
In total, the procedure lasted nearly seven hours, as Robert received an e-mail from one of his daughters around 3:30 p.m. that read "Mom's back in the room." At 6 p.m., Prieto told a reporter that he believes Boo can finally reclaim his childhood and leave hospital life behind.
But, not all memories have a shadow cast over them. There was the time that Boo led a parade down hospital corridors during Carnival and tossed beads and stuffed animals to bystanders. He crowned actor Andy Garcia as Bacchus XLIII in the lobby.
"You may be King Bacchus," Boo told Garcia, according to the boy's father. "But I'm king of the hospital."
Published by Medicaldaily.com