Abenomics Bra Boosts Your Cup Size by 2%: Slow Growth is Better Than No Growth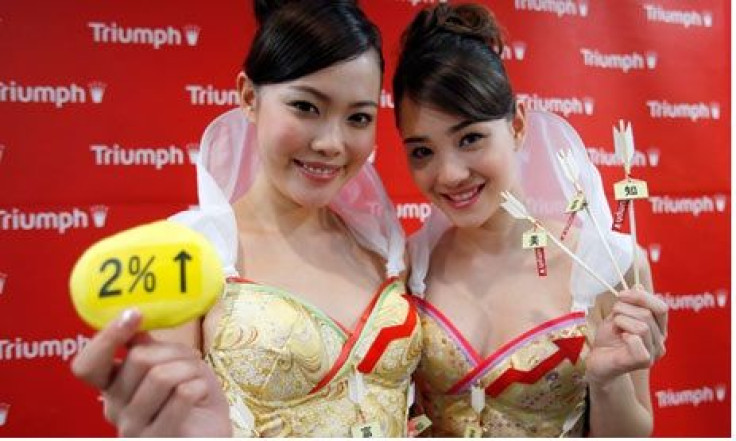 The Japanese division of lingerie maker Triumph International has launched a new bra that aspires to match the growth of a woman's bust size to the economic growth predicted for the country.
"We've put in these pads that boost the bra's cups by two percent. We hope that as the Japanese economy grows, we can also help bust sizes to get bigger," said Triumph spokeswoman Keiko Masuda.
The "Branomics Bra" — also called the "Abenomics Bra" — features a rising trendline and arrows as motifs. It is a playful take on prime minister Shinzo Abe's "three-arrow" economic revival plan that combines monetary strategy aimed at reaching two percent inflation in two years with pro-growth reforms.
The presentation of "Branomics Bra" follows, among others, ice-pack, solar-powered, recycled, and husband-hunting bras. Tokyo launches of Triumph's concept bras have been an annual event for over two decades. Headquartered in Switzerland, the company uses its novelty designs as a publicity tool and so, like its many flamboyant predecessors, the new "Abenomics" bra will not go on sale.
"If a woman thinks she looks beautiful she'll work harder — and that will surely increase inflation and boost the economy, right? It will also make everyone a lot happier," one Triumph model, who goes by the professional name of Alisa, said at the launch.
The lingerie giant began as a classic corsetry manufacturer lauched from a barn in Germany's Swabia region. From an original staff of six, this multinational corporation now employs over 30,000 and boasts annual sales of over $1.6 billion. On its website, the company notes that it is "committed to observing international human rights statutes both within our own production operations and in all suppliers to Triumph International."
That part, at least, is a positive sign for women's health.
Published by Medicaldaily.com