Type 2 Diabetes Drug Actos Linked To Increased Risk Of Bladder Cancer, But Not Avandia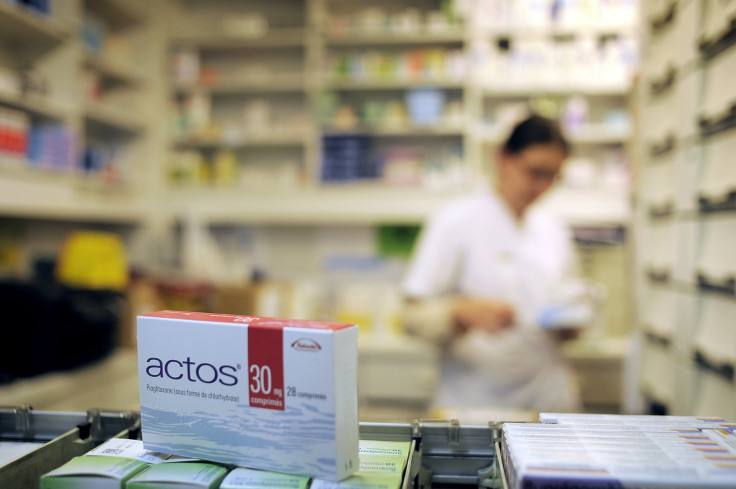 Pioglitazone, sold under the brand name Actos and prescribed for patients with Type 2 diabetes, is linked to an increased risk of bladder cancer, according to a team of Canadian researchers. This risk increases the longer it's taken and the higher the dosage, their new study suggests. Importantly, the researchers discovered rosiglitazone, a similar diabetes drug sold under the trade name Avandia, did not increase the risk of bladder cancer.
Pioglitazone and rosiglitazone, both approved by the Food and Drug Administration in 1999, belong to a class of drugs called thiazolidinedione. These drugs work by increasing the body's sensitivity to insulin — a natural substance within our bodies that allows it to dispose of excess blood sugar. Because of its role in helping control blood sugar levels, insulin is necessary when our bodies convert glucose into energy. People with Type 2 diabetes either do not produce enough insulin or their cells resist the insulin. When glucose, which our bodies make from the food we eat, builds up in the blood instead of properly aiding cell metabolism, our cells become starved for energy.
In 2005, a trial of pioglitazone unexpectedly showed an imbalance in the number of bladder cancer cases compared with placebo. (Randomized controlled trials of rosiglitazone did not show the same results.) Some but not all subsequent studies of pioglitazone supported the evidence found in the 2005 trial. In particular, a Kaiser Permanente Northern California study, which tracked a group of patients for up to 10 years, arrived at an opposite conclusion finding no increased risk of bladder cancer.
"Overall, these studies have generated conflicting findings, with seven reporting statistically significant increased risks (ranging from 20 percent to 225 percent) and nine reporting null associations," wrote the researchers from McGill University and Jewish General Hospital in Montreal.
Risk Reward Analysis
To clear up the confusion, the research team compared the use of pioglitazone with other antidiabetic drugs in patients with Type 2 diabetes. For their analysis, they relied on data from the UK Clinical Practice Research Database (CPRD), which followed 145,806 patients newly treated with diabetes drugs between 2000 and 2013. The CPRD included extensive statistics, allowing the research team to take into account possible "confounders" or side factors that might influence the results, such as age, sex, duration of diabetes, smoking status, and alcohol-related disorders.
Comparing the use of pioglitazone with the use of other antidiabetic drugs, they discovered pioglitazone to be associated with an overall 63 percent increased risk of bladder cancer. After further sensitivity analyses, this risk rate remained unchanged, yet it increased with longer use and higher doses.
By contrast, rosiglitazone did not link to an increased risk of bladder cancer in any analysis performed by the researchers. This suggests the cancer risk is drug-specific and not an effect resulting from the entire thiazolidinedione drug class.
While in absolute terms, the risk of bladder cancer remains low, the authors say, both doctors and patients should be aware of this when deciding whether or not to use this drug.
An accompanying study published today compared diabetes drugs for their potential ability to control blood sugar levels and prevent serious complications, including amputation, blindness, and severe kidney failure.
Analyzing data from 469,688 patients with Type 2 diabetes between 2007 and 2015, the authors discovered "significantly increased risks of severe kidney failure" among patients taking only thiazolidinediones or gliptins (another common class of medications for treating Type 2 diabetes) when compared to patients taking only metformin (brand name Glucophage). The researchers also examined data from diabetes patients taking combinations of drugs and found those prescribed triple therapy with metformin, thiazolidinediones, and sulphonylureas (another category of antidiabetics) showed a significantly reduced risk of blindness compared with metformin alone.
Based on these results, the researchers suggest both doctors and patients carefully assess the overall risks and benefits of medications.
Source: Tuccori M, Filion KB, Yin H, et al. Pioglitazone use and risk of bladder cancer: population based cohort study. The BMJ. 2016.
Hippisley-Cox J, Coupland C. Diabetes treatments and risk of amputation, blindness, severe kidney failure, hyperglycaemia, and hypoglycaemia: open cohort study in primary care. The BMJ. 2016.
Published by Medicaldaily.com