Aetna to Buy Coventry in Medicare, Medicaid Expansion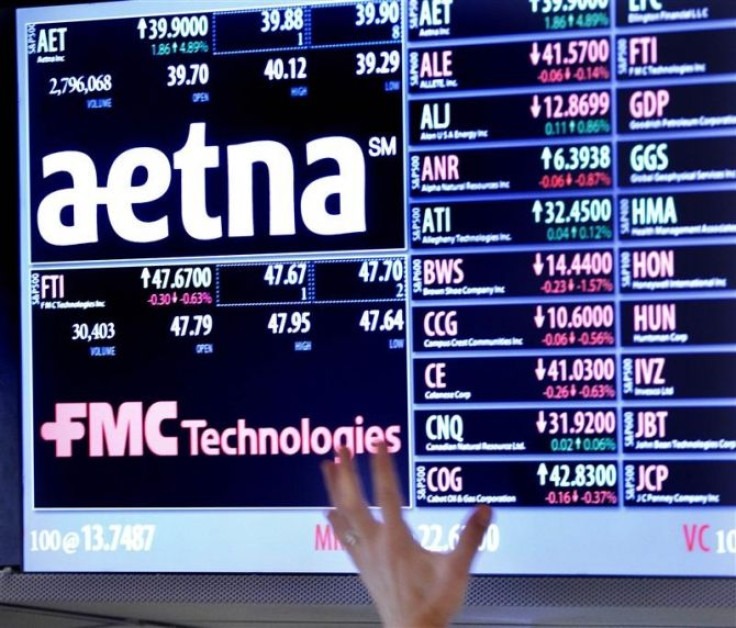 Health insurer Aetna Inc said on Monday that it would buy rival Coventry Health Care Inc for $5.6 billion to increase its share of the fast-growing, U.S. government-backed Medicare and Medicaid programs.
The purchase, which will add more than 5 million members to Aetna's ranks, comes just weeks after rival WellPoint Inc struck a deal to buy Amerigroup Corp in a major expansion of its Medicaid business, administering the government's health plan for the poor.
"It's about scale—getting critical mass in Medicare and Medicaid, gaining negotiating power with hospitals and other providers," said Jeff Jonas, an analyst with Gabelli Health and Wellness Trust Mutual Fund.
"After several other well-received deals -- especially Cigna/Healthspring -- Aetna was getting left behind as one of the smaller players. Not anymore. When you can borrow at 3 percent interest, it's highly accretive to earnings," he added.
Bankers and investors see the wave of health insurer consolidation accelerating further as the United States moves to implement President Barack Obama's healthcare overhaul.
But the law still faces significant challenges. Republican presidential candidate Mitt Romney has vowed to roll back the Affordable Care Act if elected in November, and Republican state leaders could make it difficult to enact many provisions of the law.
The U.S. health reform law aims to provide coverage for 16 million more Americans through privately run insurance exchanges in each state and will expand Medicaid eligibility for an additional 16 million people by raising limits on household income.
"The transaction boosts Aetna's footprint in government programs, and adds scale to its commercial operations, which we view as strategically important ahead of the expected implementation of exchanges and health reform starting in 2014," Barclays analysts said in a note to clients.
Aetna shares were up about 5 percent and Coventry shares were up nearly 20 percent at midday on the New York Stock Exchange.
Under the deal, Aetna will pay $42.08 per share - $27.30 in cash and 0.3885 of its common shares. That is a 20.4 percent premium over Coventry's closing stock price of $34.94 on Friday.
Aetna Chief Executive Officer Mark Bertolini estimated the combined company's 2012 revenue at $50 billion. The deal, expected to close in mid-2013, will double Aetna's Medicaid membership, he told analysts on a conference call.
The acquisition will help Aetna add nearly 4 million medical members and 1.5 million Medicare Part D members. Medicare Part D is a federal program that reduces prescription drug costs for beneficiaries of the government plan for the elderly.
In all, Aetna's government business will account for more than 30 percent of revenue after the deal, up from 23 percent currently.
"The election and SCOTUS were not critical to our strategic thinking," said Chief Financial Officer Joseph Zubretsky, referring to the U.S. Supreme Court's June 28 decision to uphold the "individual mandate" requiring that most Americans obtain health insurance by 2014 or pay a tax.
"We think we had a very good opportunity to gain better access to government-based revenues at valuations that were very reasonable," he said.
Zubretsky said the combined companies will be able to reduce administrative overhead costs and leverage each company's provider network to obtain the best deals from healthcare providers, resulting in lower costs for consumers.
LOBBYING CLOUT
The deal should also help Aetna wield even more influence on health policy in Washington. The Hartford, Connecticut, company is a big spender on lobbyists, forking over nearly $4 million to defend its interests in Congress last year, and another $2.1 million during the first six months of 2012, according to U.S. Senate records. Coventry spent $300,000 on lobbyists over the same 18-month period.
Their combined lobbying would place them among the U.S. insurance industry's top 10 spenders, according to the Center for Responsive Politics, a nonprofit group that tracks the influence of money in politics. U.S. insurers have spent a combined $75 million on lobbyists so far this year, with Blue Cross/Blue Shield topping the list at $6.5 million, according to data listed on the Center's Web site at www.opensecrets.org. Aetna and Coventry together have spent $2.2 million.
APPETITE FOR SMALLER DEALS
Including the assumption of Coventry debt, the sale is valued at $7.3 billion, the companies said. Aetna plans to issue $2.5 billion in new debt and commercial paper to help finance the deal, but does not expect any impact on credit ratings, Zubretsky said.
Zubretsky said the company would still have the cash flow to do "small discrete transactions."
"We're not completely out of the game, but highest priority is to close and integrate this deal," he said.
Zubretsky added that he expects the recent wave of M&A activity to continue in the health insurance sector.
"The game board is getting a little thin," he said. "There has been a lot of consolidation recently and I see no reason why there wouldn't be more."
Gabelli's Jonas noted there has been speculation in the market that Humana Inc might do a deal, noting that Humana is strong in Medicare but fairly small in Medicaid and employer-provided insurance.
"UnitedHealth could easily afford an acquisition but they have such scale and capability in all areas that they don't need to do anything," he said.
Jonas said a Romney win would be a positive for the health insurance industry.
"The premium support plan for Medicare would bring an enormous amount of new business to the industry. His plan to reform the corporate tax code would also be hugely positive for these domestic companies," he said, adding Republicans probably can repeal the ACA by the same reconciliation process that was used to pass it. "But what they'd replace it with and what provisions they'd keep is very unclear. The need for scale doesn't change—we see that with hospitals and physicians merging into bigger chains as well as the insurers."
BACKING AETNA'S OUTLOOK
Zubretsky also affirmed Aetna's financial forecasts for the year, but said they also reflected the fact that the deal would reduce the company's ability to buy back shares for the rest of 2012.
Aetna said it expected the deal to add modestly to operating earnings per share in 2013, 45 cents per share in 2014 and 90 cents in 2015.
In July, WellPoint said it would buy rival Amerigroup for $4.46 billion, nearly doubling its Medicaid business.
Last October, Cigna Corp agreed to buy HealthSpring Inc for $3.8 billion to strengthen its Medicare business.
Aetna shares were up 4.7 percent at $39.84 and Coventry shares were up 19.2 percent at $41.64 at midday on Monday.
Aetna's financial advisers were Goldman Sachs and UBS Investment Bank. Coventry's financial adviser was Greenhill and Co. Aetna's legal advisers were Davis Polk & Wardwell LLP and Jones Day. Coventry's legal advisers were Wachtell, Lipton, Rosen & Katz; Bass, Berry & Sims PLC; and Crowell & Moring LLP.
@ 2012 Thomson Reuters. All rights reserved.