Afatinib Reduces Progression Of Head And Neck Cancer In Patients Whose Chemo Doesn't Work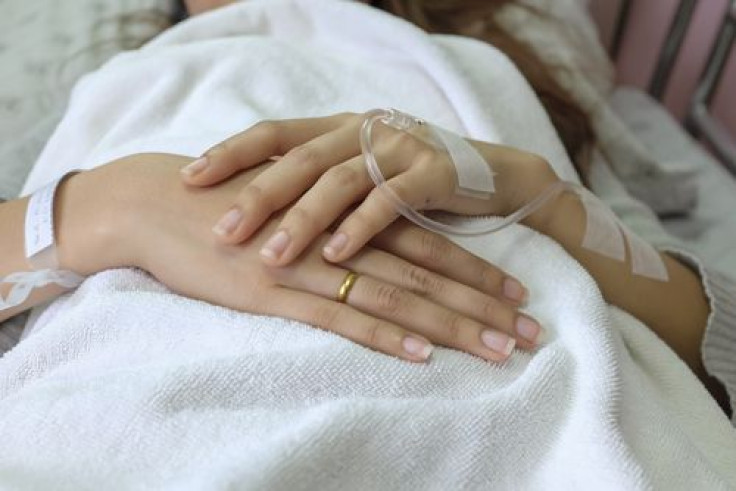 Since its development, the drug afatinib has been found to be effective treating several cancers. Now, results from a phase III trial suggest that using afatinib as a second-line treatment significantly improves progression-free survival in patients with recurrent or metastatic squamous cell carcinoma of the head and neck. The study found that it did much better when compared to another drug, methotrexate.
Called the Lux-Head & Neck 1 trial, the study showed that patients who could not be treated by platinum-based chemotherapy responded well to 40 milligrams per day of oral afatinib — there was a 20 percent reduction in the risk of the cancer progressing, or their death — when compared to patients who took methotrexate. Among the patients who took afatinib, the median progression-free survival rate was 2.6 months. The results were presented at the European Society for Medical Oncology's 2014 Congress in Madrid.
"The improvement in progression-free survival was associated with a significant delayed worsening of symptoms (such as pain, swallowing, and global health status) versus chemotherapy," said Dr. Jean-Pascal Machiels, of the King Albert II Institute in Brussels, Belgium, in a statement. "Patients treated with afatinib had less pain over time than patients treated with methotrexate."
Squamous cells are thin, flat cells found in the head, neck, and respiratory tracts. Cancer of these cells can begin anywhere they're found, and then spread to other parts of the body. Squamous cell carcinoma generally appears as a lump or pain in the neck or throat. The outcome for many people with the cancer is poor, usually because most patients tend to have other problems, such as alcoholism or tobacco use. Machiels said that this form of cancer "does not get enough attention from the scientific community."
"Frequently, these patients have a relapse in the head and neck area," he said. "This location is responsible of many symptoms that are difficult to palliate: pain, breath disorder, and swallowing difficulties."
Afatinib works by inhibiting tyrosine kinases, the enzymes that act as on/off switches for cellular functions, and play a critical role in the development and progression of cancers. Specifically, it irreversibly blocks the ErbB family of cell surface receptors, which includes epidermal growth factor receptor (EGFR) — around 90 percent of squamous cell carcinomas of the head and neck are a result of everexpressed EGFR. Other ErbB receptors include human epidermal growth factor 2 (HER2), and HER3 and HER4.
For the study, researchers wanted to determine if inhibiting multiple ErbB receptors simultaneously would improve the effect of EGFR-targeted therapy. They studied 483 patients with recurrent or metastatic head and neck squamous cell carcinoma, whose cancer had progressed despite treatment with platinum-based therapy. Of the participants, 322 got afatinib and 161 got methotrexate.
"Afatinib improved progression-free survival and delayed worsening of symptoms, and it is the first tyrosine kinase inhibitor to demonstrate a significant benefit in this disease," Machiels said. The drug had few side effects too, with participants reporting only rash, acne, and diarrhea.
When it comes to whether the drug improved overall survival, and not just survival without progression, Machiels said that he was still skeptical because the drug may not be capable of doing so. However, he said that "50 percent of the patients in both arms received subsequent therapies that could have influenced the survival benefit. For example, a significant number of patients received subsequent anti-EGFR therapies in the methotrexate arm."
Machiels said that the trial could help future researchers better understand the underlying physiological processes that help the disease progress.
Source: Machiels J, Afatinib versus methotrexate (MTX) as second-line treatment for patients with recurrent and/or metastatic (R/M) head and neck squamous cell carcinoma (HNSCC) who progressed after platinum-based therapy: primary efficacy results of LUX-Head & Neck 1. At ESMO 2014 Congress in Madrid. 2014.
Published by Medicaldaily.com