After Battle Over Life Support, Casey Kasem Submits To Parkinson's At Age 82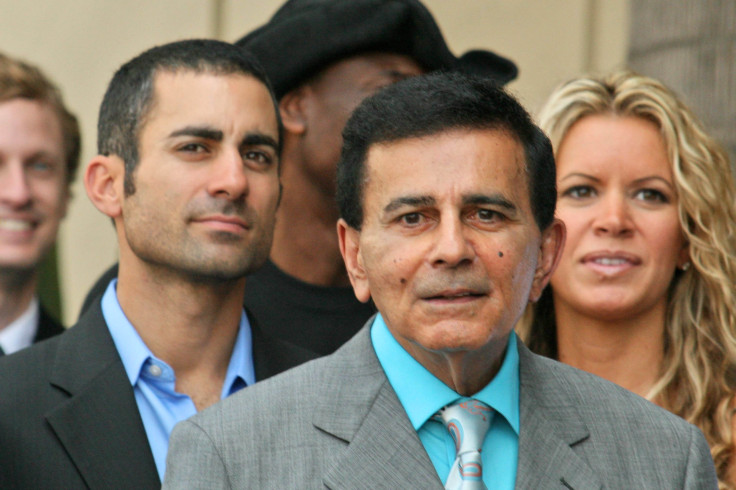 Casey Kasem, the infamous radio personality, DJ, and actor, died at age 82 on Sunday after being removed from feeding and fluid tubes at a Washington state hospital.
"Early this Father's Day morning, our dad Casey Kasem passed away surrounding by family and friends," Kasem's kids, Kerri, Mike, and Julie, said in a statement. "Even though we know he is in a better place and no longer suffering, we are heartbroken ... The world will miss Casey Kasem, an incredible talent and humanitarian; we will miss our Dad."
He was admitted to the hospital June 1 after developing a bed sore infection and was declared as being in critical condition. Doctors continued to keep him alive through feeding tubes, which sparked a battle between his wife, Jean Kasem, and his children — who wanted him to be taken off life support.
Amid a flurry of court battles over Kasem's health decisions, on Wednesday a judge overturned a previous ruling that had required doctors to continue feeding him through tubes. The new decision granted his oldest daughter, Kerri, to have control over whether to pull the plug, to Jean Kasem's chagrin. "You have blood on your hands," an angry Jean Kasem told the judge as she left the L.A. courtroom last week.
But Judge Daniel S. Murphy believed otherwise: "It would be acutely harmful for Mr. Kasem to have nutrition and hydration restored at this time," he said, according to the NY Daily News. "This was at the advisement of doctors at St. Anthony's." The ruling upheld a previous conservatorship that gave Kerri Kasem, the eldest daughter, rights to make his medical decisions. The judge claimed that Jean did not act "in the best interests" of her husband, to whom she had been married for 34 years.
Casey Kasem had been suffering from Lewy body dementia, which is an umbrella term for two diseases — both Parkinson's disease and dementia with Lewy bodies. Kasem specifically suffered from Parkinson's disease, having been diagnosed in 2007. That year, he signed a document that gave his oldest kids the ability to make his medical decisions. In addition, he signed a power of attorney statement that said he would not want to be kept alive with "any form of life sustaining procedures, including nutrition and hydration" if that "would result in a mere biological existence, devoid of cognitive function, with no reasonable hope of normal functioning."
Jean Kasem claims that her husband showed via eye and eyebrow movements that he wanted to live. But his children thought otherwise. "We have tried everything to keep him alive. We did put him back on fluids, but we had to take him off again because his lungs were filling up. It sounded like he was drowning. It was excruciating to watch," Kasem's oldest daughter, Kerri, 41, told the Daily News last week. "The feeding was backing up because he can't digest. This is breaking my heart. We're been trying for nine days to keep him alive. There's nothing we want more than for our dad to be here with us."
Kasem was the legendary host of America's Top 40 from 1970 until his retirement in 2009, known for elevating the role of radio personality to storyteller. His show counted down the 40 most popular songs in the U.S. based on Billboard's Hot 100 music chart. DJ Gary Owens told Billboard in 1997: "The magic of Casey is that he is the ultimate professional in whatever he does ... He enlightens, he explores, he suggests, he provokes, he informs."
Kasem was also famous for voicing Shaggy in Scooby-Doo.
"It's so simple: what do people love?" Kasem told The New York Times in 1999. "Plato said it best. 'People who tell the stories rule society.' And we tell the stories, and people love to hear the stories. Of course, we've got tremendous responsibility to become accurate with those stories. And in most cases to be wholesome."
Published by Medicaldaily.com