After Years Of Serious Food Safety Problems, China Launches It's First Infant Milk Insurance Policy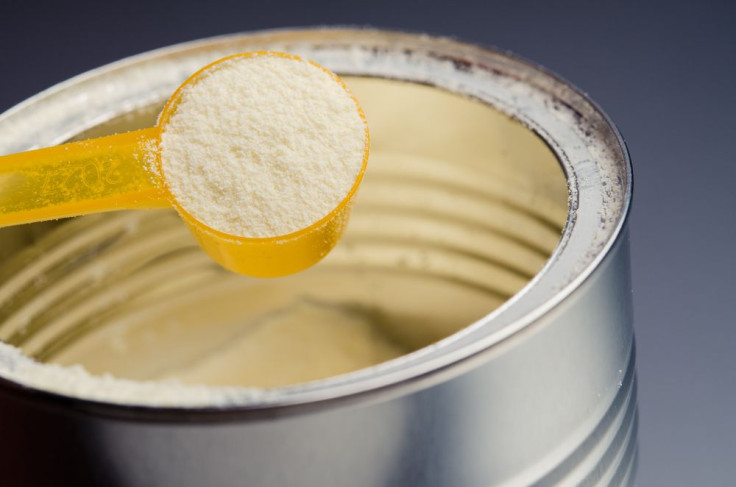 For mothers struggling to breastfeed their babies, formula is the next best option, unless you are in China. Thousands of Chinese children have gotten sick, and others have died, after drinking baby milk laced with harmful chemicals; one of the worst food scandals in China's history. Following the milk scare, one Chinese retailer has decided to offer insurance to people who buy infant milk powder.
"In recent years, the milk powder market in China has been in a mess," retailer Suning Commerce Group Ltd told Reuters. "We realized that parents pay a great deal of attention to their children's health and safety, and in particular, the safety of their infants' foods." Suning owns the Redbaby chain of stores, which has already launched the first-of-its-kind baby milk insurance policy. If infant milk is recalled, customers who purchased the formula from Redbaby stores will be paid up to 2,000 yuan ($325), with payments reaching no more than 100,000 yuan per can.
The infant milk scandal has plagued China for years. In 2008, an estimated 300,000 children got sick from melamine (an industrial chemical) in tainted milk, and at least six babies died. Illegal amounts of melamine were added to the infant milk formula to boost protein levels. Once ingested, the chemical can cause children to develop kidney stones and other illnesses. Going back further, The Guardian reported in 2004 that fake baby milk had resulted in at least 50 deaths. In the eastern province of Anhui, 200 children developed "big-head disease," a disease that causes symptoms similar to malnourishment, including reduced flesh on the torso or limbs.
China's food safety plight goes further than just milk. Many other foods have been contaminated, from its meats, eggs, and oil to fruits and rice. Glow-in-the-dark meat was a particularly odd discovery. Can you imagine seeing your meat glowing blue in your dark kitchen? Strangely enough, officials said the meat was edible if cooked well.
Dogs have also been affected by food contamination in China. According to the World Health Organization, melamine was found in pet food manufactured in China in 2007. So what is safe to eat in the country? It seems like almost everything can make you sick, and some Chinese parents aren't taking the risk when it comes to their children's milk. Instead, they are investing in foreign-made milk, which mostly comes from Australia. Last year, they were so determined to get it from there that both Hong Kong Authorities and Australian retailers had to restrict sales, the BBC reported.
For parents who decide to purchase baby milk from Redbaby stores, Suning's new policy will at least compensate for any tainted any milk formula. Suning told Reuters that it is giving away free insurance for the first 40,000 cans of milk sold. Other customers will be able to purchase the insurance online.
Published by Medicaldaily.com