Air Jordan 3 Release: Teen Cancer Survivor Cole Johanson Designs First Doernbecher Sneaker To Ever Be Re-Released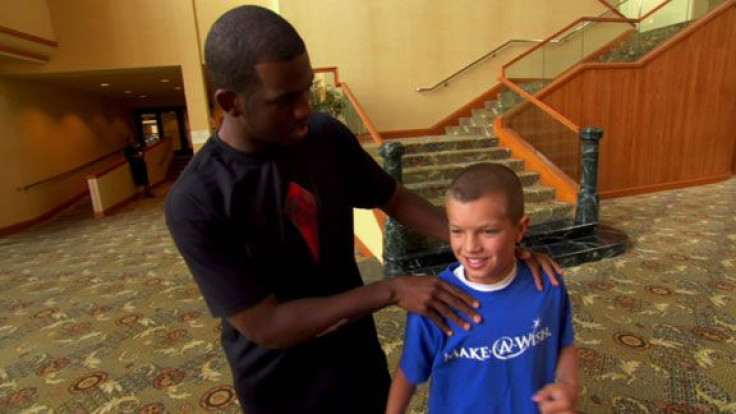 When Cole Johanson was 9 years old, he was diagnosed with a rare and aggressive cancer. By age 10, he was cancer-free. And at age 11, Johanson designed a shoe so popular that it sold for $600 to $1,000 on retail sites like eBay.
The teen cancer survivor was diagnosed with an aggressive lymphoma when he was in fourth grade, evidenced by a tumor in his stomach the size of a grapefruit. Lymphoma is a cancer that begins in cells called lymphocytes. The condition results when those lymphocytes cannot stop growing and multiplying. Johanson's doctors told him that he would have to start intense chemotherapy immediately if he wanted to survive.
And he did.
"Those weeks in the ICU were so scary," Johanson told Yahoo! Sports, "because I felt so sick."
As part of a program at Doernbecher Children's Hospital in Oregon where he was treated, Johanson was asked to design a pair of Nike shoes. The proceeds from sale of the shoes go to the Doernbecher Children's Hospital Foundation.
Johanson, an avid basketball fan, designed a pair of Air Jordans that were released in 2010 and began selling like wildfire. The shoes were red with the words "strength" and "courage" on the insoles. Sneaker fanatics loved the shoes, the only Air Jordan 3s made in the color red, and soon the demand outgrew the actual availability of the shoe.
"When I first made them, I knew it was a Retro 3 and there would be some demand," said Johanson. "I didn't expect so much reaction."
So why did Johanson's shoes sell so well? Sneaker aficionado Russ Bergenston of Complex.com told Yahoo! that the type of shoe as well as the color had a lot to do with its success.
"The rarity is definitely part of it," said Bergenston. "But I think it's also because the 3s are most people's favorite Air Jordan, and the Doernbecher is the only red version. Perfect storm."
Now Johanson's design, the Air Jordan 3 Doernbecher, was re-released on July 20th — the first Doernbecher sneaker to ever be re-released. The shoes sold out within two hours in New York City, where people stood in line for hours in hopes of getting a pair.
The 14-year-old will be a freshman in high school this year. He says the words etched on the insoles of his sneaker design helped him get through a difficult time. "Those are the two things you need the most," he said. "Especially courage. I mean, everyone has it, the trick is just not letting it go when hard things happen."
You can watch more of Johanson's journey to recovery, as well as some cool highlights of him meeting his favorite basketball star, in the video below.
For information on how to donate to the Doernbecher Children's Hospital Foundation, visit the Oregon Health and Science University website.
Published by Medicaldaily.com