Alaska's Fishermen Protest Wal-Mart's Salmon Purchases; State's Sustainable Fishing Practices Now Under Review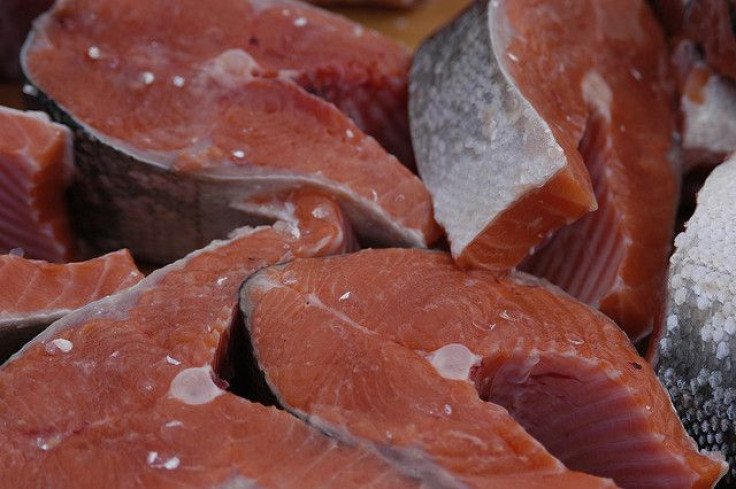 Fishermen lined a Wal-Mart store in Anchorage, Ala., on Wednesday to protest the company's seafood purchases. Nearly 40 Alaskan fishermen demanded that the world's largest retailer reevaluate its purchasing practices in order to keep the fishermen's sustainable fish in stores.
Wal-Mart declared a purchasing policy in 2011 that declared it would only buy seafood that was certified as sustainable according to the Marine Stewardship Council (MSC), or an equivalent certification program that currently does not exist. The MSC environmental standard was developed in 1997 and requires fisheries to meet a Code of Conduct for Responsible Fisheries, which is based on three overarching principles:
Sustainable fish stock
Minimizing environmental impact
Effective management
The principles ensure that certain fish populations aren't overcaught and that fishing practices do not harm the ecosystem on which the fish rely. They also make sure that local, national, and international laws are followed when fishing. Independent, accredited certifiers from MSC assess individual fisheries once a year to determine if they meet the criteria to be considered certifiably sustainable. The certificate lasts for five years; however, fishermen claim that the burden of paperwork and the high cost to stay certified under the MSC program have forced them to stop renewing their certifications.
Greg Gabriel, executive director of the Northwest and Alaska Seiners Association of Kenai, hopes that Wal-Mart — a very large and important seafood account — will recognize other certification programs and continue to consider Alaska as a leader in sustainability.
"Alaska has been in the business of sustainability long before the MSC's existence, managing salmon fisheries to high standards since statehood," Alaska Gov. Sean Parnell stated in a letter to Wal-Mart CEO, Michael Duke.
According to Parnell, the state supported the fishermen's decision to drop the MSC certification and then looked into developing new programs that will align with the Food and Agriculture Organization of the United Nations.
Jim Humphreys, MSC's fisheries director for the Americas region, said that all the fisheries in the state of Alaska have been recommended for MSC certification, with an exception for Prince William Sound, which is pending a study.
Alaska state and seafood industry officials are scheduled to meet with the executives of Wal-Mart Stores Inc., on Thursday at the company's headquarters in Bentonville, Ark. Wal-Mart executives requested the meeting in order to give Alaska a chance to sell its sustainability program plans to company officials who are open to considering alternative certification programs, so long as they are guaranteed to meet their sustainability standards.
"Obviously, it's not something we want to rush into lightly," said Chris Shraeder, Wal-Mart spokesman, adding that the company purchased Alaska salmon this year.
As the biggest private employer in the world with over two million employees, Wal-Mart's 100 million customers per week cannot be overlooked by Alaska's fishermen. According to the company's financial statistics, an average of $36,000,000 is spent every hour of every day at Wal-Mart.
One of the concerned Alaskan fishermen, John Renner, said that in order to yield a successful return in the year 2014, samon needs to be sold through Wal-Mart because of the retailer's sheer exposure to American clientele.
Published by Medicaldaily.com