Alcoholism Treatment: Experimental Drug May Help Curb Alcohol Addiction, Especially For Those With High Stress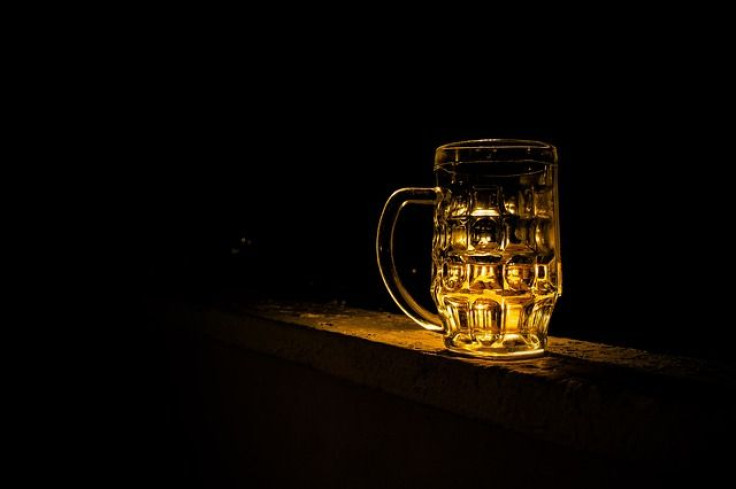 An experimental drug for alcoholism offers some promising, if mixed, hope, reveals a newly released Phase 2 clinical trial. The drug blocks the effect of a hormone that plays an important role in regulating our emotions, including anxiety. Participants in the trial did report fewer days of heavy drinking, though it wasn't a statistically significant difference.
Researchers recruited 144 adult volunteers diagnosed with alcohol use disorder (AUD). After a month's observation, the participants were randomly assigned to either receive placebo or a compound called ABT-436 for 12 weeks. By trial's end, participants on ABT-436 reported more days of alcohol abstinence than did the placebo group, particularly among those who had previously reported high levels of stress. ABT-436 volunteers who smoked also cut back on their cigarette use, suggesting it may be useful for more than one type of drug dependence.
The findings were published in Neuropsychopharmacology.
"Medications have become an important tool for treating alcohol use disorders, but current medications are not effective for all people with AUDs," said co-author Dr. George Koob, director of the National Institute on Alcohol Abuse and Alcoholism (NIAAA), which sponsored the study, in a statement. "We're committed to developing new medications to provide effective therapy to a broader spectrum of people with AUDs."
ABT-436 is designed to block the effects of vasopressin, a hormone that — among its many roles — is important to how we feel.
"Vasopressin helps to regulate the pituitary adrenal axis and other brain circuits involved in emotion," elaborated fellow author Dr. Raye Litten. "As such, it plays a role in regulating stress, anxiety, and their interaction with AUD."
People suffering from drug dependence or other mental disorders like depression often have trouble maintaining proper levels of vasopressin, an imbalance that may leave them more likely to fall off the wagon when faced with stressful situations, the authors noted. But by suppressing vasopressin, they hoped to reduce that risk. It's a theory even more supported by the fact that the drug works better in highly stressed people.
"Our findings suggest that potential future studies with drugs targeting vasopressin blockade should focus on populations of people with AUD who also report high levels of stress," said lead author Dr. Megan Ryan, a clinical project manager in the NIAAA Division of Medications Development.
Though the findings are encouraging, there are some caveats. Most notably, while people on ABT-436 did report less days of heavy drinking than the placebo group, which was the primary goal of treatment the researchers aimed for prior to the study's start, it wasn't a statistically significant difference.
As with all available treatments for alcohol dependence, it appears likely that ABT-436 may only be an imperfect fix for many. Currently, the FDA has approved three drugs for alcohol dependence, such as disulfiram and naltrexone, the latter of which also curbs the risk of death from an opioid overdose. Various forms of therapy, support groups, and even meditation have also been found to help with drug dependence when used in combination with other treatments.
Although no one treatment is perfect for everyone, they're not worthless. According to the NIAAA, one-third of people treated for alcohol dependence will experience no symptoms within a year's time, while many others will at least cut back on their drinking.
Source: Ryan M, Falk D, Fertig J, et al. A Phase 2, Double-Blind, Placebo-Controlled Randomized Trial Assessing the Efficacy of ABT-436, a Novel V1b Receptor Antagonist, for Alcohol Dependence. Neuropsychopharmacology. 2016.
Published by Medicaldaily.com