Of All Athletes, Soccer Players Most Likely To Be Struck By Lightning; National Weather Service Study Reveals Why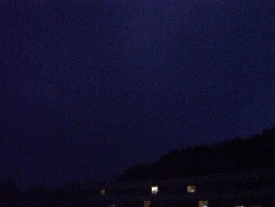 With the official start of summer, teens and young adults are more than ready to get out in the nice weather and blow off some steam with their favorite athletic activity. According to a recent statistical analysis conducted by the National Weather Service (NWS), certain "leisure activities" performed during threatening weather conditions could lead to lightning-related fatality.
Much to the surprise of experts from the NWS, 41 percent of sports-related lightning fatalities were attributed to soccer, compared to 28 percent that were attributed to golf. Of course, fishing was considered the most dangerous activity during a lightning storm, contributing to 26 deaths between 2006 and 2012, io9 reported.
Lightning specialist with the NWS, John Jensienius, stated, "When people think of lightning deaths, they usually think of golf. NOAA has made a concerted effort to raise lightning awareness in the golf community since we began the campaign in 2001, and we believe our outreach has made a huge difference since lightning-related deaths on golf courses have decreased by 75 percent."
Out of the 238 cases compiled for this study, 82 percent of deaths were male, while only 18 percent were female. For both men and women, the average age range in which lightning deaths occurred was between 10 and 29.
Jensienius and his colleague could only speculate as to what causes this severe drop in numbers between male and female lighting fatalities.
The research team stated in its report, "Possible explanations for [male fatalities far exceeding female fatalities] are that males are unaware of all the dangers associated with lightning, are more likely to be in vulnerable situations, are unwilling to be inconvenienced by the threat of lightning, are in situations that make it difficult to get to a safe place in a timely manner, don't react quickly to the lightning threat, or any combination of these explanations."
To make sure athletes are fully aware of the dangers involved with being outside during a lightning and thunderstorm, the National Athletic Trainers' Association (NATA) offered recommendations for lightning safety in a report featured in the Journal of Athletic Training back in March of this year.
NATA's recommend policies for lighting safety include:
1. Establish a lightning-specific emergency action plan for each venue - Many summer outdoor locations, such as beaches and pools, have already taken this type of prevention. NATA suggests these action plans be duplicated at other popular sites like ball fields and public parks.
2. Ensure lightning and general weather awareness - A lot of outlets, including the NWS, offer hour-by-hour weather tracking. If you know there's a threat in your area, it's probably best to stay indoors.
3. Prepare large venue planning protocols - Events that draw large crowds should be closely monitored for the threat of a lightning strike. Outdoor events should either be postponed or moved to an indoor facility if weather conditions are threatening.
4. Provide first aid - It goes without saying anyone struck by lightning should receive immediate medical attention once transported indoors. Automated External Defibrillators (AED) are recommended for most outdoor facilities where the public gathers and should be administered if someone is unconscious or without a pulse.
"All individuals, particularly those who are in charge of sports and recreational activities, should be aware of the hazards, establish and follow appropriate guidelines and ensure that those around them do so," said Katie Walsh, EdD, ATC, East Carolina University, who chaired the position statement writing group. "Proper preparation and notifying participants of lightning danger is critical."
Published by Medicaldaily.com