ALS Ice Bucket Challenge Raises Awareness And Research Funds; Its Impact Will Blow You Out Of The Water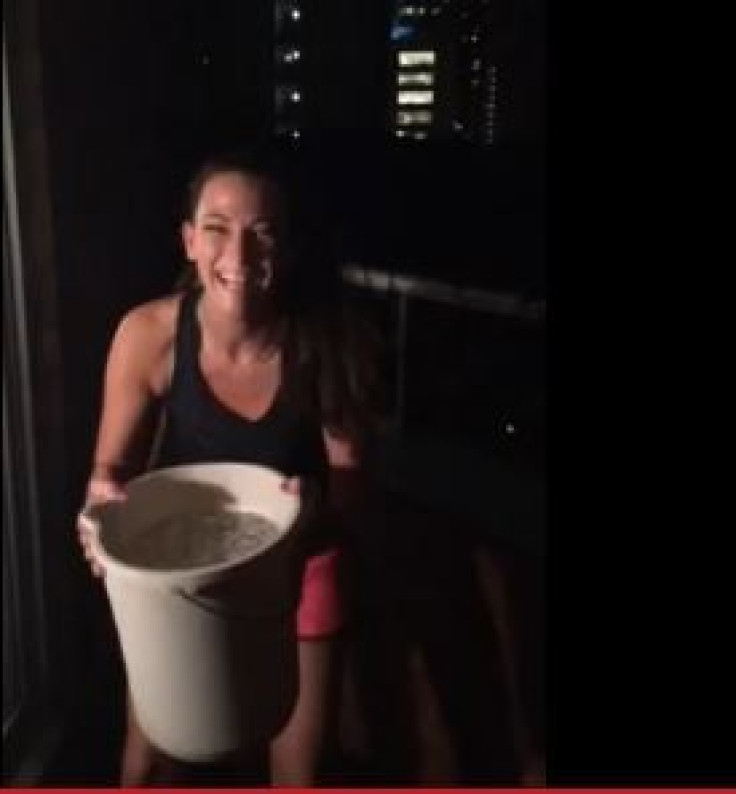 Videos have been rampantly circulating throughout the Internet of people dumping ice cold buckets of water on themselves and then nominating specific friends and family to do the same within 24 hours. If they fail to drench themselves on camera, they're asked to donate to an ALS research fund of their choice. In the last two weeks, the "Ice Bucket Challenge" has become a viral inspiration and has raised nearly four times the amount of funds for ALS as it did last year.
Amyotrophic lateral sclerosis, better known by its acronym ALS or Lou Gehrig's disease, was named after the Hall of Fame first baseman for the 1920s New York Yankees, Lou Gehrig, who died of ALS in 1941. The disease is a rapidly progressive neuromuscular disease that attacks the nerve cells responsible for controlling voluntary muscle movement. It's as if the motor neuron messengers from the brain that tell the arm to lift the cup from your desk to your lips have been killed. Without a communication system, the muscles are left useless, eventually fatigue and waste away to atrophy. However, the brain is still fully aware and the ability to feel, smell, touch, see, and taste are very much alive.
Approximately 5,600 people are diagnosed with ALS every year, and as one of the most common neuromuscular diseases worldwide, which affects people of all races and ethnic backgrounds, it can truly strike anyone regardless of a genetic link. The cause of ALS is unknown, but scientists are currently focusing on research to understand if there is a hereditary factor because two percent of all cases have had a family member with ALS, while they're also pursuing research on the environmental impacts that could trigger ALS. In 2011, scientists discovered an important defect in the C9orf72 gene, which is not only significantly present in ALS patients, but also those with frontotemporal dementia.
Today, the world's largest independent genetic study, project MinE, is an internationally crowdfunded research project started by two patients with ALS on June 21, 2013, which includes participants from various countries all over the world. They will conduct a whole human genome sequencing of each of their 15,000 ALS patients and 7,500 controls in order to detect consistent defects or mutations throughout an ALS patient's genome. Nearly every single cell in the human body, from fingernails to kneecaps, contain a complete set of DNA, and by mapping out a person's entire genetic code, scientists can look at all of the 20,000 genes at once and pick out any abnormalities. By finding similar errors in the DNA of ALS patients, scientists will be able to rule out genes that may have a role in the disease and move toward new treatment approaches.
Ice Bucket Challenge's Impact On ALS Research And Funding
"We have never seen anything like this in the history of the disease," said Barbara Newhouse, president and CEO of The ALS Association. "We couldn't be more thrilled with the level of compassion, generosity, and sense of humor that people are exhibiting as they take part in this impactful viral initiative."
The ALS Association and its 38 chapters received four million in donations between July 29 and Aug. 12 alone. Compare that to the $1.12 million they received in the same time period last year, and the ice bucket challenge's impact is clear. Many people have questioned the relevancy or have chosen to judge those who dump ice water on their heads instead of donate. Since July 29, The ALS Association has received donations from more than 70,000 new donors, which is a testament alone to the impact of spreading awareness and the power a playful viral video can make.
So far, Justin Timberlake, Martha Stewart, Elizabeth Banks, Jimmy Fallon, and the entire New England Patriots and New York Jets NFL teams completed the ALS ice bucket challenge, along with many other remarkable celebrities.
"While the monetary donations are absolutely incredible, the visibility that this disease is getting as a result of the challenge is truly invaluable," Newhouse said. "People who have never before heard of ALS are now engaged in the fight to find treatments and a cure for ALS."
This disease is fatal, and because there is only one drug approved by the Food and Drug Administration to extend a person's survival by two to three months, its victims, along with their families and friends, demand a better treatment solution for this thief of life. Within two to five years of diagnosis, 90 percent of its victims will lose their battle due to the failing muscles of the diaphragm in the chest, causing people to lose their ability to breathe. The other 10 percent are rare cases of patients who typically live 10 years or longer.
If they choose to use a ventilator to inflate and deflate their lungs mechanically, it can prolong survival, but most people eventually die of respiratory failure due to complications or pneumonia. Many have compared the disease to becoming a prisoner trapped inside their own body or to being buried alive, and with a fully intact mind, acutely and helplessly aware of their failing body, it seems eerily fitting.
Why I Participated In The ALS Ice Bucket Challenge
After my own 66-year-old grandmother was diagnosed with ALS in 2008, my world changed and challenged each member of my family in its own way. As sharply as it came, it took her from us in two years. Like most diseases that steal our loved ones away so swiftly and unexpectantly, it felt unfair and confusing. We were all left with pieces of spite and misplaced anger. I felt betrayed by something intangible. In the years since her death in 2010, I've watched with a sorrowful eye at the research efforts ALS foundations have struggled to come forth with and I have never seen an awareness campaign as effective as this one.
Many have scrutinized the challenge for its playfulness, but look at what it has done. Less than 50 percent of Americans had even heard of amyotrophic lateral sclerosis, let alone understood how it manifested in the body before the ice bucket challenge made its debut on the Internet. So, whether you've donated a dollar or dumped ice water on your head, don't stop talking about it, learning about it, and providing support for this life-altering disease. I'm profoundly moved and thankful for this beautiful gift of awareness and what it means to ALS' victims and their loved ones who continue to watch and wait for a cure.
Published by Medicaldaily.com