'Ambassadog' Lentil, Born With Cleft Palate and Lip, Helps Kids with Facial Differences Feel Normal [Video]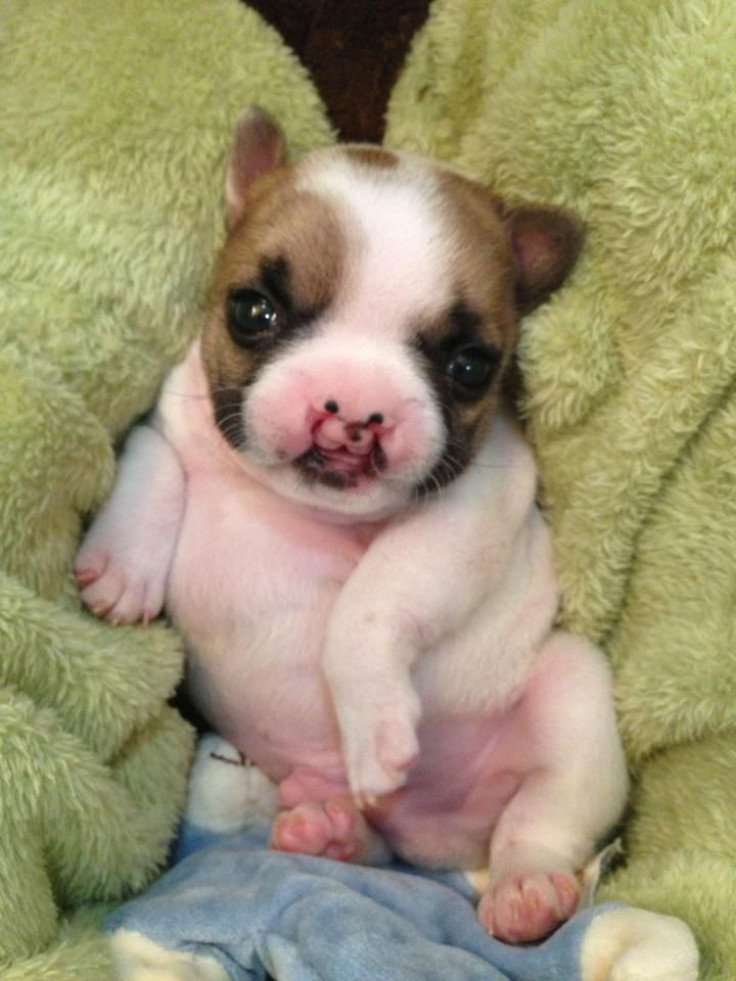 Five-month-old Lentil is the French Bulldog that's been inspiring kids across the Philadelphia are and beyond as the "ambassadog" for kids with craniofacial abnormalities, including cleft lip and cleft palate. Why is he the bringer of inspiration? Because he was the only survivor out of a four-puppy litter — all of the puppies had craniofacial abnormalities.
Lentil's first few months were difficult, not only for him but for his caretaker, Lindsay Condefer, who fed Lentil through a tube every two hours. She worried that food and liquid would go up his nose or into his lungs and said that she was "constantly on edge."
"In the beginning, he ate every two hours throughout, over a 24-hour period, and then as he got older, we were able to stretch it to three hours," she said.
Cleft palate and cleft lip occur when the tissue that forms the roof of the mouth — or the upper lip — doesn't join correctly. When this happens, it leaves areas of the mouth open for food and liquid to wander.
Lentil had surgery when he was old enough, and veterinarians were able to repair the cleft palate so he could eat and drink properly, however, because cleft lip is mostly a cosmetic surgery, they had the idea that they could use Lentil as a therapy dog for other kids who had such abnormalities.
"The cleft lip itself is more of a cosmetic surgery," Dr. Alexander Reiter, of the University of Pennsylvania's Veterinary School Department of Dentistry and Oral Surgery, told CNN. "It's not really a necessity for patients that are not fully aware of what they look like."
And with that decision, Lentil became a part of a program the vet school was developing that brought kids with certain conditions together with animals that suffered the same conditions.
"We started to talk about how it may be beneficial to be able to allow some of our veterinary patients who were having some pretty complex craniofacial surgeries and some changes in appearance to be able to meet some children and even adults who are going through some pretty similar problems," Dr. John Lewis, who operated on Lentil along with Dr. Reiter, said.
"It's sort of a pet therapy where people can relate a little bit more with those pets that have gone through things that they've gone through as well."
Pets, especially dogs, provide companionship, and they give people a reason to socialize. Petting dogs has been shown to release oxytocin — not just in the human, but also in the dog — and playing with them boosts dopamine and serotonin levels, while decreasing cortisol.
"Our passion is to help these children and their families become normal parts of society," Dr. Jesse Taylor, a plastic surgeon who also worked on Lentil's palate, said. "They need to be able to interact with other people on a very human level."
Lentil has been helping kids all over feel better about themselves. His Facebook page has over 100,000 followers, the Lentil Festival — dedicated to him — raises awareness for craniofacial abnormalities, and he's been very popular at the hospital.
"He doesn't look like, you know, a regular dog," said Danny Pfeiffer, 14, who has a genetic condition called Saethre-Chotzen syndrome, which happens when skull bones fuse prematurely, causing the skull to grow abnormally, affecting the shape of the head and the face.
"So that makes him kind of special, so it probably makes kids who have something that I have, makes them feel special."
Published by Medicaldaily.com