American Medical Association Questions Ethics Of Guantanamo Force-Feeding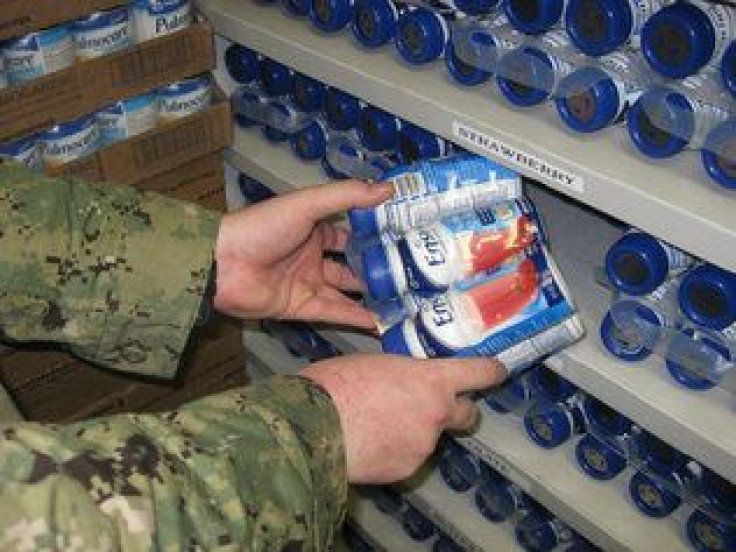 As forty U.S. Navy medical personnel arrived at Guantanamo Bay in response to prisoner hunger strikes, the American Medical Association issued a letter asking if doctors were violating their ethics by force-feeding prisoners.
As of last Saturday, 100 of the 166 prisoners refused to eat, according to camp officials. Twenty-one prisoners were being fed through nasal tubes, and five were in camp hospitals.
"The influx of personnel was planned several weeks ago as increasing numbers of detainees chose to protest their detention," Army Lieutenant Colonel Samuel House said in a statement.
According to Carol Rosenberg reporting for the Miami Herald, Lt. Col. House "sought to distinguish between those designated for forced-feedings and those actually strapped to a feeding chair to have a tube snaked up the nose and into the stomach to pump in a can of Ensure or a similar nutritional supplement up to twice daily."
The hunger strikes at Guantanamo Bay U.S. Naval Base in eastern Cuba began in February, when inmates decided to protest conditions, as well as their indefinite detention. By April, 84 prisoners refused to eat.
In his letter to U.S. Defense Secretary Chuck Hagel, AMA president Dr. Jeremy Lazarus fell shy of asking to stop the force-feeding. Rather, Hagel requested that Navy base personnel "address any situation in which a physician may be asked to violate the ethical standards of his or her profession."
The AMA holds that force-feeding mentally competent adults is an ethical violation.
When asked about whether military physicians had expressed ethical qualms about force-feeding prisoners, Pentagon spokesman Army Lieutenant Colonel Todd Breasseale said, "I can tell you there have been no organized efforts, but I cannot speak for individual physicians."
"I can tell you that we will not allow detainees to harm themselves, and this includes attempts at suicide — including self-induced and peer-pressured starvation to death," he added.
Speaking to the issue of peer-pressure, House said in a statement, "Most of the detainees who are approved for tube feeding will eat or drink without the peer pressure from inside the cell block."
Military officials say that the tubes used in force-feeding are soft, flexible, and lubricated, and that the feeding process is gentle.
Attorney David Remes, who represents a Yemeni client, Yasin Ismael, disagrees.
"It can be extremely painful. One of my clients said that it's like having a razor blade go down through your nose and into your throat," Remes said.
Furthermore, prisoners who resist tube-feeding are removed from their cells by soldiers in riot gear, Remes said. "It's really like the way you would treat an animal."
Before the arrival of the U.S. Navy medical workers, the International Committee of the Red Cross (ICRC) sent a delegation to investigate the recent transfer of most of the prisoners into a single-cell lockdown, also known as solitary confinement.
According to ICRC spokesman Simon Schorno, the purpose of the visit was "to assess the immediate aftermath of that transfer and to monitor the current conditions of detention and treatment there."
"As always, the ICRC will address its findings confidentially and with U.S. authorities only," he said.
Published by Medicaldaily.com