American Red Cross Issues Blood Donation Call Fearing Looming Shortage: Why Giving Is So Important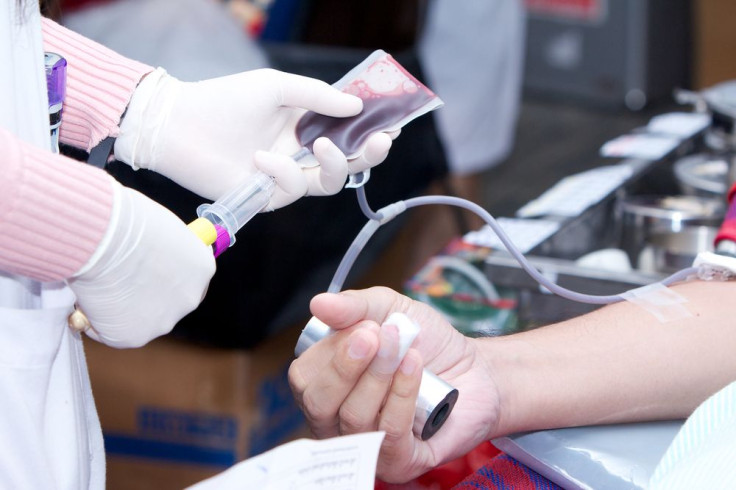 Although many Americans tend to underscore the importance of blood donor services, when the need for human blood does present itself, the consequences of not having it can be fatal. In the face of a looming blood shortage, the American Red Cross has issued an urgent call for donors of all blood types to prevent an emergency situation.
"Hospital patients continue to need lifesaving blood this summer, and they're relying on the generosity of volunteer donors to give them hope in the days and weeks ahead," Page Gambill, CEO for the Red Cross Mid-Atlantic Blood Services Region, said in a statement. "Please, consider giving the gift of life. Each day donations come up short, less blood is available for patients in need — and you never know when it could be your loved one needing blood."
According to the American Red Cross, summer is an especially difficult time for gathering blood donations, since regular donors are either out of school or on vacation from work. The usual number of donations on high school and college campuses can drop by over 80 percent during summer break. The Red Cross campaign "100 Days of Summer. 100 Days of Hope" reached its half-way mark on July 13. The number of Red Cross blood donations has dropped by eight percent over the past 11 weeks.
Due to July 4th falling on a Friday, the number of blood donations that were scheduled for early July were significantly reduced. Around 4,400 Red Cross blood drives are scheduled in an average summer week; however, 3,450 blood drives were scheduled the week of July 4th as the result of the long weekend in which most people planned their vacation around. In the past two and half months, the Red Cross has received 80,000 fewer donations than the target goal.
Types O negative, B negative, and A negative blood donations are crucial, considering O negative is the universal blood type and A negative and B negative can be transfused into Rh positive or genitive patients. The Red Cross is also in dire need of blood platelets, an important part of blood clotting that is needed by cancer patients, burn victims, and recipients of a bone marrow transplant. Since platelets can only be transfused within five days of donation, the Red Cross requires a constant supply of these donations.
Before you disregard the Red Cross' plea for help, let's discuss why donations have become so important since the first volunteer blood donor services opened in 1921. Above all else, there is no substitute for human blood. For people who suffer from cancer, injuries that result in extreme blood loss, and other disease, the amount of human blood that is available can become a matter of life or death. A steady supply of blood donations is also important because of how long it can be stored. While platelets can last only five days, red blood cells must be used within 35 to 42 days after donation.
The entire process of donating blood can last between 45 minutes to an hour. You can donate blood every eight weeks, and platelets up to 24 times a year. With each blood donation you can potentially save up to three lives.
Published by Medicaldaily.com