America's Oldest Living Person, 115-Year-Old Jeralean Talley, Offers 7 Pieces Of Life Advice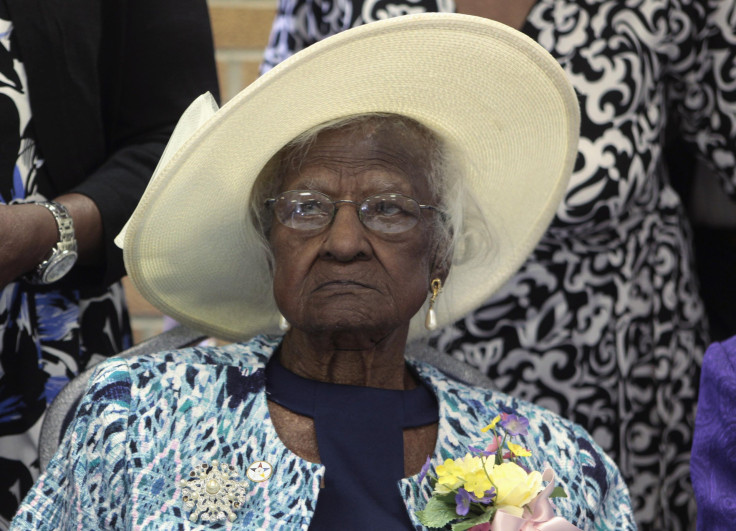 The oldest American just turned 115 years old this weekend, and after seeing three centuries, she has collected words of wisdom for the rest of us. After visiting the doctor on Friday, "Mother Talley," as she's sometimes called, told the Associated Press that she still feels healthy.
Jeralean Talley, who now resides in Inkster, Mich., was born in Montrose, Ga., in 1899 where she grew up picking cotton and peanuts. It was there in Georgia that she met her husband, Alfred Talley, in 1936 and enjoyed a 52-year marriage before he passed away.
Talley's record-holding old age is second only to Misao Okawa, a Japanese woman whose 116th birthday just passed in March, according to the Gerontology Research Group, which keeps a record of the validated longest-living people in the world. Okawa attributed her key to living a long life as eating sushi, getting at least eight hours of sleep a night, and learning to relax.
Talley is part of an exclusive group of 300 to 450 people across the world who live to be 110 years old or older. The number of Americans that are living to the age of 100 is steadily growing. The centenarian population has grown 65.8 percent in the past 30 years, according to the most recent Census Bureau data. In the U.S., the demographics of centenarians are considerably different from the overall population.
In 2010, 82.8 percent of centenarians were female, and an up-and-coming group of 72.2 percent of women is in their nineties. They're also less diverse, with 82.5 percent of centenarians being Caucasian and 85.7 percent of all centenarians living in urban areas.
Talley listed seven nuggets of advice to WJBK-TV Fox Detroit for people to follow in order to live a longer life.
Talley's Wisdom to Live By:
Follow the Golden Rule: "Do unto others as you would have them do unto you. That's my way of living."
Always have a sense of humor: She recalls embarrassing stories while laughing.
Keep active: Talley kept bowling until she was 104, something Okawa would agree with considering she was doing leg squats until she was 102 years old.
Don't be afraid to occasionally indulge: One of Talley's favorite recipes is headcheese, a jellied loaf made of pig parts, mixed with gravy and set in gelatin. She also told Time that she has a sweet tooth.
Have strong beliefs: Talley celebrated her birthday on Friday at her local church. Her faith is a large part of her life, and when asked why she lives so long she replied, "It's all in the good Lord's hands."
Surround yourself with loved ones: Talley lives with her daughter, as do more than one-third of centenarians. One of her favorite activities is playing with her great-great-grandson.
Be humble and act wisely: Talley carries herself very modestly, according to those who've had the pleasure of meeting her. "I don't have much education, but what little sense I got, I try to use it," she told WJBK.
Published by Medicaldaily.com