Amnesty International Says El Salvador abortion ban is torture, kills women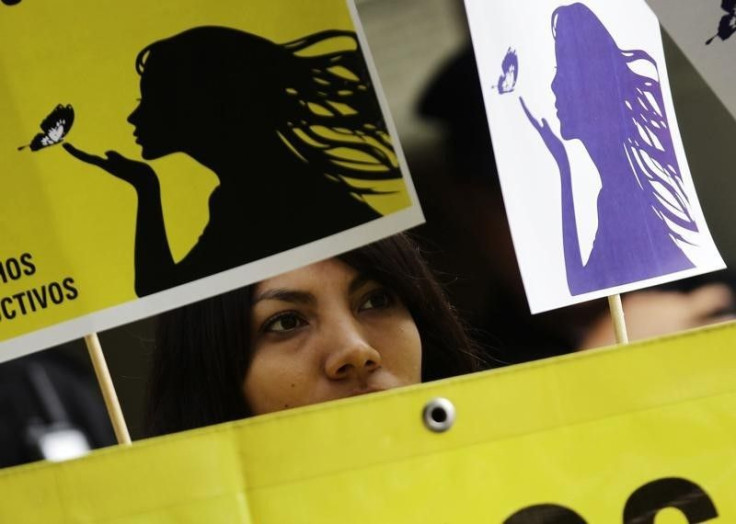 BOGOTA (Thomson Reuters Foundation) - El Salvador's total ban on abortion is killing women and girls, forcing them to undergo dangerous backstreet abortions and landing them in jail, rights group Amnesty International said on Thursday.
Abortion has been illegal in the Central American nation since 1998 - even in cases of rape, incest, a severely deformed fetus or when the woman's life is in danger.
Amnesty said the abortion ban was indirectly a leading cause of maternal deaths in El Salvador and had led to the wrongful imprisonment of scores of women and girls for inducing abortions when in fact they had suffered miscarriages, stillbirths, or complications during pregnancy or birth.
"The ban has created discrimination against and criminalization of women," Erika Guevara, Americas director at Amnesty International, told the Thomson Reuters Foundation in a telephone interview in the capital San Salvador.
"Most women come from the poorest sectors of society and they don't have access to reproductive healthcare and contraception," she added. "Women have died going through a clandestine abortion."
El Salvador is one of seven Latin American countries that outlaw abortion without exception, and 95 percent of all abortions carried out in the region are considered unsafe, according to the World Health Organization.
"Restrictive abortion laws are a major contributor to unsafe abortion," Amnesty's report said.
Worldwide, unsafe abortions kill an estimated 47,000 women a year, and deaths due to complications from unsafe abortions account for nearly 13 percent of all maternal deaths, the WHO says.
The Citizen Group for the Decriminalisation of Therapeutic, Ethical, and Eugenic Abortion (CFDA), a local rights group cited in the Amnesty report, says 129 women in El Salvador were charged with abortion or aggravated homicide between January 2000 and April 2011.
Some had illegal abortions, others miscarriages, the CFDA said. Twenty-six of those charged were convicted of homicide or aggravated homicide and jailed for up to 30 years on weak or inconclusive evidence, often after flawed trials, the report said.
"INSTITUTIONALISED VIOLENCE AGAINST WOMEN"
"The total ban on abortion in El Salvador is nothing less than institutionalized violence against women and a form of torture or other ill-treatment," Amnesty's report said.
One woman, known as Cristina, told Amnesty that at 18, while pregnant, she started hemorrhaging, lost consciousness, and was taken to hospital by relatives. Hospital staff reported her to the police, suspecting she had induced an abortion. When she came round from the anesthetic, a policeman was standing by her bed.
"That's when he said to me: 'You're under arrest for the murder of your child'," Cristina was quoted as saying in the report.
The widespread lack of equal rights for women and the powerful influence of the Roman Catholic Church, which says the law must protect the rights of an unborn child at all costs, are factors behind the country's rigid abortion laws.
"The ban on abortion reflects the low position of women in society and discrimination and violence against women in El Salvador," Guevara said. Women are seen mainly as child-bearers and mothers, the report said.
"Such discriminatory stereotypes remain deeply rooted in a conservative and patriarchal culture which still relegates women to the sphere of social reproduction – a culture widely promoted ... by conservative forces including the Catholic Church hierarchy," it said.
El Salvador's health ministry says there were 19,290 abortions between 2005 and 2008, nearly 28 percent of them undergone by girls, the report said.
RAPE SURVIVORS
Women and girls who become pregnant as a result of rape - often at the hands of relatives or gang members – face an unwanted pregnancy or an illegal and unsafe abortion.
Some resort to drinking pesticide, or inserting knitting needles, sharp objects or pieces of wood into their cervix, to induce an abortion, Amnesty said.
"The link between sexual violence, unwanted pregnancy and unsafe abortion is clear," the report said.
One doctor told Amnesty the story of a nine-year-old rape victim who became pregnant.
"She gave birth aged 10. She had been abused since infancy. … it was a very difficult case … it ended up being a caesarean section at 32 weeks…That case marked us a lot perhaps because she didn't understand what was happening to her… She asked us for coloring pencils. Crayons. And it broke all of our hearts because she started to draw us all, she drew and she stuck it on the wall. And we said: 'She's still just a girl, just a little girl", the doctor said.
(Reporting By Anastasia Moloney, editing by Tim Pearce)
Published by Medicaldaily.com