Andre Maloney, 17-Year-Old Kansas Football Player, Dies After Suffering Stroke On The Field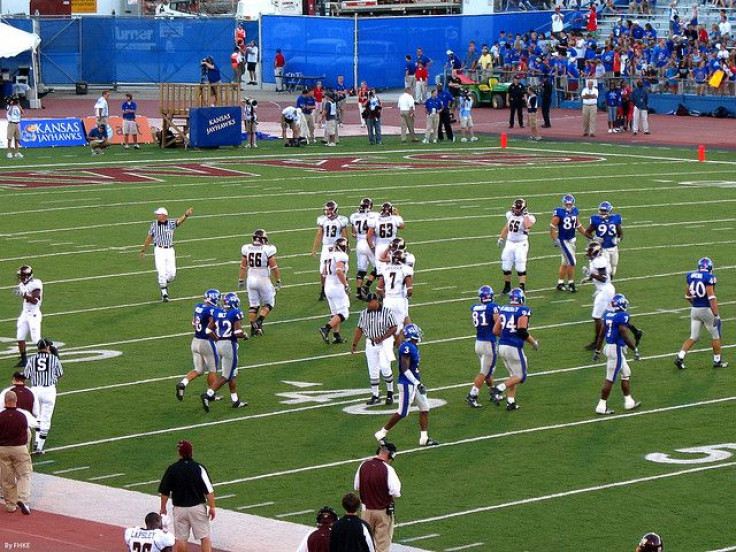 Andre Maloney, a star wide receiver and cornerback at Shawnee Mission West High School in Kansas, died Friday evening after suffering a stroke during a game on Thursday. Maloney's sudden death has rocked the tight-knit community of Overland Park, Kansas as well as Kansas University, where the 17-year-old had verbally committed to play football after graduation.
His school district released a statement late Friday night:
"It is with great sadness that I share with you that the school district received notification this evening from Research Medical Center that Shawnee Mission West senior Andre Maloney has passed away from complications due to a stroke suffered Thursday night. Our thoughts and prayers are with Andre's family, teammates, coaches, fellow students, and the SM West staff during this difficult time. The tremendous outpouring of concern expressed today by our community has been greatly appreciated. We will continue to honor the family's request at this time to respect their privacy."
Maloney collapsed on the sideline Thursday night after scoring a touchdown. According to the Associated Press, he was "barely touched" on the play, but complained to teammates that he couldn't feel the side of his body. He then became disoriented and began mumbling incoherently. An ambulance rushed Maloney to Research Medical Center in Kansas City, where doctors found a blood clot in his brain.
After three hours of surgery, attempts to remove the blot clot were unsuccessful. He spent most of Friday in a vegetative state. Doctors said he would not recover from the brain damage, so his family decided not to continue treatment.
"He's been an athlete since the day he could walk," said Karla Montoya, Maloney's older cousin who was raised by the same grandmother that he was. "It would be unfair for us to hold on to him."
Strokes occur when the blood supply to a part of the brain is reduced, depriving the brain of oxygen and food. Symptoms of stroke include trouble walking, trouble speaking or understanding, numbness in a portion of the body, and sudden, severe headaches. Strokes are most common in people over the age of 55, men, and African Americans. But that doesn't mean young people aren't at risk.
"Strokes are more common in young people than you might think," said physician Coleman Martin, a neurologist at St. Luke's Hospital's Neuroscience Institute. "A high school physical isn't going to give you signs of these. You're not going to pick it up on a sports physical."
Kansas University coach Charlie Weis expressed sympathy to Maloney's family and devastation about the loss of a charismatic young athlete:
"We are absolutely devastated by the news of the passing of Andre Maloney," Weis said. "Our hearts are broken at the loss of such an outstanding young man. Our thoughts and prayers are with his family, especially his mother, Rosalita. We knew from the moment we met Andre just how special he was and he will never be forgotten. The Jayhawk family will forever hold Andre close to our hearts."
Published by Medicaldaily.com