Anthony Marshall, Heir To Astor Millions, Granted Medical Parole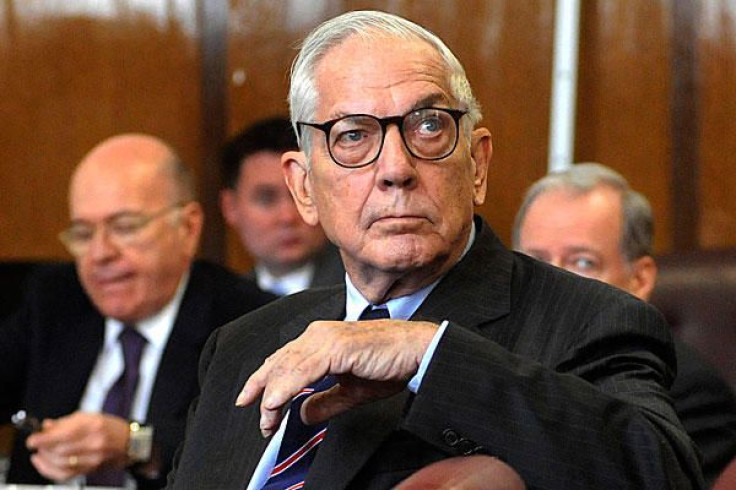 An 89-year-old heir to one of America's wealthiest families left prison on Thursday afternoon after a parole board interview. Anthony Marshall was granted medical parole after the board found him to be suffering from a debilitating and permanent illness, Parkinson's disease.
Marshall began serving a one- to three-year sentence in June for stealing millions from his mentally failing mother, famous philanthropist and socialite Brooke Astor. Two months ago, state and city corrections officials fully equipped themselves with all of the care that Marshall would need for his stay at a New York Hudson Valley prison. But after serving only eight weeks of his sentence, a panel of three parole board members closely examined his medical records followed by an interview, and came to the conclusion that there is "a reasonable probability that you do not present any danger to society."
"We're gratified by the parole board's unanimous and compassionate decision," one of Marshall's lawyers, Kenneth Warner, said in a statement.
Granting an inmate medical parole is a decision based on compassion and logic. In order for such a person to become eligible for medical parole, he must be "so physically or cognitively debilitated or incapacitated that there is a reasonable probability" that, in short, he won't cause further damage to society. Medical parole has been nicknamed the "compassionate release."
According to the state Department of Corrections and Community Supervision, almost 400 inmates were granted medical parole since it began in New York in the 1990s.
Marshall was convicted in 2009 of stealing tens of millions of dollars from his mother, who, according to his lawyers, changed her will out of love for her only child and granted him legal authority to buy himself presents with her money.
The prosecutors argued that after his mother fell victim to dementia, Marshall used her money to buy himself extravagant gifts, including a $920,000 yacht and manipulated her into changing her will to favor him. Beyond gifting accusations, they also accused him of stealing art off of the walls in her Park Avenue home.
Despite the controversy, Astor had given him the power of attorney, which gave him full reign to manage her finances. She also placed herself in his care at an old age. It wasn't until she began to lose herself mentally that she started to complain that Marshall and his wife were siphoning Astor's money for their own uses. One of Marshall's own sons, Philip, filed the lawsuit in 2006, which accused his then 82-year-old father of elder abuse.
Brook Astor died in 2007 at the age of 105, after being diagnosed with Alzeheimer's disease, a type of dementia that causes memory, thinking, and behavioral problems. Before her illness, Astor was an active New York City philanthropist and benefactor of New York charities, both large and small. She received the nation's highest civilian honor and the Presidential Medal of Freedom in 1998 as a result of her outstanding charity work.
Astor's life motto encompasses her prodigious giving: "Money is like manure; it's not worth a thing unless it's spread around."
Her fortune was established after marrying her third husband, Vincent Astor, the great-great-grandsom of America's first multi-millionaire, John Jacob Astor.
"Anthony Marshall was convicted of stealing millions of dollars from his 100-year-old mother," Erin Duggan, a spokeswoman for Manhattan District Attorney Cyrus R. Vance Jr., said in a statement.
Marshall was convicted alongside 70-year-old Francis Morrissey Jr., a former estate lawyer who was found guilty of forging Astor's signature when she supposedly changed her will. Both were sentenced to minimum terms; however, Morrissey is still required to fill out his sentence.
None of that mattered once Marshall's medical evaluation supported his leave and the reason was documented as "the severity of your medical condition." However, this poses a problem beyond Marshall's prison break; instead, it could be viewed as a dangerous precedent of things to come.
"If the parole board were to make an exception for an elderly inmate like Marshall, the message to healthy elders who are tempted to commit financial abuse against family members could well be that the benefits of the crime outweigh the risk of punishment," assistant district attorney Elizabeth Loewy wrote in a letter released before the decision on Wednesday.
Published by Medicaldaily.com