Anti-Smoking Ads Featuring Celebrities Smoking Try To Get Kids To Rebel, But It Could Backfire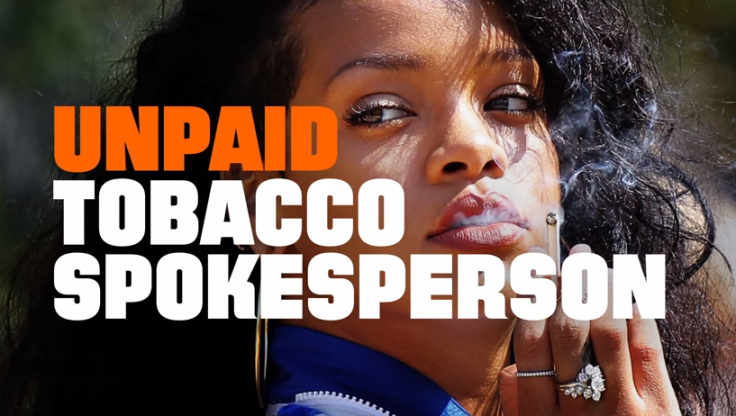 There is no questioning the impact a celebrity's actions can have on a young person who looks up to them, whether it be the clothing they wear, the car they drive, or what they put into their body. Anti-smoking commercials that premiered during Sunday night's MTV Video Music Awards featured celebrities, including Rihanna, Lady Gaga, and Orlando Bloom with cigarettes in hand, and although the ads were meant to encourage young people to rebel against the authority that tries to control them, using celebrities in everyday life may not have been the best approach.
"Every time one of these photos gets posted, big tobacco gets tons of free marketing," the advertisement explains.
Legacy, the anti-tobacco group behind this latest series of stop-smoking ads, who was also responsible for the "Truth Campaign" a couple of years back, said this new campaign is not meant as a warning for young people, but rather to show them that Big Tobacco is trying to manipulate America's youth at every turn. They hope to focus the rebel mentality exhibited by teenagers and adolescents toward Big Tobacco by showing how it can manipulate kids without even paying for celebrity endorsements. While playing on a young person's rebelliousness may seem like an effective approach, perhaps using paparazzi photos of celebrities in everyday life is not the best execution.
Seeing celebrities smoking outside of movies when they are less of the illustrious figure they portray on the big screen could make them more relatable to young people. A more effective and conventional tactic may have been targeting how tobacco companies have used the characters celebrities play in movies or on TV to promote their products. A recent study conducted by researchers from Dartmouth College and Dartmouth Medical School found that movie characters who smoke, both "good guys" and "bad guys," influence teen smoking. Recent declines in teen smoking have also coincided with lower cigarette use in movies along with other factors. However, tobacco use among popular movie and TV characters is still prevalent.
"Previous studies have confirmed a link between smoking in movies and the initiation of smoking by adolescents, and we wanted to dig deeper into the data to see if the type of character who is smoking matters. Is it 'good guys' or 'bad guys' that have more of an influence?" Susanne Tanski, lead author and assistant professor of pediatrics at Dartmouth Medical School said in a statement. "It's true that 'bad guys' are more often smokers in the movies, but there really are not that many 'bad guys' compared to 'good guys.' Episode for episode, youth who saw negative characters smoking were more likely to start smoking, but since overall there is so much more exposure to 'good guy' smoking, the net effect is similar."
This latest batch of anti-smoking ads is the linchpin of a $50 million campaign launched by Legacy this year. Legacy, which is financed by a $206 billion settlement made by tobacco companies back in 1998, said the "Unpaid Tobacco Spokesperson" campaign is similar to the "Truth Campaign." "The 'Truth Campaign' took the approach that the tobacco companies are manipulating you, the tobacco companies are using you," Tom Miller, Iowa Attorney General who is also a board member of Legacy, told the Des Moines Register.
Published by Medicaldaily.com