Anti-Swine Flu Vaccine Ups Narcolepsy Risk In Youth: HA Protein Immunity Damages Neurons, Hypocretin Production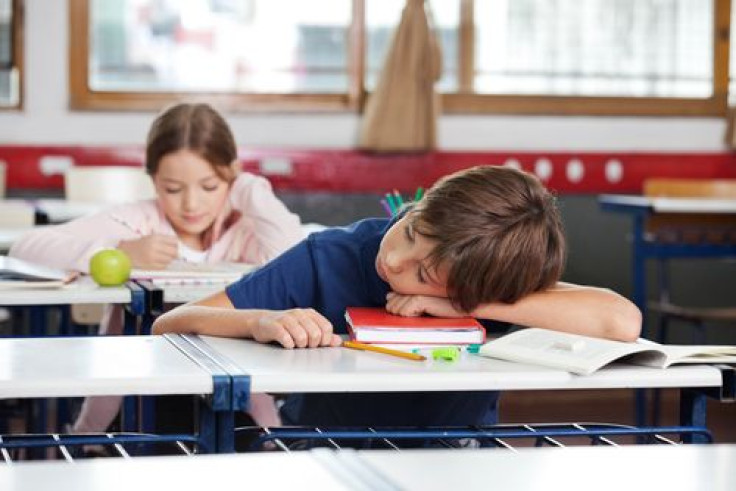 Children and the elderly are strongly advised by health officials to get the anti-swine flu vaccine due to their susceptibility for developing flu-related complications. Typically, H1N1 vaccinations such as Pandemrix are designed to do more good than harm by providing protection against certain strains of the virus. However, a recent study, published in the Journal of Internal Medicine, has found Pandemrix increases the risk of neurological and immune-related diseases like narcolepsy in children and adolescents.
The vaccine is a monovalent 2009 H1N1 influenza vaccine that was used in several European countries during the H1N1 epidemic. Pandemrix was not used prior to the H1N1 influenza season (2009-2010) or after. Manufactured by GlaxoSmithKline, the vaccine contains an oil-in-water emulsion adjuvant — a substance added to a vaccine to increase the body's immune response to the vaccine — called ASO3, according to the Centers for Disease Control and Prevention. Only a quarter of the inactivated virus is needed due to the adjuvant ability to boost the potency of the body's immune response. Adjuvanted vaccines have been praised for providing good protection against the virus even if the actual virus changes over time.
Despite its anti-swine flu capabilities, Pandemrix comes with a highly dangerous side effect for children and adolescents. The Swedish Medical Products Agency (MPA) and the Finnish National Institute for Health and Welfare (THL) conducted several investigations regarding the prevalence of narcolepsy — a chronic brain disorder that involves poor control of sleep-wake cycles — in children who received the Pandemrix flu vaccination. In 2010, the THL recommended that the Pandemrix vaccine be discontinued after observing a rise in cases of narcolepsy in youth. This safety measure was further supported after the group confirmed there was a clear connection between Pandemrix and the narcolepsy epidemic in Finland. In Sweden, the MPA found children and adolescents under the age of 20, but not adults, were at an increased risk for narcolepsy after Pandemrix vaccination.
Recently, a team of Swedish researchers sought to investigate the association between vaccination with Pandemrix and the risk of selected neurological and immune-related diseases, including narcolepsy. They obtained data from regional vaccination registries and national health registries in seven health care regions and 61 percent of the Swedish population. Between 2009 and 2011, the study followed the population of over three million vaccinated and over two million non-vaccinated participants.
Although the team could not identify any link to a large number of immune-related or neurological diseases, they did confirm a higher risk in the diagnosis of narcolepsy in participants younger than 20 years of age. The risk was seen to be most prevalent among young adults between 21 and 30. "The follow-up of Pandemrix vaccinations in a large registry based study in Sweden confirms an increased risk of narcolepsy in children and adolescents, while also providing reassuring results for a large number of other neurological and immune related diseases," said Dr. I. Persson from the Karolinska Institutet in Stockholm, Sweden, Science Daily reported.
The link between Pandemrix and narcolepsy has been explored by several clinicians, including Emmanuel Mignot at Stanford University School of Medicine. Mignot observed 39 narcoleptic children and their siblings — identical twin siblings in four cases — who also received the vaccine but did not get narcolepsy. Children with narcolepsy had CD4 cells, or T-cells, that reacted to both hypocretin and the HA protein, which is unique to the swine flu virus. Furthermore, narcoleptic children who received the ordinary 2012 flu vaccine, which contains the HA protein from the 2009 virus, were found to respond with a rise in CD4s that attacked hypocretin production. Narcolepsy destroys the neurons in the hypothalamus, which is responsible for producing hypocretin — a neurotransmitter that sends an "alertness" signal to other brain regions.
This finding suggests the problem may lie with the children's immune reaction to the HA protein in the virus, rather than just the adjuvant. "Vaccines might be made safer," Mignot said "by removing the troublesome bit of the HA, New Scientist reported. "Not vaccinating could increase narcolepsy risk, because flu itself can trigger it."
Adjuvanted influenza vaccines are not licensed in the U.S., meaning Pandemrix was never licensed for use during the influenza pandemic or any other flu season. The CDC reviewed data from the U.S. Vaccine Adverse Event Reporting System (VAERS) External Web Site Icon and the Vaccine Safety Datalink (VSD) and found no evidence of any link between U.S.-licensed H1N1 or seasonal influenza vaccine and narcolepsy.
The adverse effect of narcolepsy from Pandemrix vaccination may be a vital issue for those who are getting flu vaccines in other countries, such as Northern Europe, or if someone has imported a flu vaccine from another country and used it without permission in the U.S. Common side effects with Pandemrix are headache, arthralgia (joint pain), myalgia (muscle pain), swelling and pain at the site of the injection, shivering, increased sweating, and fatigue, according to the European Medicines Agency.
Source:
Askling J, Feltelius N, Granath F, Ludvigsson JF, Olsson T, and Persson I. Risks of neurological and immune-related diseases, including narcolepsy, after vaccination with Pandemrix: a population- and registry-based cohort study with over 2 years of follow-up. Journal of Internal Medicine. 2014.
Published by Medicaldaily.com