Antiviral Drugs Shown To Improve Outcomes Of MERS Coronavirus Infection In Monkeys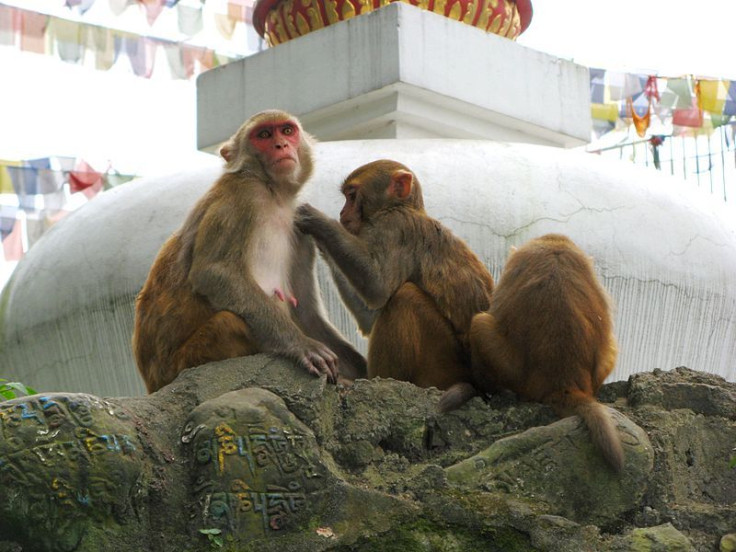 Two well-known antiviral drugs have improved clinical outcomes in a small experiment on monkeys infected with the Middle East respiratory syndrome coronavirus (MERS-CoV). The finding, published in the Sept. 8 issue of Nature Medicine, gives clinicians some hope in treating the mysterious and very fatal disease, which currently has no cure.
Ribavirin and interferon-alpha 2b, two antiviral drugs used to treat chronic hepatitis C in humans, were administered to four rhesus monkeys eight hours after they were infected with MERS-CoV. Compared to four infected monkeys who did not receive treatment, the monkeys receiving the antiviral cocktail showed less blood and lung inflammation, less severe tissue damage in the lungs, and fewer copies of the virus. Monkeys treated with the antivirals exhibited no difficulty breathing and had minimal signs of pneumonia in their chest X-rays.
Since the first reports of MERS-CoV surfaced in mid-2012, there have been 111 confirmed cases and 52 deaths, the majority of which occurred in Saudi Arabia, according to the World Health Organization and recent reports. Currently, treatment of the respiratory virus in humans is limited to supportive care, such as corticosteroids to reduce lung inflammation and ventilator support to assist with breathing. But considering the high fatality rate, supportive care is not very effective.
The researchers' experiment on rhesus macaque monkeys is a follow-up to an April finding showing that the antivirals stopped virus replication in cell cultures.
Researchers recommend that the antiviral combination should be considered as an early intervention, but MERS-CoV is far from solved.
Dr. Anthony S. Fauci, director of the National Institute of Allergy and Infectious Disease, the NIH group that supported the research, told The New York Times that the small study "not a game changer, but an important observation."
There are major limitations to the study. First, monkeys, humans, and the ways viruses behave in each are very different, and there is no guarantee the intervention would be just as effective in humans. This is especially true considering the small sample.
Futhermore, the recommended antiviral treatment was initiated eight hours after infection, much more quickly than treatment would be delivered in reality. In fact, Dr. Ziad A. Memish, the deputy health minister of Saudi Arabia has already tried the two-drug combination on patients, with poor results. He speculates that the treatment was started too late, when patients were already very ill.
"But if I were a doctor with MERS patients, and I had nothing else to give them, I wouldn't hesitate," Dr. Memish told The New York Times. If someone has advanced disease, there's 50 percent mortality."
Source: Falzarano D, de Wit E, Rasmussen AL, Feldmann F, Okumura A, Scott DP, Brining D, Bushmaker T, Martellaro C, Baseler L, Benecke AG, Katze MG, Munster VJ, Feldmann H. Treatment with interferon-α2b and ribavirin improves outcome in MERS-CoV–infected rhesus macaques. Nature Medicine. 2013.
Published by Medicaldaily.com