New Apple Watch Features Mindfulness App Called Breathe, Which Aims To Calm Users, Help Manage Stress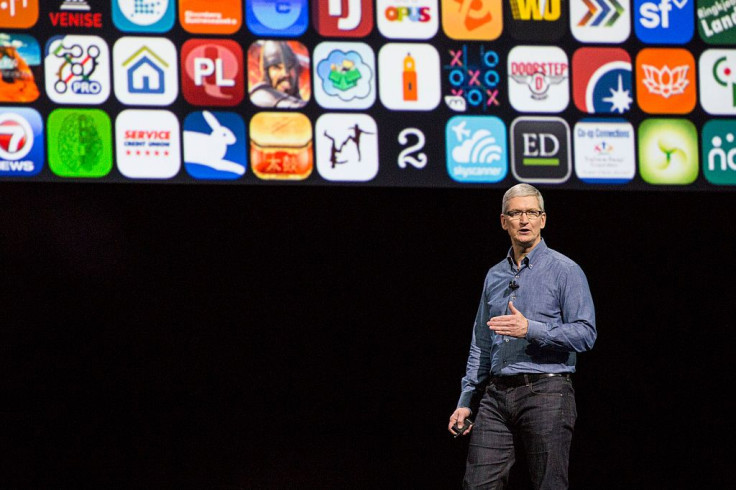 Take a breath with Apple — literally. The tech giant announced this week that it will include a new mindfulness app called Breathe in its forthcoming iteration of the Apple Watch.
Tech Insider reported that the app is designed to guide users through simple deep breathing exercises that calm and manage stress. It uses animations and light wrist tapping to communicate breathing patterns, and it can be set up to remind watch wearers when it's time to do the exercises throughout the day, according to PSFK. Notifications can also be set up to remind users to take standing breaks and to follow a personalized sleep schedule.
"If you already do deep breathing, we think this is going to be a great way for you to fit it into your day more often," Jay Blahnik, director of fitness for health technologies at Apple, said during the WWDC conference on Monday. "And for those of you that don't, we think this is going to be a great way to get started and just one more simple way that it can help you live a better day."
While deep breathing goes by many names — diaphragmatic breathing, abdominal or belly breathing — its purpose is the same: to open up the lungs and expand the stomach as you fill with air in order to relieve tension and stress. This form of breathing can also slow heartbeat and stabilize blood pressure, according to Harvard Health. It can also soothe severe breathing conditions like emphysema.
Since it's a relaxation technique, yoga and meditation classes have also guided people through similar exercises. Deep breathing gives people a focal point and helps them let go of distracting thoughts and emotions. Yoga instructor Mary Bruce told LiveStrong that "focusing on your deep, rhythmic breath helps turn your mind inward and activates your parasympathetic nervous system, which promotes relaxation."
A 2008 government-funded survey revealed that an estimated 38 percent of adults and 17 percent of children were using some kind of complementary or alternative therapy. Nearly 18 percent of adults used natural products such as fish oil and flaxseed, followed by 12.7 percent of respondents who used deep breathing exercises. Other popular treatments and activities included meditation, chiropractic manipulation, massage, and yoga. A separate study published in 2013 found that the relaxation that comes from doing these types of therapies can positively affect the genes responsible for our immune function, energy, and insulin secretion.
"People have been engaging in these practices for thousands of years, and our finding of this unity of function on a basic-science, genomic level gives greater credibility to what some have called 'new age medicine,'" said the study's lead author Dr. Towia Libermann of the Beth Israel Deaconess Medical Center.
So even if Apple is not the first to introduce consumers to this idea — an app developer has alleged the company stole his concept, spelling, and functionality — there's already longstanding evidence that taking a moment for yourself, whether it's a really deep breath or a walk around the office, can be beneficial to health.
Published by Medicaldaily.com