Are Pets In The Bedroom A Problem For Sleep?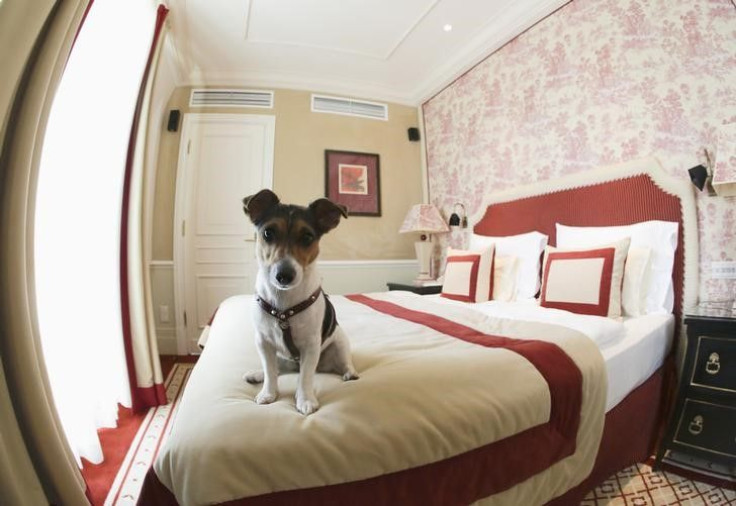 There are many potential health benefits to pet ownership, but a good night's sleep may not necessarily be one of them, a small study suggests.
Among pet owners surveyed at a sleep clinic, more than half said their non-human friends slept in their bedroom.
One in five pet owners described their animals as disruptive, but two in five perceived the pets as unobtrusive or even beneficial to sleep, the survey found.
Even though pets have the potential to jostle their humans or make noise that keeps people awake, the question of whether pets might contribute to sleeping problems isn't one doctors regularly ask patients, said lead study author Dr. Lois Krahn, a specialist in sleep medicine and psychiatry at the Mayo Clinic in Scottsdale, Arizona.
"Since commonly people with pets dismiss placing their pet outside of their bedroom at night, the question of whether having the pet on the floor, on the bed or curled up next to them becomes important in realizing the goal of helping them to sleep as well as possible with their pet," Krahn said by email.
Sounds, movements, crowding, temperature, odors and allergens are all aspects of the home environment that can interfere with sleep, Krahn and colleagues note in Mayo Clinic Proceedings.
To see how pets might influence sleep, the researchers surveyed 150 people treated at the Center for Sleep Medicine at the Mayo Clinic in Arizona, asking about pets and other environmental factors.
Almost half the participants, 74 people, had pets, and 31 pet owners had multiple animals in their homes.
One married 35-year-old man had a cat, four Chihuahuas and a basset hound, for example. A married 43-year-old woman had two dogs and five cats.
Fifteen people reported pet-related sleep disturbances in the bedroom. Problematic animal behaviors included wandering, snoring, voiding needs, whimpering and seizures.
But 31 people described the animals as beneficial in the bedroom, whether they provided comfort and companionship or served as bed warmers.
People sleeping alone, whether they were single or had a partner who wasn't always there at night, more often spoke of pets as beneficial evening companions.
Beyond its small size, the study's limitations include the lack of data on whether patients being treated for sleep disorders experienced different challenges with a pet in the bedroom than people without sleep disorders.
Even so, the findings suggest that it's worthwhile for doctors to discuss pets when patients bring up sleep difficulties, the authors conclude.
Breed size, bedroom size and bed size could all contribute to how people and pets interact at night and how well people sleep, said Navy Captain Dr. Mark Stephens of the Uniformed Services University of the Health Sciences in Bethesda, Maryland.
"A retriever or a mastiff would occupy significant space and be physically prone to interrupt sleep," Stephens, who wasn't involved in the study, said by email. "A yorkie, not so much."
Beyond sleep concerns, it's possible pets – especially dogs – can offer health benefits by encouraging people to get more exercise, noted Bruno Chomel, a veterinary medicine researcher at the University of California, Davis who wasn't involved in the study. The downsides, other than sleep disruption, might include the potential for pets to transmit diseases to their owners, Chomel said by email.
The study's findings shouldn't cause doctors to warn insomniacs against owning cats or dogs, cautioned Allen McConnell, a psychology researcher at Miami University in Oxford, Ohio, who wasn't involved in the study.
"People's perception that pets cause disruptive sleep is not great evidence that they do cause sleep disruption," McConnell said by email. "Self-reported beliefs about pets being the cause of people's sleep difficulties is pretty limited without a more comprehensive, experimental study design."
SOURCE: http://bit.ly/1SJ9WHH Mayo Clinic Proceedings, online October 23, 2015.
Published by Medicaldaily.com