Arianna Huffington's Daughter, Christina, Discusses Cocaine Addiction, Strives To Give 'Different Face To The Disease'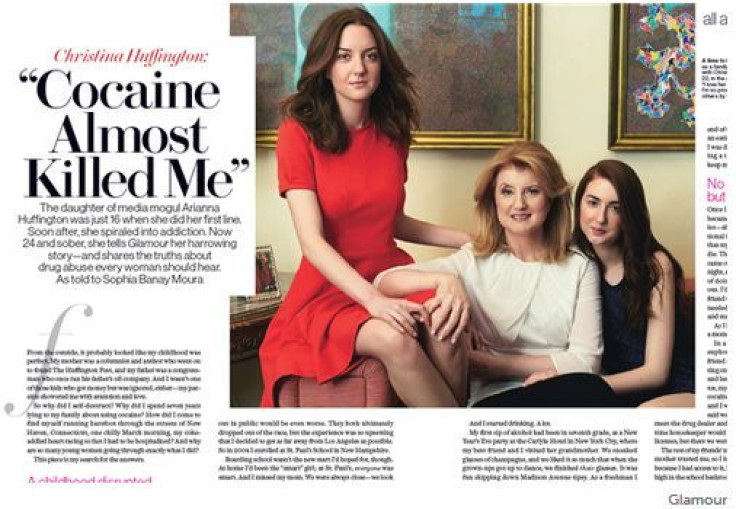 Arianna Huffington, founder and editor-in-chief of The Huffington Post, stood by her daughter, Christina, as they discussed the 24-year-old's cocaine addiction on NBC's The Today Show on Wednesday. The details of Christina's struggle with cocaine addiction are published in Glamour magazine's September 2013 issue.
Christina describes her slow descent into addiction, not for attention but in order to help others like herself seek help and begin to heal. She has received a significant amount of criticism from the public after coming out about her addiction. Christina is the daughter of one of the biggest media moguls, Arianna Huffington, and former Congressman and oil company owner, Michael Huffington. She first went public with her substance abuse in a first-person article she wrote for her mother's website on March 13, 2013, which marked her one-year sobriety anniversary.
"We rallied as a family because we felt that millions of young people in their teens and 20s struggle with alcohol and drug addiction," explained Arianna. "If Christina's story can prevent one parent watching now from getting the call that I got of 'Mommy, I can't breathe' and help one young woman or young man come out, reach out for help and know that you can turn your life around, it will have been worth it."
Christina explains in The Today Show's exclusive interview with Savannah Guthrie that although she was fortunate enough to have the financial resources and support system she did, she wanted to "give a different face to the disease."
Christina first tried cocaine when she was 16 years old and was immediately hooked. She described it as "her drug" and something that turned from a party accessory into an all-day necessity. She found herself getting high alone in her Ivy League dormitory at Yale, early in the morning.
"Why did I spend seven years lying to my family about using cocaine? How did I come to find myself running barefoot through the streets of New Haven, Connecticut, one chilly March morning, my coke-addled heart racing so fast I had to be hospitalized? And why are so many young women going through exactly what I did?" Christina wrote in her Glamour excerpt.
According to the National Institute on Drug Abuse (NIDA), the high from snorting cocaine can last anywhere from 15 to 30 minutes, and those who use cocaine often continue its use repeatedly within short periods of time at increasingly high dosages in order to maintain the desired high. Use results in constricted blood vessels, dilated pupils, and increased body temperature, heart rate, and blood pressure. The most common cocaine-related death is cardiac arrest, when the heart just stops.
Christina admitted to her mother that she had been using cocaine when her chest hurt one day from the drug abuse. It was then that she began her path to recovery; March 4, 2012 is a day that she says she'll never forget. Before she broke down and confessed to her mother, who was suspicious and had begun randomly drug testing her, denial was Christina's regular trick for seven years. At one point, her mother found it difficult to discern the lies from the ugly reality.
Christina recalls her nosebleeds, breakdowns, and binges as a scary and unglamorous paranoid existence. Her downward spiral, she explained in Glamour, was stimulated from the pain she felt when her parents divorced, which led her to binge eating in boarding school, followed by rapid weight loss and occupancy in an eating disorder treatment center where her parents sent her. One thing led to another and, shortly after she began binge drinking, she discovered her love for cocaine.
During a period of sobriety, she managed to land an internship with Glamour magazine. But soon enough, she dropped into her worst state, which forced her to find help.
"I have been really blessed, and that's part of the reason I struggled coming forward. What I want to show is that addition can strike no, matter what," Christina said.
In 2011, NIDA estimated that 22.5 million Americans, ages 12 and older, have used an illicit drug or abused medications like pain relievers or stimulants. Of those, 1.4 million are cocaine users.
Christina will venture back to Yale again in the fall. She now lives in a New York City apartment with her mother and 22-year-old sister, Isabella.
Published by Medicaldaily.com