Arizona Will Keep Abortion Rights Past 20 Weeks, But How Important Are These Term Limits?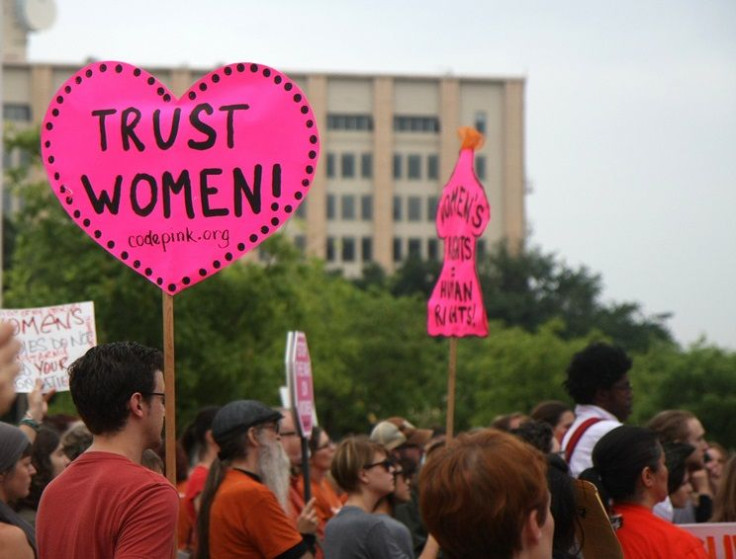 Maintaining its foothold as one of the most contentious issues in American policy, abortion rights are once again stirring the pot, as the Supreme Court on Monday declined to hear an appeal from Arizona officials hoping to reinstate a law that banned abortions for women more than 20 weeks pregnant.
Arizona Keeps Abortions Past 20 Weeks
The law, which was signed by Republican Gov. Jan Brewer in 2012, stipulated that pregnant women seeking abortions could only get one if their fetus' gestational age was less than 20 weeks. Only under strictly-limited medical emergencies would the woman be allowed to have an abortion past the 20 weeks — these included pregnancies that risked women's lives or put them in danger of "substantial and irreversible impairment of a major bodily function," The New York Times reported. In May last year, however, the U.S. 9th Circuit Court of Appeals blocked the law, citing the landmark case Roe v. Wade and other cases, which consider a fetus' viability to start nearly a month later, at 24 weeks.
In response to the ruling, Brewer's spokesman, Andrew Wilder, called the action "a clear infringement on the authority of states to implement critical life-affirming laws," saying that Brewer would continue to push for Arizona to be one of the most pro-life states. "Governor Brewer will continue to fight to protect Arizona women, families, and our most vulnerable population: unborn children," he said, according to Reuters. Other supporters, such as Arizona Attorney General Thomas Horne, argued that new research suggests fetuses may feel pain before 24 weeks, and that the rules set in Roe v. Wade should be thought over.
The Bigger Picture in Abortion Rights
Regardless, the appeal's rejection was hailed as a victory for women's rights groups — albeit a small one. While it lengthens the amount of time a woman has to obtain an abortion, very few women need that extra time. Only one out of every 10 abortions actually occurs past 12 weeks of pregnancy, according to Guttmacher Institute, a non-profit sexual and reproductive health research organization. "Today, the court did the right thing, but women's health is still on the docket — not only at the Supreme Court but in active cases all across the country," Cecile Richards, president of the Planned Parenthood Federation of America, said in a statement, according to Reuters.
Indeed, the bigger issue is access. Seeking to get around the rules imposed by Roe v. Wade, many states have begun limiting access. In Texas, where similar restrictions were passed into law last year, opponents decided not to challenge a 20-week limit. Instead, they are challenging the constitutionality of other provisions, which require doctors who provide abortions to have admitting privileges to hospitals within 30 miles of their clinics and restrict doctors from administering abortion-inducing drugs. These restrictions, opponents argued to a three-judge, all-female panel at the 5th Circuit Court of Appeals on Jan. 6, place an unconstitutional "undue burden" on women seeking the procedure.
During the hearing, conservative Judge Edith Jones questioned whether it placed an undue burden on women to drive 150 miles (300 miles round-trip) to get to a clinic. "Do you know how long that takes in Texas at 75 miles an hour?" she asked, according to ABC News. "This is a particularly flat and not congested highway." Another judge, Catharina Haynes, who had ruled in October that the law could go into effect, argued that there had already been a "dearth of providers before" the law, called House Bill 2 (HB2). "That's not a creature of HB2," she said, according to MSNBC.
The Texas law forced at least 12 of the state's 36 clinics to shut down. So far, only three have opened back up, none of which are located in the Lower Rio Grande Valley, where there 2,634 abortions in 2011. "Before the law, there were abortion providers in the Rio Grande Valley," Janet Crepps, of the Center for Reproductive Rights, told the judges, according to MSNBC. "Now there aren't."
The Rio Grande Valley's counties rank among some of the poorest in the nation. With that in mind, the Guttmacher Institute's data show that unintended pregnancies increased between 1994 and 2006 among poor women in the U.S., while abortions for the same group increased by 18 percent between 2000 and 2008. These limitations seriously restrict their ability to access a clinic.
Published by Medicaldaily.com