Armand Fernandez-Pierre, 335-Pound Football Player Cheerleader, Gives New Definition To Team Spirit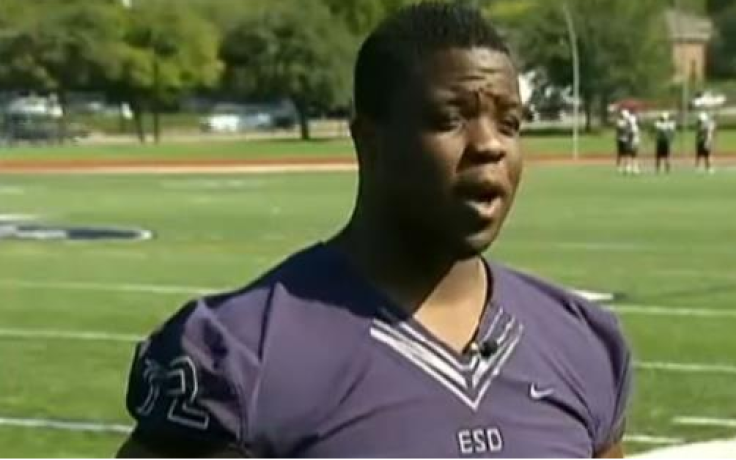 In football, every team needs a good cheer squad to motivate the players, entertain the fans, and spread team spirit. One Dallas football star player catches the audience's eye when he takes on the role as cheerleader. Armand Fernandez-Pierre, who weighs 335 lbs., takes off his football gear and joins the cheer squad to do herkies — cheerleading jumps.
The senior at the Episcopal School of Dallas began to do double-duty as a football star player and cheerleader when he caught the attention of Clayton Sanders, the school's football coach. "Met him in the cafeteria...shook his hand. He liked to crush my hand," coach Sanders told KDFW. "I said, 'This kid's got to play football.'"
Fernandez-Pierre was hesitant to start football again after suffering a serious neck injury playing the sport in the eighth grade. The severe neck injury prompted him to join the cheer squad during his junior year before coach Sanders crossed his path during senior year. Sanders convinced the young man to join the football team as a nose tackler because he believed that the 335-lb. senior could be a huge asset to the team.
"The deal was that he and my cheer coach would have to figure a way that I could play both sports in the same season," Fernandez-Pierre told KDFW.
The Episcopal School of Dallas cheer coach, Eric Daboa, first protested the idea of his cheerleader joining the football team because he wanted to keep him on the cheer squad and his sideline. "But we realized what a good athlete he is and understand the opportunities that he would have with football," said Daboa.
Fernandez-Pierre holds both sports with high regard and classifies them distinctively when it comes to the purpose of each sport. "[Cheer] is about encouraging each other and moving forward as a group and a team," he said. "When it comes to football I love being able to be, I guess - how could you say it – brutal."
Brutal is one way to describe the Dallas football star's playing style. Last week, Fernandez-Pierre manhandled his opponents for the first two quarters during the football team's season opener. When halftime came, the nose tackler did an impressive herkie.
In the meantime, coach Sanders and coach Daboa work on their game planning on a weekly basis, agreeing on when Fernandez-Pierre cheers and what parts of the game he will play, ultimately mixing it up to keep football rivals on edge.
Published by Medicaldaily.com