Army Psychiatrist Nidal Malik Hasan Found Guilty Of Killing 13 People At Ft. Hood Shooting; Faces Sentencing On Monday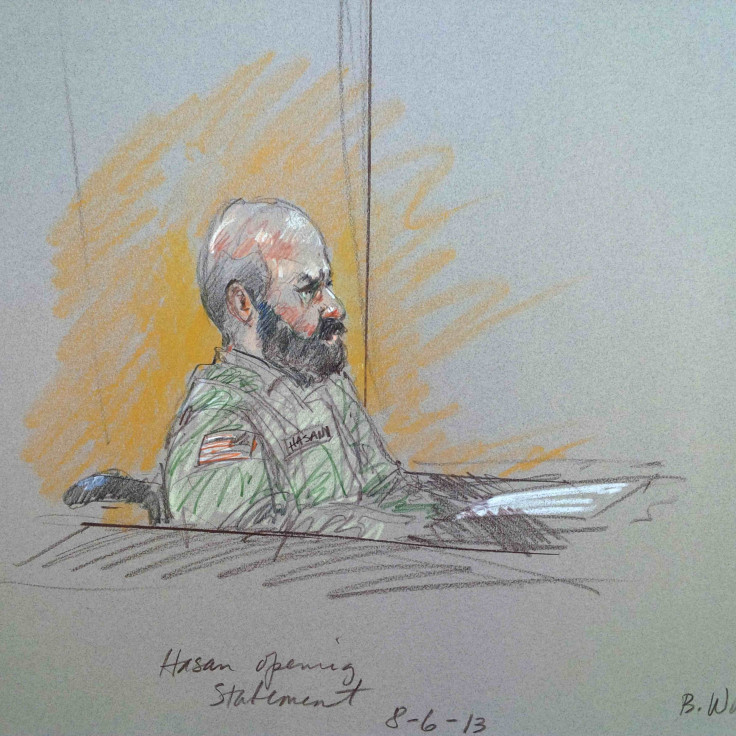 A military jury found Army Major Nidal Malik Hasan, 42, guilty of killing 13 people and wounding over 30 more on an American army base in Fort Hood, Texas. Eligible for the death penalty, he has been convicted of 13 charges of premeditated murder and 32 charges of attempted premeditated murder.
The unmarried army psychiatrist chose to defend himself for the trial, yet he declined to testify, call witnesses, or give a closing argument. Military law prohibits entering a guilty plea in capital punishment cases. According to NBC News, Hasan did state that he had changed sides in what he called an American war against Islam; he also took credit for the shooting at the outset of the trial.
The Washington Post reports that Hasan did not neglect to defend himself in the court of public opinion; through a series of leaks to the media, he argued "he was waging jihad because of the United States' 'illegal and immoral aggression against Muslims' in Iraq and Afghanistan." The judge, Col. Tara Osborn, ruled that Hasan could not defend himself by arguing that he carried out the killings to protect Taliban leaders in Afghanistan.
His standby attorneys have argued that Hasan was helping the prosecution in a bid for martyrdom, CNN reports. The shooting occurred less than a month before he was scheduled to deploy to Afghanistan. Witnesses for the prosecution described the chaotic scene inside the deployment center when Hasan shouted "Allahu Akbar," commonly translated as "God is great," and then began to fire more than 146 rounds. While being apprehended, an army civilian police officer shot him; he is now paralyzed from the chest down and confined to a wheelchair.
The penalty phase of the court-martial is to begin Monday. Unlike civilian courts, military tribunals require members of the jury to both arrive at a verdict and also assume responsibility for sentencing those found guilty of accusation. During the sentencing phase, further witnesses may be called and Hasan himself could testify before a punishment is handed down, according to the The Washington Post.
Published by Medicaldaily.com