Artificial Heart Lets Randy Shepherd Defeat 4-Mile Pat's Run In Honor Of Late Athlete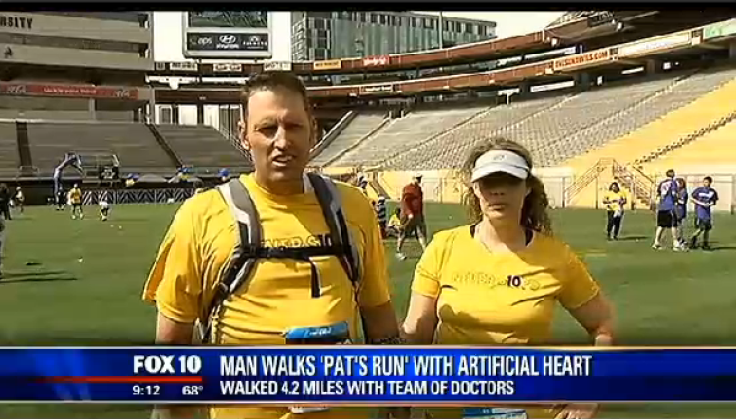 A 40-year-old man from Mesa, Ariz., is the first person without a human heart to ever enter and complete the 4.2-mile Pat's Run in the Phoenix area. Randy Shepherd walked the course and clocked in with an hour and 40-minute finish time.
Shepherd was accompanied by his wife, Tiffany, a team of doctors, and of course, his artificial heart. The heart is powered by a 13.5-pound portable device stored in Shepherd's backpack.
Shepherd's heart was damaged during his high school years due to rheumatic fever. At 17 years old, he received open heart surgery to revive his weakened heart. He has always been active, even after his heart troubles as a teenager. Shepherd played semi-professional baseball for a year and enjoys other physical activities, including slow-pitch softball, weight-lifting, and shooting bows and guns.
Recently, Shepherd encountered additional heart complications, which led him to a heart transplant early last year at the University of Arizona Medical Center. Upon completion of his surgery, he was in a coma for eight days. His human heart was replaced with the SynCardia temporary Total Artificial Heart, the world's first and only FDA, Health Canada, and CE-approved Total Artificial Heart.
The device is used to replace a heart's two ventricles, when they can no longer pump enough blood for a person to survive. It has been used for 30 years and has never encountered a valve failure.
The SynCardia Total Artificial Heart is a temporary heart until Shepherd receives his human heart transplant.
No matter how stationary or active, Shepherd's heart rate is consistently 135 beats per minute. His steady heart rate was one of the challenges he faced during the race.
About thirty-thousand participants ran in Pat's Run on April 26 to honor war hero Pat Tillman. Tillman left his professional football career behind and enlisted in the U.S. Army. He was 27 years old when he was killed on April 22, 2004 in Afghanistan.
Published by Medicaldaily.com