Baby Food Recall 2013: Plum Organics Pulls Kids Pouch Products Off Shelves For Potential Spoilage

Organic baby and toddler food company Plum Organics has voluntarily recalled three pouch food products from grocery store shelves for possible spoilage due to a manufacturing defect.
"We started this company with the mission of providing the very best food to little ones from the very first bite. Because of our unwavering commitments to that mission, I'm writing to inform you that we are conducting a voluntary recall," said Plum Organics co-founder and President Neil Grimmer in a press release.
Plum Organics has a complete line of organic baby foods including fruit puree, food pouches, meals, and toddler and kids snacks. The pouch products that are being pulled off shelves include: Baby Stage 2, Tots Mish Mash and Kids lines. These products may spoil, causing some packages to appear swollen.
The recalled products can be identified by the "Best By" dates ranging from Aug. 5, 2014 to Dec. 8, 2014 and the letters "AT." Parents are warned to not feed any of the listed foods to their children as consumption of these products could result in temporary gastrointestinal issues.
The International Foundation for Functional Gastrointestinal Disorders says gastrointestinal problems may include nausea, abdominal cramping, constipation, and diarrhea. Typically, the presence of these symptoms can result in a diagnosis of irritable bowel syndrome (IBS) if they persist for long periods of time. IBS is thought to be triggered by food sensitivities and sometimes stress. The disorder affects between 25 and 55 million people in the U.S., resulting in 2.5 to 3.5 million yearly visits to physicians.
Parents have taken to Plum Organics Facebook page to report their children's symptoms after consuming the recalled products.
Consumers like Jodie Sharar Thomas wrote:

Plum Organics spokesperson Kara Flynn claims the voluntary recall is more of a taste issue rather than a food safety issue. "It's simply a matter of a sour taste," Flynn told ABC News. It may be unpalatable if someone was to consume it, but consumers would simply experience some temp gastrointestinal issues, such as nausea and diarrhea, it's not a food safety issue."
The company aims to ensure that their highest quality standards are being met by providing the best nutrition for their children and yours. "As a father of two, I know how it feels to want nothing but the very best for our kids and yours," said Grimmer in a statement released on Friday.
Consumers who have purchased the recalled products should contact the Plum Organics Consumer Hotline at (866) 495-3774 or send an email to info@plumorganics.com with the subject line, "Replacement Voucher," to request a product replacement voucher. Parents must include their first and last name, address, phone number, Best By date, and the number of affected pouches in the e-mail.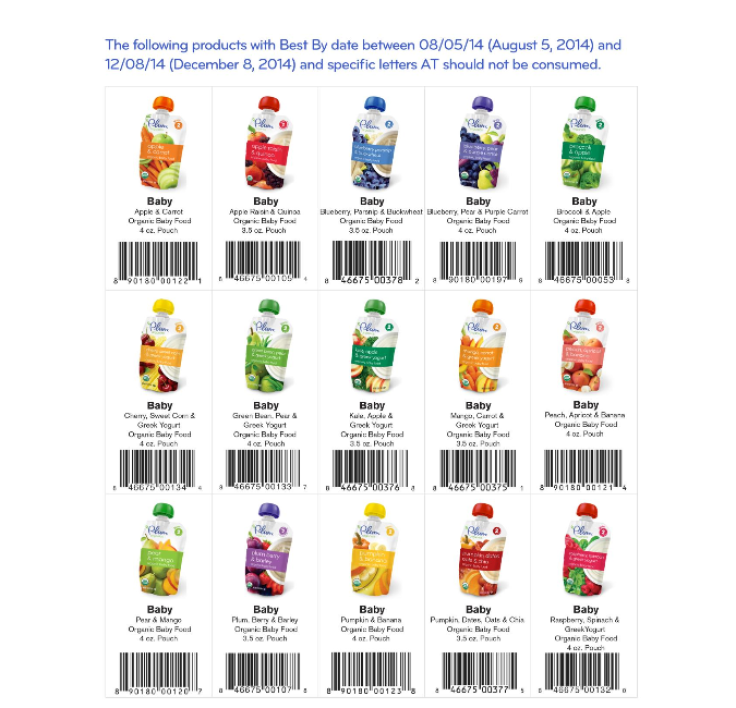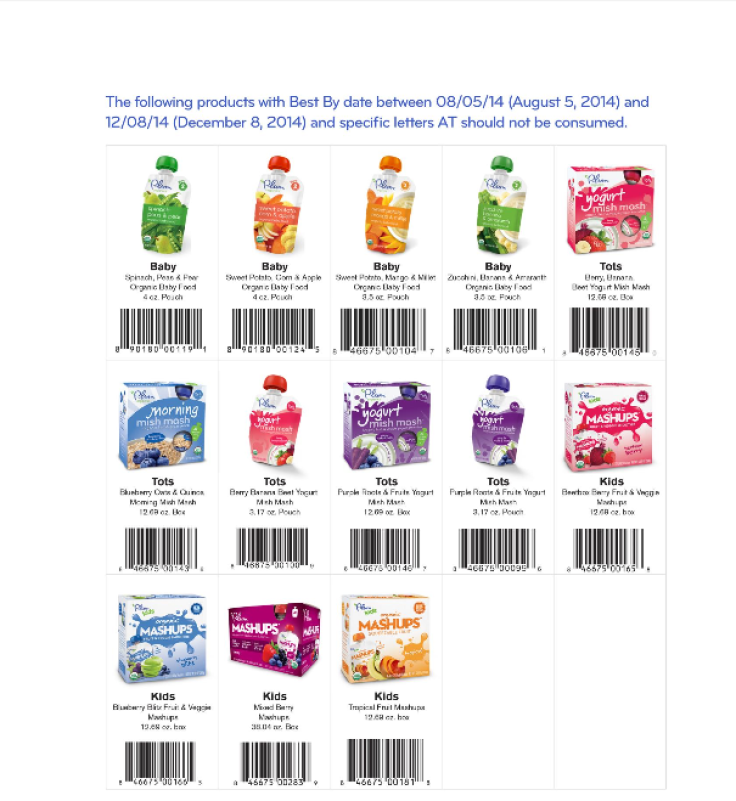 For further details on specific lot numbers, click here.
Published by Medicaldaily.com