Baby Massages Go Luxe: Tots Get Full Spa Treatment At 'Float Baby' In Houston While Their Mommies Watch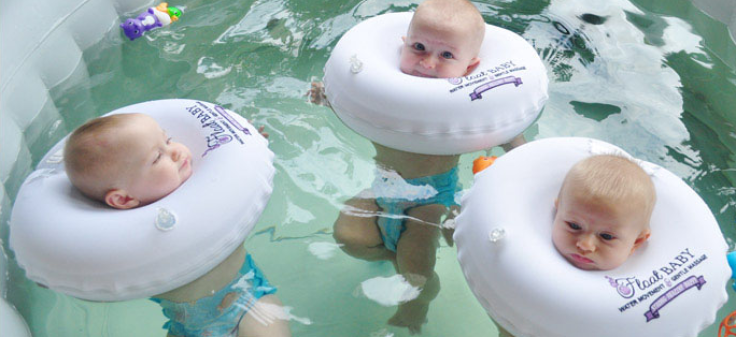 Baby massages have roots in India, dating back thousands of years in Ayurvedic medicine. But one spa in Houston, Texas, Float Baby, has found a way to profit from this practice with full services for the youngsters.
One of them involves floating in a pool. While wearing a tube around their necks, the tiny tots float in purified water for 20 to 25 minutes. Kristi Ison, who runs the spa, told the NY Daily News the point is to "to develop the physical, mental and emotional wellbeing of the baby ... The benefit of allowing the baby to have free range of all of their limbs is what supports the early neurological development of the baby." Warm towels and swim diapers are also included.
A 2010 study found there were a number of benefits to teaching infants to swim. The research from the Norwegian University of Science and Technology (NTNU) found it's good for developing balance and movement. "We saw very clearly that baby swimmers were the best in exercises that related to balance and the ability to reach for things," said Hermundur Sigmundsson, a professor of psychology at NTNU, Medical News Today reported.
After the babies are done with their dip in the pool, their moms are then instructed on how to give a massage. According to Dr. Premal Patel, who is also a wellness director at Banyan Botanicals, massaging helps to ensure sound sleep, toned muscles, moisturizes skin, calms the nervous system, decreases stress levels, fosters healthy digestion and healthy bowel movements, and improves circulation. In India, Ayurvedic medicine texts say to massage babies with oils like sesame and coconut, which help to moisturize their skin and increase circulation. Techniques involve full arm and leg massages and stretches.
Following a proper and safe technique, this can be done from the comfort of one's home, and you can save the $65 one-hour session at Float Baby. It is important to remember that massaging your baby without the proper technique can be dangerous. Injuries like a dislocated shoulder can occur if too much pressure is applied. Be sure to check with an expert before starting this on your own.
Published by Medicaldaily.com