Baby Sunscreen Recall: Company WS Badger's Testing Revealed Microbial Contamination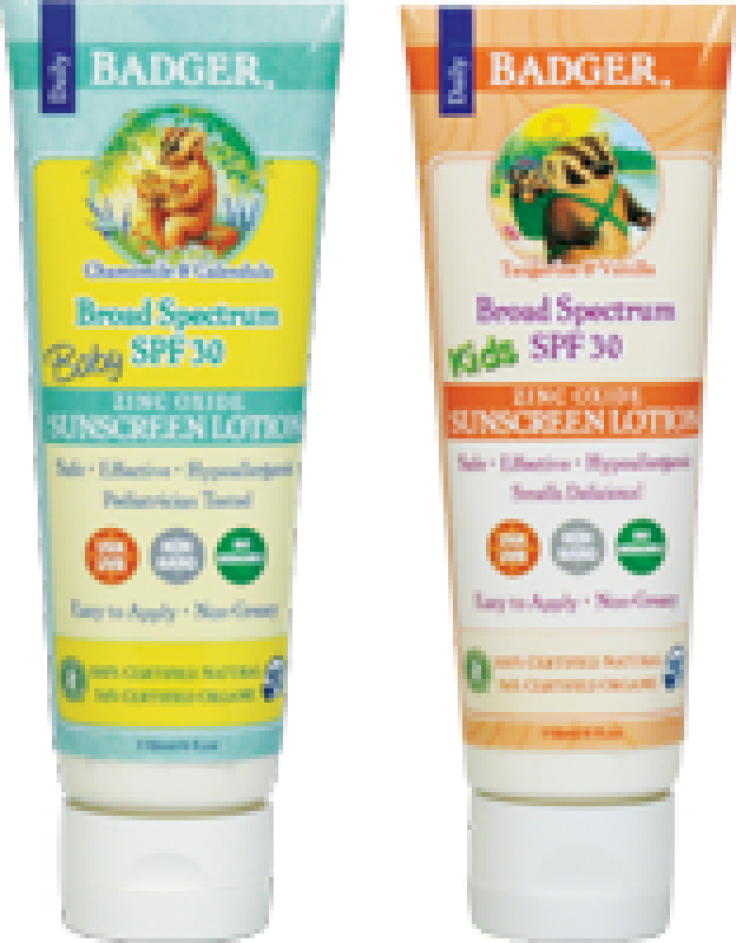 The number one selling sunscreen in the U.S. natural markets, W.S. Badger Company, has voluntarily recalled 30,000 of its baby and kids' sunscreen lotions because of potential disease-causing bacteria.
On Monday, the New Hampshire company announced in a press release that it is recalling all lots of its 4-oz. SPF 30 Baby Sunscreen Lotion and one lot of its 4-oz. SPF 30 Kids Sunscreen Lotion (lot # 3164A) due to three types of microbial contamination: Pseudomonas aeruginosa, Candida parapsilosis, and Acremonium fungi.
The Centers for Disease Control and Prevention reports that Pseudomonas is one of the most common pathogens that typically develops in people in the hospital and/or with weakened immune systems. Healthy people can be exposed to Pseudomonas aeruginosa, especially after exposure to water. In children, ear infections and skin rashes may occur.
A Candida parapsilosis infection is typically caused by a yeast and mainly affects children, infants, and those with a weak immune system. Acremonium fungus is a slow-growing mold that may lead to opportunistic infections, such as herpes simplex, lymphoma, and pneumonia.
Badger Founder and CEO Bill Whyte explained that the voluntarily recall came after doing a routine re-testing of the organic children's products. "All of these lots passed the required microbiological and comprehensive challenge testing prior to sale. It was during routine re-testing that we discovered that the preservative system in several lots had been compromised," Whyte said in the press release.
"In our 18-year history, this voluntary recall is a first. We continue to conduct rigorous testing and are taking steps to ensure this doesn't happen in the future," he continued.
Currently, no adverse reactions have been reported in connection to the recalled products.
"My understanding of the toxicologist's report is that the 'organisms' found in the failed products are also commonly found in the environment and on our skin," said Whyte on the company's website on Tuesday. "They are unlikely to cause problems except for in immune-compromised persons or for persons with severely damaged skin."
While Whyte believes that the disease-causing bacteria is unlikely to cause problems, except in people with weak immune systems, he fails to see that babies and children are most vulnerable to certain diseases because their immune systems are still developing at a young age. As children get older, their immune systems will strengthen and build up immunity to common infections.
The recalled Badger sunscreens can be identified by matching the universal product code with the lot code, which can be found on the top front of the tube crimp, according to the press release.
The affected lots include the following:
SPF 30 Baby Sunscreen Lotion 4oz (UPC: 634084490091&634084490114) Lot # 3024A, 3057B, 3063A, 3063B, 3132A, 3133A
SPF 30 Kids Sunscreen Lotion (UPC: 634084490145 & 634084490169) Lot # 3164A
Consumers are advised to not use any product that is associated with the sunscreen recall. If the consumer has purchased any of the recalled products, he or she should return them to the designated carrier and get a full refund.
Published by Medicaldaily.com