A Bad Day At Work Can Come With Good News, As Employees Benefit From Negative Emotions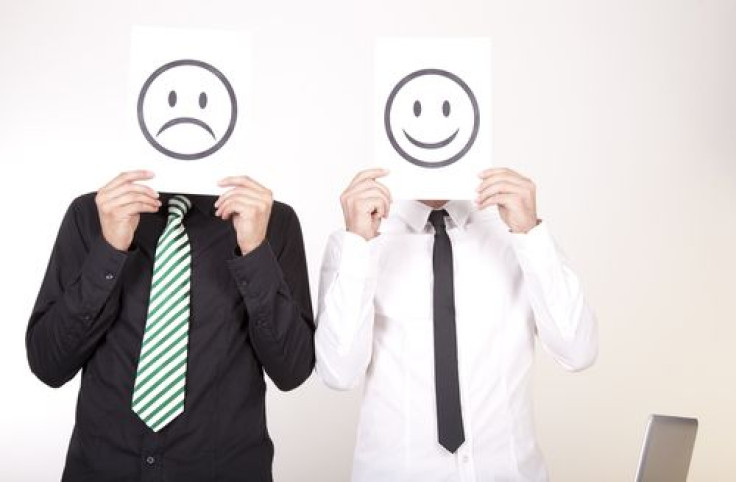 A special issue of Human Relations revealed a bad day at work can boast some surprising benefits, so maybe don't turn that frown upside down.
Existing knowledge, according to researchers, is that positive emotions lead to positive outcomes and negative emotions lead to negative outcomes. Positivity is associated with better health and well-being, while negativty, on the other hand, is associated with greater work-related depression and the inability to maintain a professional demeanor.
But researchers from the University of Liverpool in the UK analyzed five scholarly papers on the topic and found a persistent case of the Mondays isn't the worst thing in the world. For one, it leads to new social connections. Employees nursing negative emotions from a severed social loss are encouraged to make new, positive connections.
Anger, too, can be beneficial. Co-workers and managers who support upset employees can create workplace-wide change, which is to say changes can be made to improve the negative situation. This makes sense when you consider the prior research that found repressing anger can worsen pain and put stress on a person's cardiovascular system.
What's really interesting are the negative outcomes researchers found can come from positive emotions. Too much compassion (which is totally a thing) can lead to compassion fatigue, the psychological term used to describe the emotional stress that results from being exposed to traumatic events. Also, employees who were more emotionally intelligent were worse in negotations compared to their lesser intelligent counterparts.
Percentage-wise, researchers cited some negative events can lead to negative outcomes 30 percent of the time while others can lead to positive outcomes 70 percent of the time. And a separate study published in PLOS ONE found being comfortable experiencing and expressing mixed emotions sets a person up to improve their well-being.
"We found that those participants who were making meaning out of their experiences with a mixture of happiness and sadness actually showed increases in their psychological well-being, compared to people who were just reporting sadness, just reporting happiness, or some other mixture of emotions," Jonathan Adler, an assistant professor of psychology at Olin College in St. Louis, told HuffPost Live.
According to Adler, there's something to be said for taking the good with the bad. Obviously mental health and producitivty thrive in a positive, stress-free environment. But for anyone who has had a bad day at work, which, let's be honest, is all of us at some point, consider this reserach the silver lining.
Published by Medicaldaily.com