A Bad Dream Is More Than Just A Dream: The Science Of Nightmares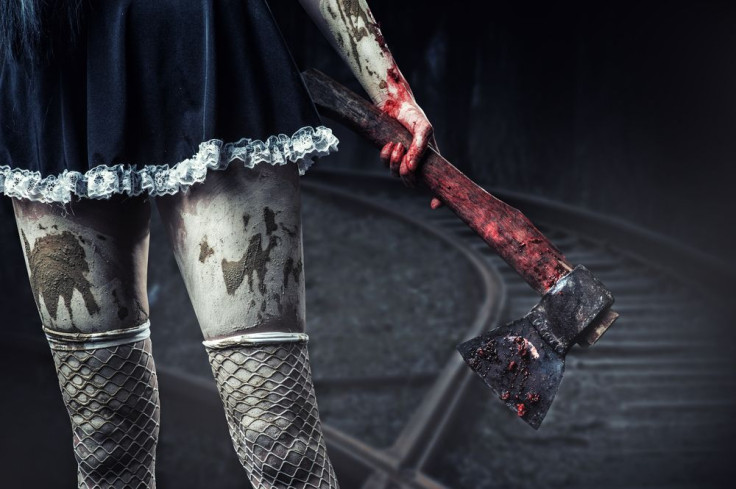 The jolt of fear and terror felt as we run for our lives to escape danger quickly eases us back into consciousness in bed to help us flee the dreamscape. Nightmares tend to creep in and out at night in our lifetime, primarily during childhood, but why do they happen in the first place? Do we ever outgrow bad dreams?
Why Nightmares Happen
Nightmares can be vivid and frightening detailed images that can leave us in a state of panic and fear after we wake up. Most young children experience nightmares, with an estimated 10 percent to 50 percent between the ages of 5 and 12 years having nightmares severe enough to disturb their parents, according to the American Academy of Sleep Medicine (AASM). Children's nightmares may stem from listening to a scary story, TV show or movie, or even feeling anxious and stressed during the day from starting school to a death in the family. Typically, most kids will grow out of them, but what happens to adults?
Only two to eight percent of the adult population is plagued by nightmares, says the AASM, which involves some of the same triggers seen in children's nightmares. Lauri Quinn Loewenberg, a professional dream analyst and author of Dream On It, Unlock Your Dreams Change Your Life, stresses the importance of understanding that dreaming is actually a thinking process; a continuation of our thoughts stream from the day. "[T]he nightmare is when we are thinking about difficult issues during REM (Rapid Eye Movement) and trying to sort them out. We often try to ignore our difficult issues with distractions during the day but when we are asleep and are forced to be alone in our own heads, these difficult issues will be addressed," she told Medical Daily in an email.
Unresolved conflict is not the only causation of nightmares, poor eating habits can also contribute to the frequency of these terror episodes. People can have nightmares after having a late-night snack. Eating meals or snacks that are high in carbohydrates in the late hours of the night can increase brain activity and body metabolism.
Carol Wasserman, a certified holistic health practitioner with a private practice in Manhattan, N.Y., also suggests an unknown allergy can trigger reoccurring episodes. "For example, if you have an allergy to peaches, but are not aware, you could be getting nightmares, and once you stop eating peach ice cream at night the nightmares stop" she told Medical Daily in an email. Wasserman adds she was unaware she was allergic to shrimp and had nightmares after consumption. "Every time I ate shrimp I had a restless night and bad dreams. So I stopped the shrimp and now I sleep peacefully."
Nightmares in adults can be spontaneous, but are generally triggered by psychological factors like anxiety and depression, and the result of poor nutrition. Moreover, sleep disorders including sleep apnea and restless legs syndrome can cause people to experience chronic, recurrent nightmares. What happens to the brain when these factors contribute to the onset of nightmares?
The Brain During A Nightmare
Nightmares tend to occur in the last third of the night when REM sleep is the strongest. Sleep is divided into four stages: stage 1 (sleep onset), stage 2 (light sleep) and stages 3 and 4 (deep sleep) — the REM stages. REM sleep occurs every 90 minutes during the night, and is associated with high brain activity, rapid eye movements and inhibited voluntary motor activity. Typically, dreaming occurs in all stages, with 80 percent of people awakened during REM sleep and sleep onset (stages 1 and 2), while 40 percent of persons are awakened from a deep sleep, according to an article in the American Family Physician.
The amygdala, which is regulated by the front lobes of the brain, seems to be the culprit when it comes to nightmares. Neuroimaging studies of the brain while dreaming show the amygdala is highly activated during REM. In Patrick McNamara's book, Nightmares: the Science and Solution of Those Frightening Visions During Sleep, he emphasizes the amygdala's role in handling negative mentions such as fear and aggression. This may explain why the over-activation of the amygdala during REM can produce fear-responses in the dreamer.
"[O]nce we enter REM sleep, which is when dreaming takes place, the brain is working differently (certain parts of the brain become dormant while others become highly active), so instead of thinking in literal terms and words you are thinking in pictures, symbols and emotions... metaphors!" Loewenberg said.
The Dreamers Who Have More Nightmares
Most young children are susceptible to nightmares, and a pocket of the adult population will experience the occasional nightmare in their lifetime. However, which adults are more prone to bad dreams than others?
Several studies have found age, personality type, and trauma can influence the frequency of nightmares for dreamers. A 1990 study published in the Journal of Abnormal Psychology found 47 percent of college students had at least one nightmare in a two-week study. These nightmares were not tied to self-reported anxiety, suggesting nightmares are more prevalent than previously thought in young adults.
However, an everyday fear, like a car accident, is known to trigger nightmares in the blind. A 2014 study published in the journal Sleep Medicine found blind people have four times more nightmares than those with vision. The study confirmed the nightmares were associated with emotions the blind experience while awake, such as the potential of embarrassing social situations like spilling a cup of coffee.
"I have found that it can depend on past trauma and, more common, personality type," Loewenberg said. She added, the more sensitive people, those who avoid confrontation at all costs and who get let down very easily are more prone to nightmares, simply because life and choices are more difficult for them."
The Dark Truth Behind The Nightmare
There a few common symbols in nightmares, such as death and murder. Death is typically about something changing or ending. When dreaming about death and children, they tend to occur when the child has reached a milestone such as learning how to walk, starting preschool, or learning how to drive. Loewenberg shares, "dreaming our child dies, for example, is typically caused by the difficult realization of how fast time is going and the young, needy child we love to cuddle and care for is dying off and a more independent child is emerging."
Like death, murder is about an ending or change, but with a forced ending. We often tend to dream someone is trying to murder us when we are feeling pressured to put an end to or change something either about ourselves or our lives. Loewenberg uses the example of when a relationship has ended or when there's a pregnancy; the pregnancy forces a dramatic change in our behavior.
However, the causation of nightmares can be tied to a difficult issue from long ago. One of Loewenberg's clients had nightmares her husband would leave her in a dark, frightening parking lot at night, or that she was being attacked in a war. The client was in a happy marriage, financially secure, and healthy. "But it turns out, she was abused by both her parents as a child and made to feel unloved and unwanted. She never got help with her childhood trauma and learned how to process it so those feelings and memories were pushed down," Loewenberg said.
Like the client, unresolved conflicts don't go away, and shape our personality. Childhood trauma can lead to feelings of insecurity or constantly seeking validation, and feel like you're constantly under attack if you receive criticism. This suggests our life experiences, both past and present, not only have an influence on our lives but in our dreams as well.
In order to have a better grasp of our dreams, we must begin to address the issues that plague us in the day. "We talk to ourselves all day long while awake. That doesn't change when we sleep," Loewenberg said. She advises, "the better conversation you have with yourself while awake will ensure better dreams at night."
Published by Medicaldaily.com