Baking Soda For Beauty: 7 Surprising Ways Baking Soda Could Do Your Body Good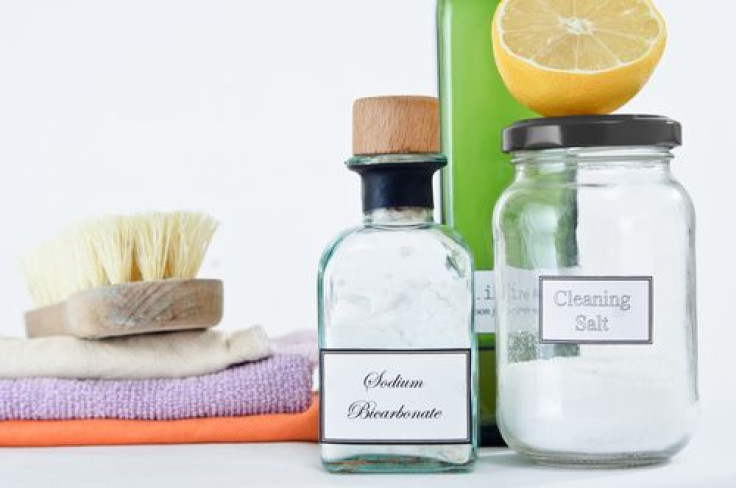 Baking soda, officially known as sodium bicarbonate, may rank high on the list of household products many of us can't live without because of its versatility. The pantry staple is widely known for its use in cooking and cleaning, as it deodorizes and neutralizes without creating a toxic mess. The uses of the practical powder don't stop at domestic needs, baking soda can simply be added to our beauty routine from head to toe, and even save us money from splurging on expensive beauty products with harsh chemicals.
Here are some Arm&Hammer baking soda beauty hacks that can improve the condition of your hair, skin, and nails in the most unusual ways.
1. Bath Detox
A warm baking soda detox bath removes the toxins from the body to help soothe skin irritation and boost magnesium levels. The bath is beneficial for exposure to irradiated foods, swollen glands, sore throat, or soreness of the gums and mouth, says the Healthy Home Economist, as the toxins pulled into the water via osmosis. To relieve itchy winter skin, try this detox bath: Dissolve four cups of aluminum-free baking soda in a regular size tub full of water as hot as your body can handle. Stay in the tub until the body has cooled, which will take about 45 minutes, and simply towel dry — do not rinse — after the bath detox.
2. Dry Shampoo and Volumizing Shampoo
Dry Shampoo
If your hair is prone to oil build-up, try to sprinkle a pinch of baking soda at the root and run your fingers through your hair. Here, baking soda acts as an oil absorbing substance on the oily parts of your hair to keep your scalp looking clean and shine-free. The do-it-yourself (DIY) dry shampoo will help you save money and time on those days when you can't thoroughly wash your mane.
Volumizing Shampoo
If you have complete loyalty to your shampoo brand, then you can use baking soda as a volumizer, according to MindBodyGreen. For volume, mix a quarter size of the powder with a drop of your shampoo to remove the impurities. As a replacement for your shampoo completely, mix about two to three tablespoon of baking soda with three times that amount of water in a small squeeze bottle — depending on your hair length — and apply the baking soda and water mixture to either dry or wet hair from the roots to the ends. Let the shampoo sit for one to three minutes, and then proceed to rinse with warm water.
3. Repair Chlorine-Damaged Hair
With the warmer months fast approaching, many of us will take a dip in the pool, or go to the beach to keep cool. To prevent your hair from going green from the chlorine and other chemicals found in the pool, use baking soda to remove chlorine build up and discoloration. Rinse hair with half a teaspoon of baking soda in one pint water to effectively remove the dullness or discoloration. This should be followed with a conditioner to maintain a super clean hair.
4. Facial Scrub
A baking soda and water-based paste forms a natural and gentle exfoliator for your entire face. Add a little bit of water to a tablespoon of baking soda, says Wellness Mama, and then gently massage it onto your face in circular motions for 10 to 20 seconds before rinsing with warm water. This will help to exfoliate your skin and keep it feeling soft.
5. Acne Solution
Ditch the over-the-counter acne products, and use baking soda to help clear your skin. First, wash your face, and make a paste of water and baking soda with one-third tablespoon baking soda, and then apply it directly on your blemish. Once the paste has dried, and starts to flake off, wash with warm water, and opt to apply face lotion.
6. Manicure and Pedicure
Cuticle Cleaner
To maintain your cuticles, scrub dry with a paste made out of equal parts baking soda and warm water. This will help exfoliate dead skin cells and even soften your hands, according to iVillage.
Foot Scrub
To clean the heels of your feet, fill your bath tub with warm water and dissolve three tablespoons of baking soda. Proceed with a pumice stone to scrub away dead skin.
Bonus: For your nails on your hands and toes, dip your nail brush in baking soda to clean your nails and remove discolorations from the old polish.
7. Homemade Toothpaste
Baking soda can help whiten teeth and keep them clean and smooth without being too harsh. The white powder will not only improve your oral health but also serves as a natural alternative to toothpastes that contain harmful ingredients. For a homemade remineralizing toothpaste recipe, click here.
These natural beauty uses for baking soda will help you maintain younger, healthy looking skin year-round.
Published by Medicaldaily.com