Bears WR, Brandon Marshall, Gets Fined For Wearing Green Cleats In Support Of Mental Illness Awareness Week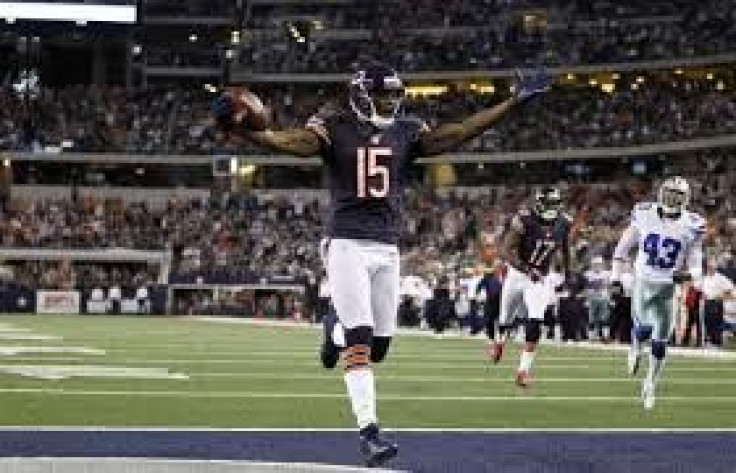 Brandon Marshall stood out like a sore thumb during Thursday night's matchup between the Chicago Bears and the New York Giants. It wasn't the Chicago wide receiver's nine-reception, 87-yard, and two-touchdown performance. It was the bright green cleats that he was wearing in support of Mental Illness Awareness Week.
Every player in the National Football League dons pink gloves, wristbands, or cleats during October in support of Breast Cancer Awareness Month. Marshall decided that he would support the Brandon Marshall Foundation with green cleats. It resulted in the NFL fining Marshall for violating the league's uniform policy.
"I'm going to get fined and I'm going to match that, and we want to partner with a cancer-care [charity]," said Marshall . "We're still working on the details to give, really give back to an organization that is doing work in the mental health area. [Also], the diagnosis of breast cancer can hit families hard. It affects all of us."
Marshall, who was diagnosed with borderline bipolar disorder in 2011, also plans on auctioning off the green cleats he wore on Thursday and donating the money to his charity. "NAMI applauds Brandon Marshall's leadership in raising public awareness about both breast cancer and mental illness," executive director of the National Alliance on Mental Illness (NAMI), Michael J. Fitzpatrick, said in a statement.
Cleats weren't the only piece of green in Chicago this past Thursday. The Brandon Marshall Foundation also arranged for the Trump Tower and the Intercontinental Hotel to light up green for the game in support of mental illnesses. Mental Illness Awareness Week runs from Oct. 6 to Oct. 12.
"If it's me suffering to help thousands, and maybe millions in the world, I wouldn't change it for nothing," Marshall said at the NAMI National Convention in 2012. "It started with me falling on my face. If you want to change, it starts with yourself."
Published by Medicaldaily.com