Beau Chevassus Creates 9,000-Calorie, $38 'Kraken' Burger At Jack In The Box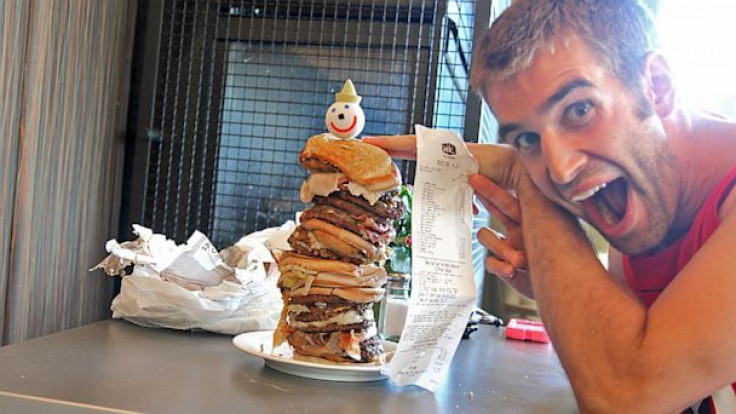 Beau Chevassus, 27, of Enumclaw, Wash., says that he has created the most expensive burger ever ordered at a fast food chain. With the help of Jack in the Box burger makers, Chevassus pieced together the 9,000-calorie, $38 "Kraken" burger, ABC News reported.
You may remember Chevassus's claim that he ordered the most expensive drink at Starbucks with the $47.30 Quadriginoctuple Frap. The drink consisted of a venti 48-shot mocha Frappuccino soy, mocha drizzle, matcha powder, protein powder, caramel brulee topping, strawberries, two bananas, caramel drizzle, Frappuccino chips, and vanilla bean.
The fast-food enthusiast is back at it again after ordering the "Kraken" burger or what Jack in the Box's Facebook page calls "The Leaning Tower of Meatsa" or "Jack and the Burgerstalk." Toppings in between 20 burger patties included two types of chicken, ham, turkey, bacon, sausage, onion rings, two fried eggs, grilled onions, and five types of cheese.
How is Chevassus feeling after his monstrous burger order?
"It's good fun and I wanted to see if it could be done. I thought my heart was going a little too fast and I needed to slow it down with something like this," he told ABC News.
Published by Medicaldaily.com