Beautiful Bald Bride Beat Cancer And Can Finally Plan Her Honeymoon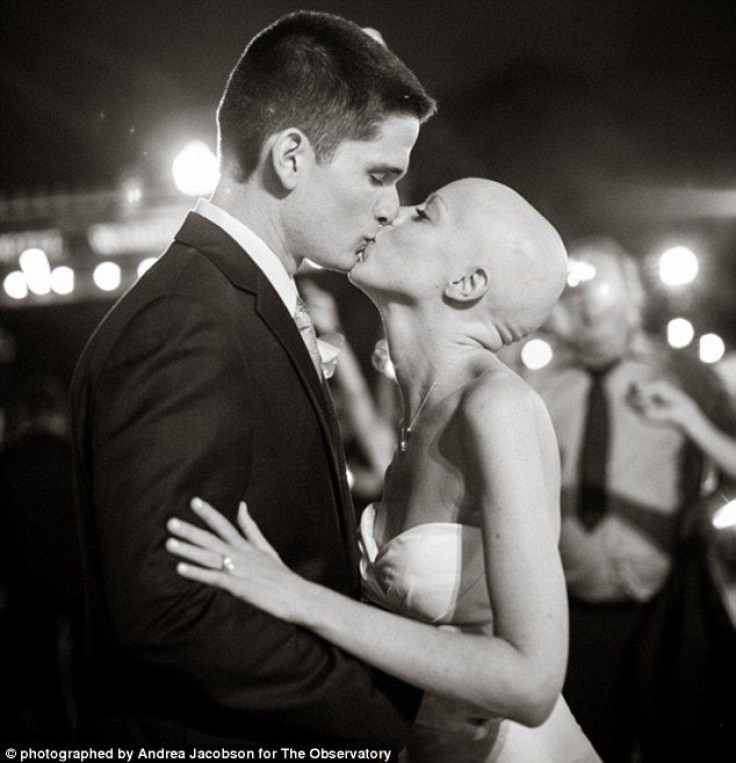 Celebration is in order for a young cancer survivor, and it will come in the form of a honeymoon that has been delayed for nearly a year. When Shannon Jones was diagnosed with cancer four months before her July 2013 wedding date, she decided to move forward with her plans despite the inundating chemotherapy treatments she was going to have to endure.
The Redding, Conn., kindergarten teacher is now cancer free and is looking forward to planning her honeymoon in order to celebrate her marriage and survival. The 27-year-old, who was diagnosed with Hodgkin's lymphoma, a cancer of the immune system, chose to schedule her chemotherapy appointments so she could walk down the aisle on an off-week when she would feel healthiest in light of her condition.
"I was feeling as good as I could feel. It was a nice break and something nice to look forward to," Jones told ABC News. "I wouldn't have changed a thing," she said of her wedding, calling it the "light at the end of the tunnel" during months of grueling treatment. "It was the best celebration I could possibly have."
She said the vision she always had for her wedding went untouched by the cancer, except for her hair. The chemotherapy treatments had stolen her brown tresses, but in return, Jones was able to wear her mother's veil, which was altered into a dainty lace cap by seamstresses.
"I heard you will lose your hair in the next two weeks," Jones recalled. "You don't envision getting married without any hair. I had envisioned my wedding since I was 2."
Now affectionately nicknamed, "the bald bride," Jones recalls her day as a happy one and said her favorite moment was when the doors opened and she saw her fiancé, Jeff O'Hara, who stayed by her side throughout her treatments, waiting for her at the end of the aisle with tears in his eyes.
"When we said our vows in sickness and health it really meant a lot," Jones said. "At that time in our lives being sick and [trying to be healthy] …we both got so emotional and choked up."
Because Hodgkin's lymphoma affects the immune system, it compromises the body's ability to fight off infection and couples strange symptoms such as the enlargement of lymph nodes, sleep, and includes fever, weight loss, fatigue, and night sweats, according to the National Cancer Institute. Before diagnosis, Jones experienced an abnormal swelling of lymph nodes on her chest and neck that she thought was only allergies. Then came an onslaught of night sweats, itchiness that led her to doctor's appointments and diagnosis.
"We originally thought it was nothing," Jones said. "It turned into appointment after appointment."
After her diagnosis, she stared into the long road ahead of her, knowing full well that her oncologist wanted her to postpone the wedding. Though she pushed on, and throughout the planning and wedding details, she said it gave her perspective to focus on what was important. She wanted the wedding and believed nothing could take away the joy she felt for marrying her now husband.
"I wanted to feel beautiful and like a bride. I was worried I wouldn't feel like a bride," she said.
Having her perfectly envisioned wedding with the addition of a symbolic lace wedding cap, Jones doesn't regret a thing and is ready to move forward into her married life and now healthy future. The cancer went into remission at the end of last year, and although she still has to go in for checkups and scans, her results have all come back clear.
"It's wonderful to be healthy again and to feel like a human again," Jones said.
Published by Medicaldaily.com