Benefits Of Dragon Fruit: 6 Health Reasons To Eat More Of The Exotic Fruit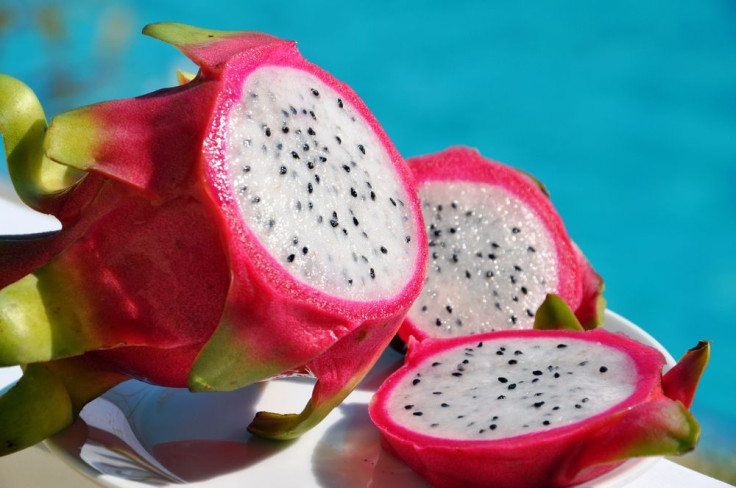 A bite of this wildly nutritious tropical superfood can deliver a cornucopia of benefits for the human body. Dragon fruit, also known as pitaya, can be either sweet or sour, depending on the species. The most common form of dragon fruit, which is smaller than a cantaloupe, red, and covered with spiky growths, can protect the body from aging and diabetes.
In the U.S., the exotic fruit has gone under the radar compared to many mainstream fruits and health foods, such as apples and kale. Typically, it is widely distributed from South Florida, the Caribbean, Hawaii, Taiwan, Malaysia, Israel, and Vietnam, according to the University of Florida. Dragon fruit also undergoes food irradiation in the U.S. when shipped from overseas to improve its safety and extend its shelf life by reducing or eliminating microorganisms and insects.
Although exotic, it is safe for consumption even by pregnant and breastfeeding mothers, and continues to grow in popularity while becoming more affirdable in the U.S. The fruit is rich in vitamin C, but it is also a rich source of fatty acids. Kevin Meehan, a holistic practitioner and founder of Meehan Formulations and owner of Teton Valley Health Clinic in Jackson, Wyo., told Medical Daily in an email: "It is not this fruit's vitamin C content which gives it the health potential but rather its fatty acid and phosphorus content."
Replenish your body and feed it the six benefits of this tropical superfood.
1. Anti-Aging
Antioxidants are essential for keeping the skin tight and firm. They fight off free radicals that circle around the body that are known to cause problems like cancer. Dragon fruit is a good source of antioxidants due to its vitamin C content.
Meehan reminds eaters probably the most overlooked nutrient in this fruit is its phosphorus punch. "One of the most important key regulatory events in our cells require phosphorus and the phospolipids are primary components of cellular membranes. This could help in preventing premature aging," he said.
2. Cancer Prevention
Aside from vitamin C, dragon fruit contains carotene, which is linked to several anti-carcinogenic qualities, including reducing a number of tumors. Moreover, lycopene, responsible for the red color in dragon fruit, has been shown to be linked to lower prostate cancer risk. A 2011 study published in the Asian Pacific Journal of Cancer Prevention found lycopene intake of less than 2,498 mcg/day increased the risk of prostate cancer, whereas a higher intake of fruits, vegetables, and lycopene-rich foods, including being physically active, can significantly reduce the risk.
Moreover, the peel of dragon fruit contains polyphenols, which are chemicals often found in nature. "There is the possibility that some of these polyphenols work as affinities to estrogen receptors and possibly alter the attachment behavior of this and other hormones to their receptor sites on cells," Meehan said. "This could be one reason why it may protect against certain forms of cancer."
3. Cardiovascular Health
Dragon fruit can help boost your heart health, as it decreases bad cholesterol levels while improving the good levels. A 2010 study published in the journal Pharmacognosy Research found the consumption of dragon fruit may lower the risks of developing heart disease and developing high blood pressure. This exotic fruit is also a good source of monosaturated fats which help to keep our heart in good condition.
4. Diabetes
The high amount of fiber in this exotic fruit can help stabilize a person's blood sugar levels. It also helps to inhibit the sugar spikes that occur after eating high glycemic index foods. In the same study in the journal of Pharmacognosy Research, researchers found dragon fruit had a valuable effect on the oxidative stress from aortic stiffness in diabetic rats. This suggests regular consumption of the fruit could be beneficial in preventing common issues linked to diabetes.
5. Digestion
Dragon fruit has a significant fiber content. This means it can improve the body's bowel movements by facilitating the passage through the digestive tract. The consumption of this exotic fruit can help reduce the chances of conditions like constipation and irritable bowel syndrome.
6. Immunity Booster
The high levels of vitamin C found in dragon fruit can give the body's immune system a boost while also stimulating the activity of other antioxidants. The presence of high level of vitamin C, minerals, and pytoalbumin is involved in fighting free radicals and possessing antioxidant properties. Vitamins B1, B2, B3, as well as calcium, phosphorous, iron, protein, niacin, and fiber also contribute to improving the functioning of your immune system.
Add this exotic fruit to your diet to feed yourself back to good health.
Published by Medicaldaily.com