Bill Nye, 'The Science Guy,' Suffers Partially Torn Ligament During 'Dancing With The Stars' Performance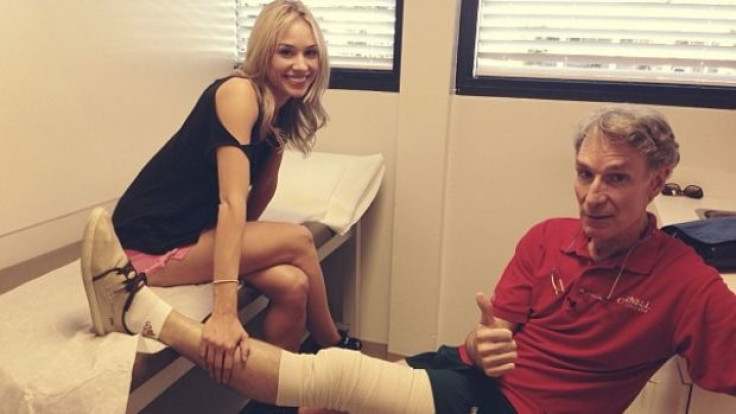 Bill Nye "The Science Guy's" future on Dancing With The Stars is cloudy after sustaining a partially torn ligament in his left knee. An uneventful fall during Monday's performance could require surgery pending an upcoming MRI (magnetic resonance imaging).
"We can confirm Bill Nye was injured during his performance last night and is currently seeking medical attention," a representative from ABC told Entertainment Tonight early on Tuesday. "We will continue to keep you posted on his progress."
Later that day, Nye posted a photo from his doctor's office to Instagram alongside Dancing With The Stars partner Tyne Stecklein. The post was accompanied by the caption "Here is the scoop: partially torn ligament. Awaiting the doc's orders with Tyne. We plan to dance! Stand by..."
According to Johns Hopkins Medicine, a partially torn ligament causes the knee joint to become unstable, limiting a person's ability to pivot, turn, or twist. Surgery to fix a torn ligament could require a few weeks of rest and immobilization before the patient can return to normal activity.
The 57-year-old TV personality is optimistic about his return to the dancing competition considering his most recent Twitter post:
Published by Medicaldaily.com