Bill Warner, World Record-Holding Motorcyclist, Dies In 285 MPH Crash On Loring Air Force Base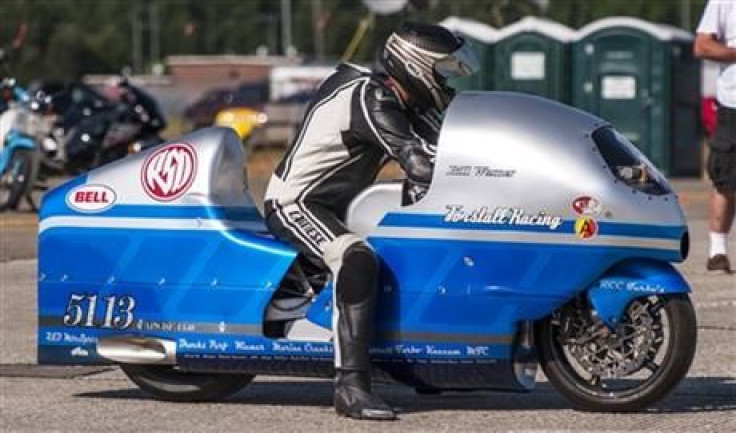 A tragic scene unfolded this past Sunday morning after a motorcyclist attempting to break 300 mph in one mile slid 1,000 feet to his death at the former Loring Air Force Base in Maine. "The Maine Event," hosted by the Loring Timing Association, was cancelled after William "Bill" Warner lost control of his modified turbocharged Suzuki Hayabusa and veered off the track along with the bike, the Bangor Daily News reported.
"He got maybe 4,000 feet or so, and where I was standing at the starting line, you could see a big dust cloud and then it got silent," Cole Theriault, a spectator from Connor Township, told the Bangor Daily News.
According to race official Tim Kelly, Warner was conscious and responding to questions initially following the crash. He was immediately rushed to nearby Cary Medical Center in Caribou where doctors pronounced him dead at 11:15 a.m. due to injuries sustained in the wreckage.
"The bike, from what I heard, was demolished, just in pieces. After a minute, all you could hear was the sirens," Theriault added.
Warner, a motorcycle driver and tropical fish breeder from Florida, had already held the current land speed record on a conventional motorcycle when he topped 311 mph across 1.5 miles on the same track back in 2011. After completing the milestone, Warner offered this suggestive comment regarding the potential loss of control at such high speeds: "The big part of it, after the speed happens, is trying to stop the bike. Here at Loring Air Force Base, there is a mile shutdown to slow the vehicles down and I used every bit of it."
"The bike was bouncing, hopping, skipping and sliding. Needless to say, I got it stopped safely. It was a little scary," he had said.
Warner was reportedly moving at 285 mph before losing control and veering off to the right of the speedway. The Loring Timing Association's website advises all racers to veer toward the right in the event of an emergency.
"No one will touch Bill's achievements or be the type of racer he was. He was a personal friend and the land-racing community is less for his loss," Kelly told the Associated Press.
Published by Medicaldaily.com