Bird Flu Kills Two Men In China, As Scientists Monitor Closely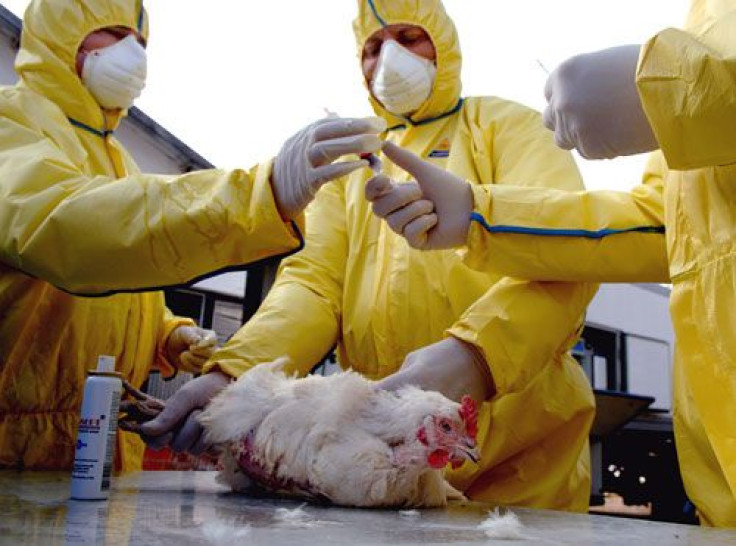 The World Health Organization continues to monitor a new strain of bird flu in China after two Shanghai men became the first known human casualties.
WHO Regional spokesman Timothy O'Leary said public health officials are "closely monitoring the situation" in China. China's National Health and Family Planning Commission also reported the information on its website today.
The Chinese Center for Disease Control and Prevention conducted tests yesterday and confirmed three cases of H7N9 "bird flu," with a third case involving a woman in critical condition in the nearby province of Anhui. "Currently, our knowledge about the clinical characteristics of disease was limited, whether the infection can cause mild or other clinical presentation was still not clear," China said. "[Our] understanding of the disease will change accordingly as more information accumulates."
Speaking from Manilla, Philippines, O'Leary added: "There is apparently no evidence of human-to-human transmission, and transmission of the virus appears to be inefficient, therefore the risk to public health would appear to be low."
One of the two men, 87, became ill in late February and died a week later, with the other man, 27, contracting the disease in late February and dying in early March, according to China. The woman in critical condition, a 35-year-old resident of Chuzhou, became ill in early March and continues to receive hospital care.
The three confirmed cases presented all with acute pneumonia whose symptoms include acute fever onset, high fever, cough and respiratory tract infection symptoms at the early stage of the disease, China said. Five to seven days of disease onset, the patients developed severe pneumonia with trouble breathing.
Presently, public health officials are monitoring the H5N1 strain of the virus, fearing that version might mutate into a form that spreads more easily among humans, touching off a regional or global pandemic. In 2003, H5N1 decimated poultry stocks across the continent of Asia, causing a number of human deaths.
Thus far, however, most human cases have only been contracted from contact with infected birds.
Published by Medicaldaily.com