Bird Flu Outbreak Found Outside French Restriction Zone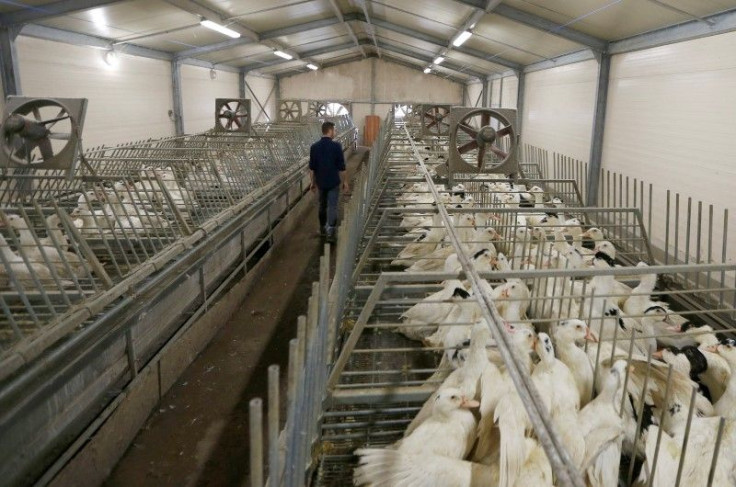 PARIS (Reuters) - Bird flu has been found in a French town outside a broad restriction zone, in a setback to efforts to contain the outbreak of the disease that has led a growing number of countries to ban poultry products from France.
France, the European Union's largest agricultural producer, has had 69 outbreaks of highly pathogenic bird flu in eight administrative departments in the southwestern part of the country since late November.
A case has now been found in Haute-Garonne, which is not included in the zone where the government has put in place tightened sanitary measures and restricted movement of poultry since mid-December, a farm ministry official said on Wednesday.
The zone includes Dordogne, Gers, Haute-Vienne, Landes, Pyrenees-Atlantiques, Hautes-Pyrenees and Lot - as well as the whole of Gironde and Lot-et-Garonne, and parts of the Correze and Charente departments.
Despite the spread of the disease, the number of outbreaks has slowed in France since late December with only five outbreaks reported since the start of the year, the farm ministry's dedicated website showed.
Avian flu cannot be transmitted to humans through food. Some viruses have infected humans, but initial results showed that the strains found in France posed no risk of being caught by humans, the farm minister said.
More than a dozen countries including Japan - the world's largest importer of foie gras - imposed restrictions on French poultry products, live animals or hatching eggs after the bird flu outbreaks, which were found mainly in ducks and chickens.
The new director general of the World Organisation for Animal Health (OIE), Monique Eloit, said the cause of the recent outbreaks in France remained uncertain, unlike previous ones in 2007 which could be linked to wild swans.
"There are high presumptions that these are strains that are not coming from wild birds but that have propagated below epidemic thresholds in palmipeds (ducks, geese) farms where the identification of these strains is far more difficult because there are no clinical signs," Eloit told a news conference.
Eloit's predecessor Bernard Vallat said last month the emergence of three different highly pathogenic strains in such a short time was unprecedented.
One hypothesis is that low pathogenic strains had evolved into high pathogenic ones, Eloit said, and it showed the need for countries to monitor all types of bird flu strains, not only the highly pathogenic ones.
(Reporting by Sybille de La Hamaide; Editing by David Goodman and Susan Thomas)
Published by Medicaldaily.com