Bird Flu Subtype, H5N6, Kills Man In China; Experts Say It's The First Case Of Human Infection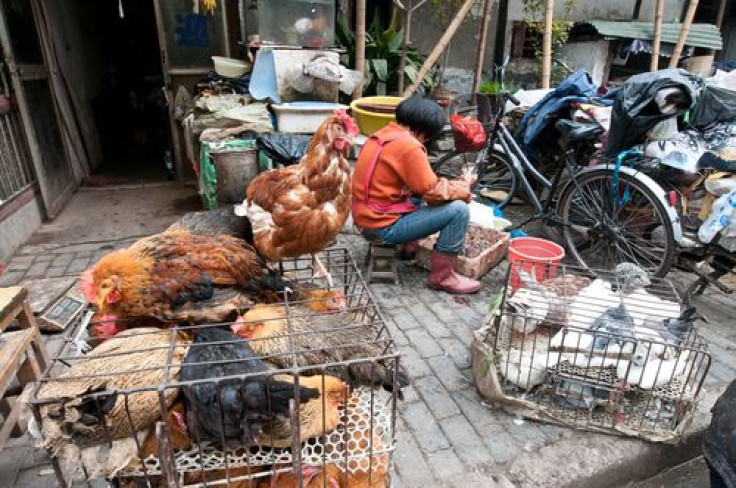 A man from Nanchong, located in the southwestern province of Sichuan, China, has died from a virus subtype of the H5N6 strain of bird flu. Experts say this is the world's first case of human infection from this subtype, Medical Xpress reported.
The 49-year-old man had originally been exposed to dead poultry and was then diagnosed as having pneumonia. According to the Sichuan Provincial Health and Family Planning Commission, he passed away on Tuesday after receiving treatment.
The report also noted that the infection is a secluded case and no other medical personnel who came in contact with the man seem to show any symptoms. "Experts believe that the initial consideration of the case as a case of human infection with the virus that causes low-risk and spread," the report stated.
The bird flu has impacted the Chinese people substantially. In March 2013, the new virus was first reported in China. Since then, there have been a total of 250 cases and 96 deaths from the H7N9 strain in the January to March period, according to the National Health and Family Planning Commission. In February 2014, the World Health Organization (WHO) documented that 115 people out of 367 cases have died from the H7N9 virus. The WHO and Chinese health officials say there is a low risk for human-to-human transmission. However, there should still be some level of awareness.
"People traveling to Sichuan should take precautions for their health and refrain from coming into contact with fowl, either live or dead," said Chuang Jen-Hsiang, deputy director-general of the Centers for Disease Control Taiwan, a Taiwanese news channel reported. They also explained that the H5N6 is believed to be a low-pathogenic bird flu virus that has been found in Germany, Sweden, and United States.
Last Month, the U.S. Department of Health and Human Services, said that a new vaccine to protect people against a potential outbreak of H7N9 bird flu was going to be available.
"An effective H7N9 vaccine is achievable," said researcher Dr. Niranjan Kanesa-thasan, from Novartis Vaccines in Cambridge, Mass., Health Day reported.
Researchers and scientists are working quickly in case an epidemic breaks out in the United States, and they say the vaccine is the only step they will take to combat the virus.
"We are working with multiple manufacturers, including Novartis, to develop H7N9 vaccine candidates, evaluate the candidates in clinical trials for safety and effectiveness, and stockpile H7N9 vaccine so our nation can respond quickly if this deadly virus emerges in the United States or becomes a pandemic," said Robin Robinson, deputy assistant secretary for preparedness and response in the U.S. Department of Health and Human Services.
Experts also say that there are a few ways to prevent the respiratory disease. People should avoid crowded outdoor spaces; be aware of places with poor ventilation; routinely wash your hands; cover your mouth; do not touch dead poultry; buy live and fresh meat; and seek immediate attention if flu symptoms arise.
Published by Medicaldaily.com